As an Amazon Associate we earn from qualifying purchases made on our website. If you make a purchase through links from this website, we may get a small share of the sale from Amazon and other similar affiliate programs.
Have you ever tried to cook for two or more people in an air fryer? If your answer is yes, then you are familiar with air fryer baskets size, which is usually too small to cook larger amounts of food. But can you stack food in an air fryer to increase the amount of food you are frying in one batch? 
The answer is definitely yes. You can stack most foods in an air fryer using racks and assuring proper airflow. There are also a few foods that you can stack without using a rack, but food pieces need to be firm enough, small enough, or uneven shapes to allow proper airflow.
If you immerse yourself a little more in the subject, you can be a master of stacking. You will be able to cook for up to four or five people at a time using one air fryer. Let's look in detail at what you need to pay attention to when you stack food in an air fryer.
Foods you can stack in the air fryer and foods you shouldn't stack in the air fryer
Following is the list of foods you can or shouldn't stack in the air fryer. If you want to check how to stack individual food, click on it, and you will get a complete guide on stacking.
How to stack food in an air fryer
The most important thing to keep in mind is to allow hot air, flow freely between pieces in the air fryer's basket.
This works perfectly when you stack small, firm, or unevenly shaped pieces of food in the basket, and you don't even need to use racks. But if you stack soft foods like meat and block the airflow between pieces, you will end up with unevenly cooked food.
The other way, and the best way, you can stack any kind of food in the air fryer is to use racks.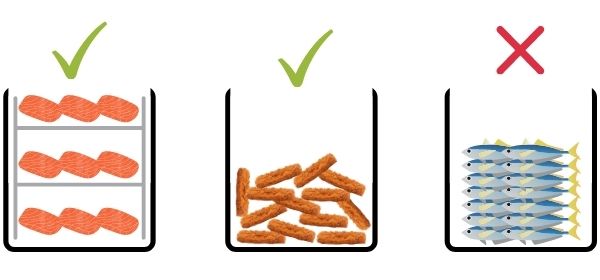 To clearly illustrate the situation, you've probably seen the following pictures: someone is just taking the basket out of the machine, and it's full of freshly baked potatoes. It's no coincidence that potatoes are the best example if you want to stack food in the basket without racks. Potatoes are usually cut into small pieces, firm and unevenly shaped.
Since these are small pieces of potatoes with uneven shapes, there will be enough space between them to ensure that the hot airflow reaches all parts of the potatoes. This will make potatoes crispy on all sides. 
The same goes for frying french fries in an air fryer. Fill the basket loosely, and start cooking. Shake the basket and toss the fries once or twice during the frying process, and you will end up with crispy fries.
How to use air fryer stacking racks
If you want to stack larger pieces of food, such as meat, it is essential to use racks. When cooking meat in an air fryer, it is necessary to leave some space between the pieces. If you want to fry several pieces, such as ribs or steak, it is not recommended to stack the meats on top of each other. Piling up pieces of meat would end up in well-fried upper and lower pieces, but the middle ones will remain undercooked or even utterly raw from the inside.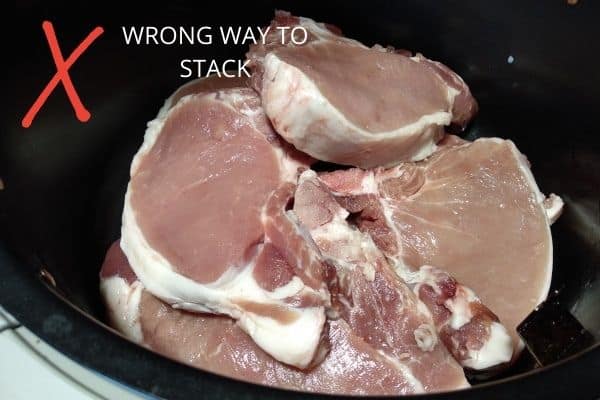 The way to go about it is to use racks. If you use racks, you can separate food properly. Using them is very straightforward, convenient and they are very cheap. I researched racks before I bought mine. I narrowed down the selection and found the best ones, to save you some time:
BEST RACK FOR STACKING
Last update on 2022-12-16 / Affiliate links / Images from Amazon Product Advertising API
BEST RACK FOR STACKING AND DEHYDRATION
Last update on 2022-12-18 / Affiliate links / Images from Amazon Product Advertising API
BEST RACK FOR NINJA AIR FRYER
Last update on 2022-12-16 / Affiliate links / Images from Amazon Product Advertising API
To use racks, first fill the bottom of the air fryer basket. Then put the rack in the basket, arrange the next layer of food, and start cooking. The more racks you have, the more layers you can make. Here is where a large basket air fryer would come in handy.
The heating part of the air fryer is at the top. Pieces on the topper rack are always cooked a little faster than on the middle or the bottom. Therefore, it is recommended to carefully remove the rack halfway through the frying time, flip the meat and replace the slices on the rack with the ones below. This helps ensure that the pieces on the lower and upper levels are also fried evenly.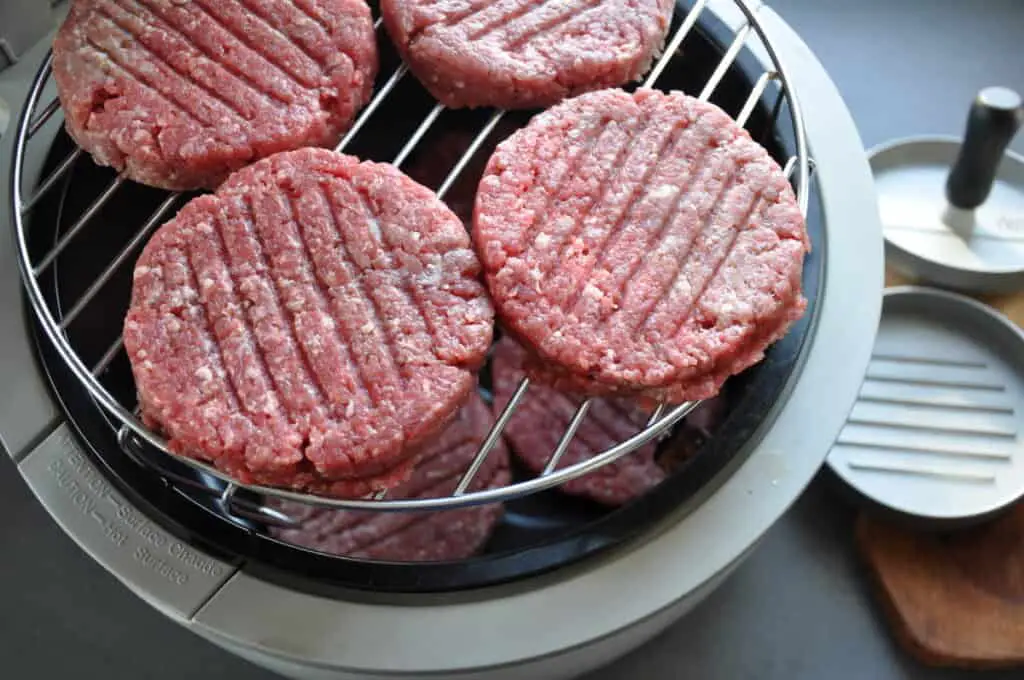 With this method, you can fry ribs in larger quantities or any kind of meat, even steak. You need to make sure that the slices you put in the air fryer are roughly the same size. Of course, if there is a slight difference between them is not a problem. But the more equal in size, the more evenly they will fry.
Stacking is best done in a large capacity air fryer. So if you are a family of 4, 5 or more, or just don't want to batch cook, the best thing is to use a good quality air fryer like this one, which is loved by many users:
BEST LARGE CAPACITY AIR FRYER OVEN FOR LARGE FAMILIES AND STACKING FOOD
Last update on 2022-12-14 / Affiliate links / Images from Amazon Product Advertising API
For small families, I recommend following air fryers:
BEST SMALL, MEDIUM AND LARGE CAPACITY AIR FRYER
Last update on 2022-12-14 / Affiliate links / Images from Amazon Product Advertising API
Do you have to flip food in an air fryer when using racks
The answer, in short, is yes. It's not mandatory but highly recommended so that the result will be perfect. 
The air fryer includes a heater and a fan which is typically located on the top of the air fryer if you use basket style air fryer. The manufacturers usually state that the hot airflow is even throughout the whole air fryer. 
But in reality, you will see that some pieces closer to the heating element will get more color than others.
I suggest you get to know your air fryer and flip food halfway through the frying process. 
Flip the pieces and rearrange them by putting the ones that already form a crust with the ones that are less cooked.
When you flip food in an air fryer, always take the rack from the basket and close the air fryer. If you don't close it, hot air will escape, and the frying will take longer than expected. When you make food in the air fryer that requires flipping, always add extra few minutes of frying before starting.
If you are stacking smaller pieces of food, such as tater tots or vegetables, an extra minute or two will be enough. But if you've stacked large items, like meat slices, you'll need to cook them for up to 4-5 minutes longer.
When changing racks to flip the food, it is also important not to burn yourself. Never touch the inside of the air fryer with bare hands; use a heat-resistant meat tong instead. Grasp both the food and the rack with the tong to avoid burn injury.
Can you double-stack in an air fryer
Of course, yes, it is possible to double-stack in an air fryer. To do this, you will need at least a 5.5-quart air fryer. Unfortunately, the smaller ones are not suitable for double-stacking. There are countless air fryer accessories, double-layer racks, and grill racks available in the stores to help you. Using them works the same as using a single rack.
There are special air fryer ovens that were made for stacking. They are like a conventional oven, but they work the same way as smaller air fryers. The hot air comes from the top or backside heating element of the oven.
It is important that if you use more than one rack, change the racks at half of the cooking time. For example, put the bottom at the top and the top at the bottom, leaving the middle. 
How full can I fill my air fryer?
Inside the bucket or basket-style air fryers, there is always a small line showing how full you can fill your air fryer.
However, sometimes you may ignore it. You put a little more food in the air fryer, and you no longer see the line. There's nothing wrong with that; if you stack a bit more food into the air fryer within reasonable limits, it won't lead to disaster.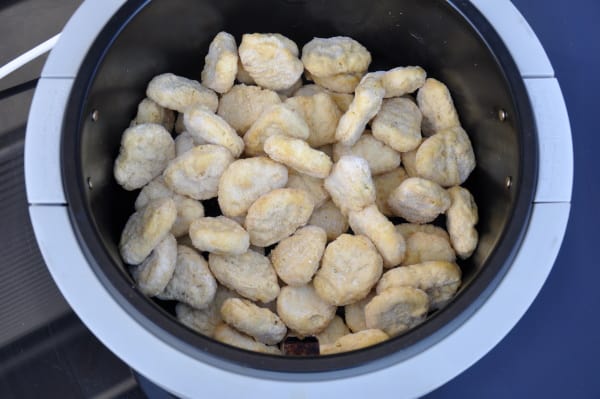 Can you overload an air fryer?
Each machine has its limits. They work most effectively when we pay attention to these limits. Therefore it is not recommended to overfill the air fryer at all. The food will not cook properly.
I'm sure you don't want to put raw food on the table. However, this is only one thing, but there are also others. The air fryer itself can easily get damaged if you overload it.
If too much food is stacked in it, the top pieces will come in contact with the heating element of the air fryer. This can cause the food to burn or even start a fire. Overloading can even damage the heating element or the fan, ending up in a damaged air fryer.
If you're unsure what the maximum is, fill the air fryer basket only up to the line.
Conclusion
It is possible to stack food in the air fryer. You can stack soft foods on racks, which is the most convenient and the most efficient way to stack them. You can also stack directly in the basket, but not many foods are suitable for stacking directly in the basket.