As an Amazon Associate we earn from qualifying purchases made on our website. If you make a purchase through links from this website, we may get a small share of the sale from Amazon and other similar affiliate programs.
If you've recently purchased an air fryer or are considering getting one, you might be wondering, "can I stack fish in an air fryer?"
The simple answer is yes, and you can do so by using air fryer racks in a maximum of three layers and positioning fish filets or breaded fish evenly to allow an even airflow.
An air fryer is a convenient and versatile home appliance to cook different types of food, including fish. However, it's essential to do it right; otherwise, the whole process can result in a big mess.
To help you out, we've prepared this detailed guide on how to stack fish in an air fryer.
What Kind of Fish Can You Stack in an Air Fryer?
Whole fish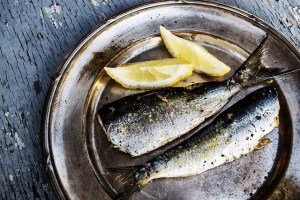 First things first, you can't stack a whole fish in an air fryer if you don't have racks for the basket or use an air fryer oven with racks. This is because basket air fryers don't allow proper airflow through stacked food if you don't use racks. Therefore, stacking whole fish in a bucket-style air fryer would result in an uncooked fish.
If you use an oven-style air fryer, use racks and simply layer whole fish that fit your air fryer size on the racks.
Fish fillets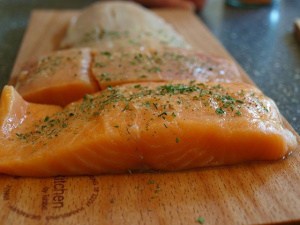 Fish fillets are convenient and simple to make. But if you want to stack them in a basket air fryer, the worst thing you could ist to layer them on each other. This is a recipe for disaster. So instead, the best thing to do is to layer fish fillets on air fryer racks evenly.
Breaded fish filets and fish fingers
I could say there are two types of breaded fish. The first one is fish fillets which you coat at home. Breading of these fillets usually results in a nicely coated fish fillet that is soft and flexible.  Piling soft and flexible fish fillets in a basket air fryer is not recommended. The bottom and the upper part will be crisp, but the middle will be raw.
The second one is breaded fish or fish fingers which you buy already coated. This fish is firmer and can easily be stacked in any air fryer. The only thing you need to be aware of is that you stack them so that air flows evenly between fish sticks. Do not pile them on one another but spread them evenly on the surface, allowing airflow.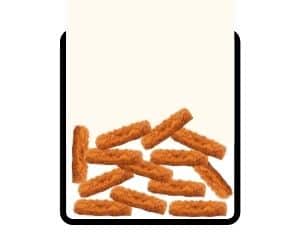 Frozen fish
Frozen fish are particular since they include a lot of water. It is the same as putting too much marinade on the fish. Pat dry them when defrosted if necessary and once they are dry, use the same steps as if you would want to stack fish fillets or whole fish. It is important not to stack them in the basket but instead use a rack or rack in an oven air fryer.
To stack fish in an air fryer, you also need to understand how an air fryer works. An air fryer cooks your food by exposing it to hot air. So, for your food to be cooked properly, all of it needs to be exposed to hot air.
This means that you cannot stack fish fillets on top of one another. Instead, make sure all of them lay flat directly on the air fryer basket. But if you want to cook in a large batch, then what you can do is use a rack to make two layers of fillets.
Steps to Consider When Stacking Fish
With Racks
As mentioned in the previous section, you can't layer fish fillets on top of one another; instead, use racks to stack fish in the air fryer.
Put some fillets directly on the basket surface, then place the rack and stack a few more on it. Since racks have spaces in between, there will be plenty of space for the air to move around.
Since most air fryers have one heating element on top, the fillets on the rack might cook more evenly and quickly than the ones at the bottom. So, halfway through the cooking time, what you can do is put fish from the top rack on the bottom and vice versa. Don't forget to turn the sides too!
If you're cooking marinated fish, then make sure there isn't too much marinade on the fish. Also, layer your rack and air fryer basket with butter paper or aluminum foil to save yourself some trouble.
BEST FOR STACKING
Airfryer rack SET of 2
FOOD GRADE HIGH QUALITY MATERIAL: MFTEK air fryer accessories rack is made of food grade 304 stainless steel, which is FDA Approval material, durable and heat resistant, oven safe up to 500-degrees
BEST AIRFRYER ACCESSORIES: Double layer rack for more versatile air fryer recipes. Maximize the heating surface of food, use skewers for shish kabob on the top layer and other foods on the grate layer.
EASY TO CLEAN: No stick and No rust high quality 304 stainless steel, easy to clean, Each air fryer accessories is dishwasher safe for a quick and hassle free clean up, just simple slip in the dishwasher and get your hands free.
DURABLE & FRIENDLY DESIGN: The rack edge is polished to a smooth surface with no rough spot, Protect your hand roundly while washing or holding. Dense parallel line prevents food from falling through.
100% COMPATIBLE WITH: XL Power airfryer, Philips, GoWISE USA, Faberware, Cozyna 4.2-6.8QT and up. The Skewer rack size: 7.8*2.75inch, metal rack: 7.8*1.18inch.
Last update on 2021-11-23 / Affiliate links / Images from Amazon Product Advertising API
BEST FOR STACKING AND DEHYDRATION
Airfryer racks for stacking food 6quart
【DESIGNED TO FIT】7.9 inch diameter by 5.3 inch height is the perfect size to fit most 6 quart Instant Pot models, including Duo 60, Lux 60, Duo Plus 60, Ultra 60, Viva 60, Nova Plus 60, Duo Nova 60.
【EASY TO USE】Dishwasher safe makes clean up a breeze, the stackable design offers exceptional convenience to save you precious countertop space.
【DEHYDRATE FOODS】Five stackable layers make it easier than ever to dehydrate fruits and meats, lock in the nutrients and enjoy healthy snacks like chips and jerky.
【SAFE HANDLING】 Thanks to the roll hemming technology, ensure safe handling with burr-free edges.
【FOOD GRADE SAFETY】Featuring stainless steel food grade 304 (18/8), you can serve your family much-loved healthy meals every day.
Last update on 2021-11-23 / Affiliate links / Images from Amazon Product Advertising API
Without Racks
It's possible to stack fish without a rack, too, if you want to cook a few fillets only or if you fry fish fingers.
Make sure you leave adequate space in between the pieces for the hot air to circulate.  Also, don't forget to turn the sides halfway through or shake the basket for more even brown and crisp fish.
Ways to Stack Fish in an Air Fryer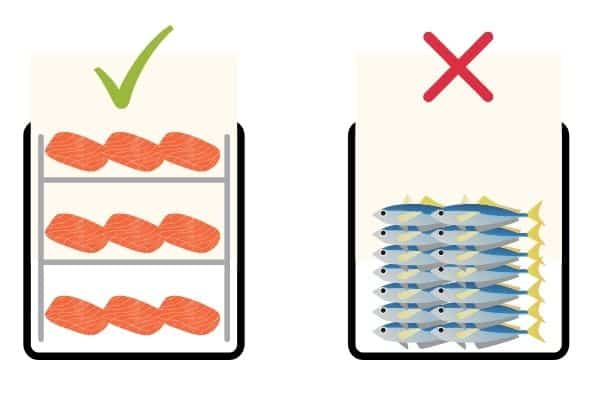 There are a few things to consider when stacking fish in an air fryer.
Using racks

Turn (evenly exposure to airflow – evenly crispy)

The right way to stack

Temperature control if needed
The best way to stack fish in any air fryer is by using racks, whether that is in a basket air fryer or oven style air fryer. Imagine stacking salmon filets on top of each other. Well, you will end up with not crispy but cooked salmon, so it is essential to use racks. The only fish where you don't need to use racks is when you fry firm store-bought breaded fish, like fish fingers.
When you do stack fish on racks, it is important to turn the pieces halfway through frying to get even crisp on each piece.
If you have no other option than stacking without a rack, allow even airflow between pieces, and adjust the temperature. It would be best to increase the temperature significantly and turn the pieces frequently. Also, shake the basket a couple of times to redistribute the ingredients. This will ensure your fillets will be fried but not as brown and crispy as if you would use racks.
Which Type of Air Fryers Can You Use for Stacking Fish?
In air fryers, you get two options: with a basket or a bucket or an oven style.
Although both of them are good for cooking different foods, if you're getting an air fryer specifically to cook fish, then we recommend you get an oven-style air fryer as it's easier to stack fish in that.
Air fryers come in different sizes. Fish fillets can fit in any size depending on the size of the fillet and the size of an air fryer. However, if you have a big family, then you should consider getting an XL oven air fryer. This way, you can cook the maximum number of fillets in one batch.
So if you are a family of 4 or more or just don't want to batch cook, the best thing is to use a large good quality air fryer like this one, which has an outstanding review on amazon:
BEST LARGE CAPACITY AIR FRYERS OVEN TO AVOID BATCH COOKING
Last update on 2021-11-18 / Affiliate links / Images from Amazon Product Advertising API
Benefits and Limitations of Stacking Fish in an Air Fryer
Stacking fish in an air fryer is not only convenient than deep-frying, but it's also a healthier option. This way, the fish is cooked in a few drops of oil (or without using the oil at all). So, whether you're on a diet or simply want to adopt a healthier lifestyle, an air fryer is the right choice for you.
With that being said, cooking in an air fryer does have its limitations. Air fryers are small, which means you'll have to cook in batches, and this can be a problem if you have a big family and everyone wants to eat at the same time. By the time you're done with the last batch, the first one will be cold.
At the end of the day, it depends on what is more important for you.
The Bottom Line
Stacking fish in an air fryer might seem like a difficult task at first, but once you get used to it, it won't be much of a hassle.
We hope this detailed guide will help you enjoy a healthier alternative to the restaurant-style fish right at home!