As an Amazon Associate we earn from qualifying purchases made on our website. If you make a purchase through links from this website, we may get a small share of the sale from Amazon and other similar affiliate programs.
When you think of an air fryer, fairly common to think of stacking chicken breast in it since it is one of the most popular meat. Stacking may seem difficult or unnecessary at first, but this is not the case at all.
You definitely can stack chicken breast or any other part of the breast, like tenders and cutlets, in an air fryer. It doesn't really matter what kind you use. Instead, the technique of placing them in the air fryer and the size of your air fryer are the most important things when it comes to stacking chicken breast, tenders, or cutlets.
You need to pay attention to a few things to be successful. But first, let's see why it will be helpful for you to learn how to do stacking well.
Steps to consider when stacking chicken breast, tenders, or cutlets in an air fryer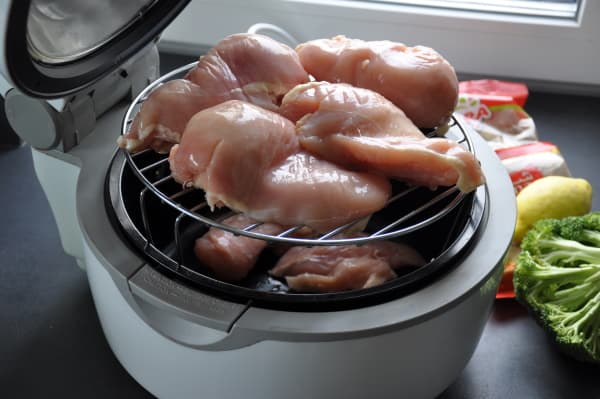 Use racks
This is essential. When using an air fryer, it is important to keep in mind that hot air must flow between the meat pieces to be cooked properly. If you stack the meat slices on top of each other, they will stay raw in the middle. I don't recommend stacking chicken breasts without using racks.
If you have a small size air fryer, you can usually put in 1-2 racks. However, with larger air fryers (you can read about this a little below), you can put up to 3-4 racks in it.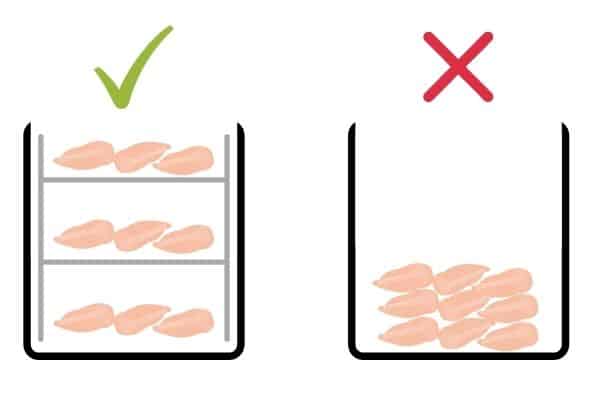 I don't recommend stacking chicken breast, tenders or cutlets in an air fryer without racks. This might be okay with other foods, particularly french fries or chicken nuggets but not chicken white meat. If you do, there simply isn't any space for the air to circulate and properly cook them.
How to use the racks
As the warm air flows upwards, the temperature at the top rack will be the highest. So start stacking from the top, placing the chicken breasts on the top rack first. Then, when it is comfortably full, move further down to the next rack and so on. If not all racks are full, you may want to leave the lowest rack empty for efficiency.
Turn and move the meat
You should turn the chicken breastshalfway through the frying time using a heat-resistant meat tong. Also, move the meat frying on the top rack to the bottom or vice versa, depending on where the air fryer heats the most. Therefore hot air will circulate the chicken breasts evenly. Because of these small steps, the same crispy crust will form on all sides of the meat.
Use a meat thermometer
When the outside of the chicken breasts is perfect, it's time to use the meat thermometer. It is very simple to use: pierce the thermometer in the middle of one of the chicken breasts at its thickest part. If it shows 340F – 165C degrees, they are fried properly. If it shows a lower number, give the chicken breasts additional minutes in the air fryer and use the meat thermometer again.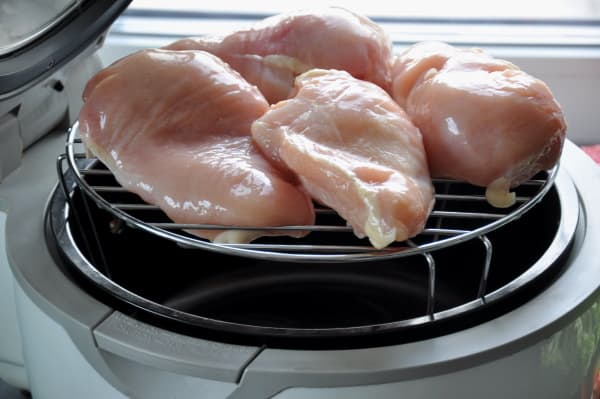 I tried numerous racks and found the best ones for stacking food on amazon:
BEST RACK FOR STACKING
Airfryer rack SET of 2
FOOD GRADE HIGH QUALITY MATERIAL: MFTEK air fryer accessories rack is made of food grade 304 stainless steel, which is FDA Approval material, durable and heat resistant, oven safe up to 500-degrees
BEST AIRFRYER ACCESSORIES: Double layer rack for more versatile air fryer recipes. Maximize the heating surface of food, use skewers for shish kabob on the top layer and other foods on the grate layer.
EASY TO CLEAN: No stick and No rust high quality 304 stainless steel, easy to clean, Each air fryer accessories is dishwasher safe for a quick and hassle free clean up, just simple slip in the dishwasher and get your hands free.
DURABLE & FRIENDLY DESIGN: The rack edge is polished to a smooth surface with no rough spot, Protect your hand roundly while washing or holding. Dense parallel line prevents food from falling through.
100% COMPATIBLE WITH: XL Power airfryer, Philips, GoWISE USA, Faberware, Cozyna 4.2-6.8QT and up. The Skewer rack size: 7.8*2.75inch, metal rack: 7.8*1.18inch.
Last update on 2021-11-20 / Affiliate links / Images from Amazon Product Advertising API
BEST RACK FOR STACKING AND DEHYDRATION
Airfryer racks for stacking food 6quart
【DESIGNED TO FIT】7.9 inch diameter by 5.3 inch height is the perfect size to fit most 6 quart Instant Pot models, including Duo 60, Lux 60, Duo Plus 60, Ultra 60, Viva 60, Nova Plus 60, Duo Nova 60.
【EASY TO USE】Dishwasher safe makes clean up a breeze, the stackable design offers exceptional convenience to save you precious countertop space.
【DEHYDRATE FOODS】Five stackable layers make it easier than ever to dehydrate fruits and meats, lock in the nutrients and enjoy healthy snacks like chips and jerky.
【SAFE HANDLING】 Thanks to the roll hemming technology, ensure safe handling with burr-free edges.
【FOOD GRADE SAFETY】Featuring stainless steel food grade 304 (18/8), you can serve your family much-loved healthy meals every day.
Last update on 2021-11-20 / Affiliate links / Images from Amazon Product Advertising API
Which type of air fryers can you use for stacking chicken breast, tenders, or cutlets
Unfortunately, stacking cannot be solved in smaller air fryers (about 4-6 quart sizes). The oven part of small basket-style air fryers is simply too small to put in a rack. Even if you find a small rack that fits, you will no longer be able to put anything on the top layer. It would touch the heater part of the air fryer, making it easy to burn. Don't risk it.
Medium and large air fryers (7-15 quart) are perfect for stacking chicken breasts, tenders, or cutlets. Some models come with racks in the package. So you don't even have to worry about purchasing a rack, and it will surely fit your air fryer perfectly.
Air fryer ovens (16 quarts and above) are perfect for stacking and were made for the exact purpose of frying larger amounts of food. These machines are very professional. They are almost the size of a standard-sized oven, but in contrast, they cook faster.
BEST SMALL, MEDIUM AND LARGE CAPACITY AIR FRYER
Last update on 2021-11-18 / Affiliate links / Images from Amazon Product Advertising API
Reasons and benefits of stacking chicken breast in an air fryer
Why is it good for you to learn how to do it? You can save a lot of time. Think about it. Instead of frying the chicken breasts in two batches, you can fry them all at the same time, so the frying time is already halved. 
And by the way, you also save energy; you also do good for your wallet! 
In an air fryer, you can usually prepare enough food for you and your loved ones at a time. However, if you cook for more people, such as a large family or waiting for guests, you will really enjoy the benefits of stacking. 
There can't be such an unpleasant situation where one-half of the guests are already eating dinner, and the other half is still ravenously hungry.
Chicken breast variations you can stack in an air fryer
I have good news: you can stack any kind of chicken breast in an air fryer, whole breast, tenders, or cutlets! 
You can use frozen or fresh, breaded slices or chicken breast after brining or marinating. 
To make the result irresistible, use chicken breasts of the same size. Although, of course, not precisely per ounce or gram, it is enough to measure the meat by eye.
Don't forget; this is very important because if pieces defer in size too much, especially thickness, they will not fry evenly.
Before frying, it is recommended to wipe the chicken breasts dry if they are thawed, season them to your liking, then spray thinly with olive oil or other vegetable oil (sesame or walnut oil also works well). There are three benefits of using oil: it gives the chicken breast an extra flavor, helps keep its outside crispy, and prevents the meat from sticking to the racks. 
What can happen if you don't do it right
If you don't do the stacking well, you're going to give yourself some extra work. 
Let's look at the first mistake: not using racks, but instead, you stack the meat on top of each other. This is a crucial mistake. The chicken breasts will not fry properly, and the result will be disappointing. You also waste time and energy with it, as you have to take out the chicken breasts, rearrange them (now correctly), and fry until they are no longer raw.
The other most common mistake during stacking is to use too much liquid. If there is too much oil or marinade on the chicken breasts, it will drip to the bottom of the air fryer, where it will burn quickly, making it much harder to wash. Not to mention that if it starts to burn, it can even smoke! And that ruins the perfect chicken breasts. So just be careful with liquids; less is more!
Conclusion
Make the most of your air fryer and try to stack chicken breasts in it! You can prepare larger amounts of food in a short time. Pay attention to the details, and the result is guaranteed to be perfect.