As an Amazon Associate we earn from qualifying purchases made on our website. If you make a purchase through links from this website, we may get a small share of the sale from Amazon and other similar affiliate programs.
Chicken is an amazing source of lean protein and is commonly referred to as one of the healthiest meats around. Chicken legs and wings are probably the most popular part of the chicken: they're juicy, tender, and easy to eat. But, when it's time for cooking them in an air fryer, the question about can you stack them on top of each other in an air fryer arises?
Although there are a few steps and tips to consider, you can stack wings, legs, or drumsticks the following way:
Stack chicken wings on top of each other or on racks. Because of their uneven shape, there will be a lot of space between them, allowing the air to flow properly.
Stack legs or drumsticks on racks to allow proper airflow.
This guide is specifically for stacking chicken legs and works for chicken wings and drumsticks, but not other chicken parts. 
Steps to Consider When Stacking Chicken Legs, Wings, or Drumsticks
In order to go through this whole process smoothly and achieve the best possible results, let's take a look at some steps we can take to maximize efficacy:
Starting temperature. Adjust the temperature at the start of the cooking process. It's important that our food has an even temperature, but it's even more important they have a neutral temperature. Leave them outside the refrigerator at least twenty minutes before cooking; that way, they'll be at room temperature. 
Don't use a lot of herbs. Herbs are great for adding flavor, but they're not ideal for air fryers. The hot air burns them quickly, and most spices start turning bitter when cooked— this might negatively affect your chicken legs' flavor. Dried thyme and rosemary are the best. 
Ways to Stack Chicken Legs, Wings, or Drumsticks in an Air Fryer
There are only two viable ways to stack legs in an air fryer: either use air fryer racks or don't. So let's see which works better.
With racks
You can buy tons of racks out there— they are made of stainless steel and can resist heat and help you add several levels or "floors" to your air fryer. In most cases, you're able to add up to three levels! That's 3x the surface area you would usually have! 
Racks are great and probably the best way to stack food. There isn't any crowding of food, which means it makes it easier to stack the food and ensure proper airflow.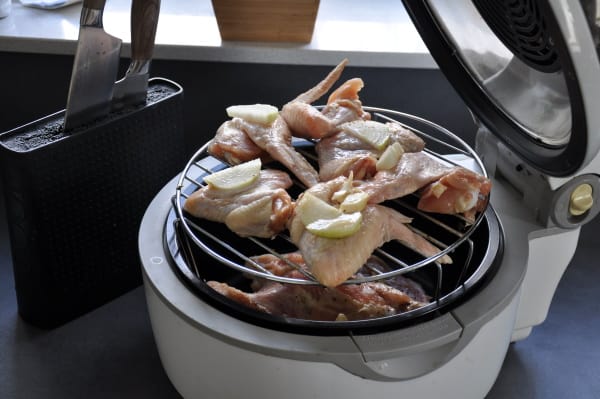 Without racks
Stacking food without racks is tricky, which doesn't necessarily mean you should do it. There are many reasons why stacking without racks is not ideal; there won't be good airflow, which means most of the food will probably be undercooked. It also means a lot more fluid will build-up, which can hinder your air fryer's ability to work properly. 
In general, you should not do it with chicken legs or drumstick, but you might consider stacking chicken wings. Just be sure you leave as much space free as possible between the most meat-packed parts of the chicken wings. The parts that are mostly bone don't matter as much because we are not about to cook bone.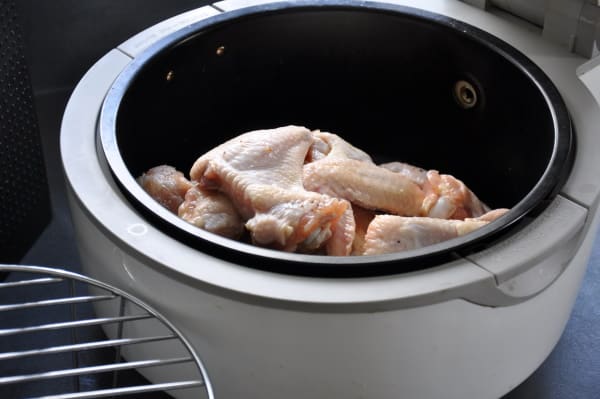 BEST RACK FOR STACKING
Last update on 2021-11-20 / Affiliate links / Images from Amazon Product Advertising API
BEST RACK FOR STACKING AND DEHYDRATION
Last update on 2021-11-20 / Affiliate links / Images from Amazon Product Advertising API
BEST RACK FOR NINJA AIR FRYER
Last update on 2021-11-20 / Affiliate links / Images from Amazon Product Advertising API
How to Prepare Chicken Legs, Wings, or Drumsticks for stacking in an Air Fryer
If there's one thing that's true about chicken, it's that it is versatile. Ridiculously so. This is why there are tons of different ways you can go about cooking chicken legs. First, we'll cover some of the most common, like breaded or marinated chicken legs, to see how to go about stacking them. 
If you stack whole legs or drumsticks, then it is better to use racks for stacking. If you are air frying wings, use racks or stack them on top of each other.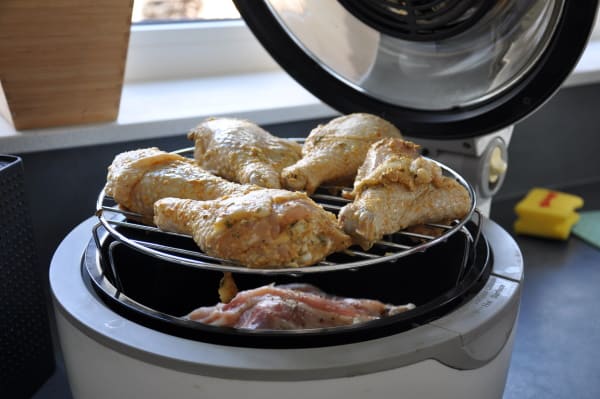 Frozen: For frozen pieces of chicken, you're going to have to defrost them before putting them in the air fryer; otherwise, they will release too much water, which is definitely not ideal and will hinder the air fryer's ability to cook properly. After defrosting the chicken legs–using your preferred method–it would also be perfect to make a superficial incision in the meat to ensure it cooks thoroughly. 
Plain/lightly seasoned
The most straightforward. There is little to do here because there isn't anything getting in the way of cooking them. You can, however, help the cooking process by slightly coating them in oil (preferably neutral, such as sunflower or canola) or a little bit of butter. In the case of butter, use melted butter and use a brush to coat the chicken legs. 
Breaded
Breaded chicken legs also don't represent a big challenge, but do be sure that they are entirely thoroughly defrosted before stacking them. Partially frozen legs that are then breaded will always take a little longer to cook and throw you off. And nobody likes somewhat raw chicken! 
Marinated
The trickiest: we don't want liquids in the air fryer, yet liquids are what brings the flavor. In this case, try to marinate the chicken as long as possible to absorb the most flavor possible. You can transfer them directly from the marinade to the air fryer— there will be a little excess liquid, but it's crucial to the flavor. 
Which Type of Air Fryers can you use for Stacking Chicken Legs, Wings or Drumsticks
Air fryer ovens are the ideal way to stack food. They are built to work much like a traditional oven and come with their own racks. They're designed for cooking a lot of food at once. The most noticeable benefits are a lot of space and airflow, which will always be optimal even if you're cooking a lot of chicken. 
If you don't like air fryer ovens or if you already own a basket style air fryer, then buying racks separately is your next best bet. Unfortunately you can't use racks in small basket style airfryers. The smallest basket style air fryer you could use with racks is 4.2quart air fryer. Racks can be as big as 9×9 inch (23×23 cm), although I recommend getting smaller racks that are easier to place into your air fryer (and easier to get out afterward). They're also the best in terms of airflow; 7×7 inch (18×18 cm) are the ideal dimensions for most air fryers. 
So if you are a family of 4 or more or just don't want to batch cook, the best thing is to use a good quality air fryer like this one, which is loved by many users:
BEST LARGE CAPACITY AIR FRYER OVEN FOR LARGE FAMILIES AND STACKING FOOD
Last update on 2021-11-18 / Affiliate links / Images from Amazon Product Advertising API
BEST SMALL, MEDIUM AND LARGE CAPACITY AIR FRYER
Last update on 2021-11-18 / Affiliate links / Images from Amazon Product Advertising API
Reasons and Benefits of Stacking Chicken Legs, Wings, or Drumsticks in an Air Fryer
The reasons are more or less self-explanatory: it's chicken. It's absolutely delicious. Usually, you'd only be able to cook a few pieces, but if you stack them using racks, you can make about three times the usual amount in just one go. That means no making several trips to the air fryer and a much faster cooking time. 
A significant benefit of stacking food (whether it's chicken or something else) is that, by cooking everything at the same time, you get the same amount of cooking time for all of it. That means a very consistent cook across all of your food, which is quite invaluable for a satisfying meal. 
Conclusion
Stacking chicken legs, wings or drumsticks is quite easy and has its fair share of advantages. However, you probably won't go back to how you used to cook them before you try this.