As an Amazon Associate we earn from qualifying purchases made on our website. If you make a purchase through links from this website, we may get a small share of the sale from Amazon and other similar affiliate programs.
While stacking pork chops in an air fryer can be done, there are better and worse ways to do it. In this article, we'll teach you how to properly do this without messing up in the process.
Put simply: yes, you can stack them. But, of course, not like in the picture above.
The most practical way to stack pork chops in an air fryer, and the one we'll be focusing on, is to use a rack. Air fryer racks work by adding more levels, adding more vertical space to the air fryer; they are stackable, which is why they're perfect for our purposes.
Ways to Stack Pork Chops in an Air Fryer
Pork chops are, arguably, the most popular pig meat there is. They're delicious, convenient, and relatively easy to cook. Introduce air fryers into the equation and pork chops become even more convenient, delicious, and are much easier to cook.
The one potential problem here is that, to make more than two or three at the same time, we need more space than we normally have in most air fryers. Which is why we need to stack them if we don't want to spend an eternity just to cook a batch of pork chops.
There are two main ways of stacking pork chops: with or without racks.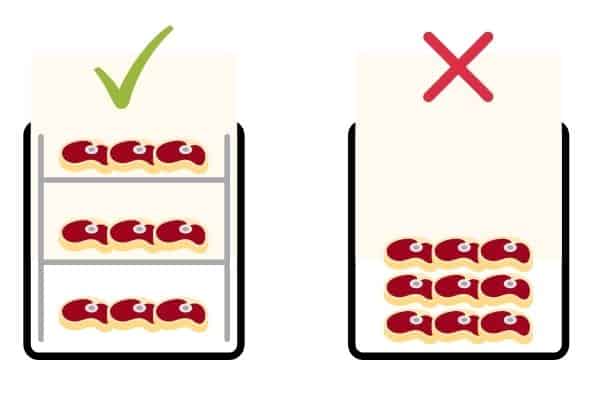 Steps to Consider When Stacking Chops
Before we get into it, it's important to be aware that there are certain steps one has to take into account beforehand- no matter how you're stacking the chops.
First of all, you have to be sure that there isn't too much liquid on the pork chops. You can drain them by delicately patting them down with paper towels, although this isn't required in most cases. If you're using frozen pork chops, this is going to be quite necessary. If, however, you've used a marinade of some sort, be careful that not too much of it goes into the air fryer.
Second, be aware of the width and thickness of the chops. As much as we want them all to be cooked evenly, sometimes this is somewhat out of our control. This is best solved much earlier, when buying, by being mindful of this and getting pork chops that are all even in size. If you have one that's particularly thick, you can make small incisions that go halfway into the meat, helping it cook faster.
With Racks
Air fryer racks are quite straightforward. They are pure stainless steel and usually come in packs, meaning you get at least a three-pack of the same rack- which gives you three levels to play with inside your air fryer.
They're also inexpensive, easy to use, and durable. There are honestly only advantages to using racks, and if you don't want to search for the ones home cooks like the most, here are two with the best reviews on amazon:
BEST FOR STACKING
Airfryer rack SET of 2
FOOD GRADE HIGH QUALITY MATERIAL: MFTEK air fryer accessories rack is made of food grade 304 stainless steel, which is FDA Approval material, durable and heat resistant, oven safe up to 500-degrees
BEST AIRFRYER ACCESSORIES: Double layer rack for more versatile air fryer recipes. Maximize the heating surface of food, use skewers for shish kabob on the top layer and other foods on the grate layer.
EASY TO CLEAN: No stick and No rust high quality 304 stainless steel, easy to clean, Each air fryer accessories is dishwasher safe for a quick and hassle free clean up, just simple slip in the dishwasher and get your hands free.
DURABLE & FRIENDLY DESIGN: The rack edge is polished to a smooth surface with no rough spot, Protect your hand roundly while washing or holding. Dense parallel line prevents food from falling through.
100% COMPATIBLE WITH: XL Power airfryer, Philips, GoWISE USA, Faberware, Cozyna 4.2-6.8QT and up. The Skewer rack size: 7.8*2.75inch, metal rack: 7.8*1.18inch.
Last update on 2021-11-20 / Affiliate links / Images from Amazon Product Advertising API
BEST FOR STACKING AND DEHYDRATION
Airfryer racks for stacking food 6quart
【DESIGNED TO FIT】7.9 inch diameter by 5.3 inch height is the perfect size to fit most 6 quart Instant Pot models, including Duo 60, Lux 60, Duo Plus 60, Ultra 60, Viva 60, Nova Plus 60, Duo Nova 60.
【EASY TO USE】Dishwasher safe makes clean up a breeze, the stackable design offers exceptional convenience to save you precious countertop space.
【DEHYDRATE FOODS】Five stackable layers make it easier than ever to dehydrate fruits and meats, lock in the nutrients and enjoy healthy snacks like chips and jerky.
【SAFE HANDLING】 Thanks to the roll hemming technology, ensure safe handling with burr-free edges.
【FOOD GRADE SAFETY】Featuring stainless steel food grade 304 (18/8), you can serve your family much-loved healthy meals every day.
Last update on 2021-11-20 / Affiliate links / Images from Amazon Product Advertising API
While there isn't a lot of science to using racks, the most important thing to take into account is that we can't simply use all of the surface area; we need to distribute the pork chops in such a way that air can flow freely through the air fryer. If not, we can expect uneven cooking or overheating of our precious air fryer.
The best way that we've found to stack them is to leave a small space at the sides and then about one finger between each pork chop. If we stack them exactly the same way on each rack, we'll be optimizing airflow, which will make a big difference in cooking time.
Without Racks
We don't recommend stacking pork chops in an air fryer without racks. This might be okay with other foods (particularly french fries or chicken nuggets) as some foods might leave more space than others, but pork chops simply don't leave any space for the air to circulate and properly cook them.
Beyond creating any serious problems for the air fryer (which could happen), your chops simply won't properly cook. One side will almost always be raw.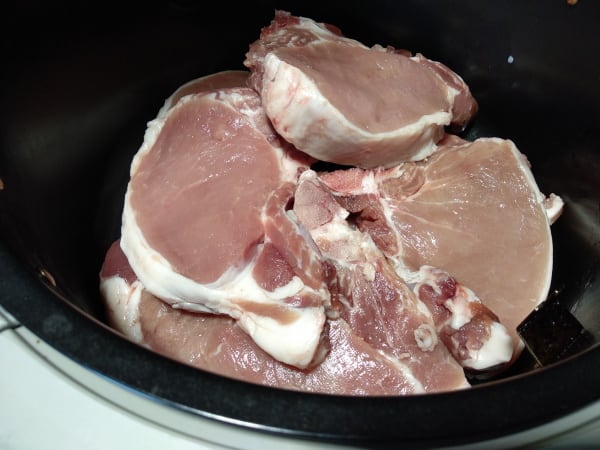 Which Types of Air Fryers can you use for Stacking Chops
Although there are air fryers that are more spacious than others, we can use any type of air fryer as long as we've got a good set of racks at hand. It is recommendable, however, not to use basket air fryers that are smaller than 9 x 9 inches, as the space is just not enough for stacking chops.
While there are racks definitely smaller than 9 x 9, it's usually better to go for a smaller size, as this allows for easier maneuvering and, again, a better airflow. If your basket is 9×9 inches, for example, go for a rack that's 7×7 inches.
The ideal choice would be an air fryer oven. Baskets make it hard for us to get in there and check how the meat is cooking, and the paddle isn't very helpful either. Air fryer ovens are perfect for cooking meat in general because you can easily check how your food's coming along. Nobody likes to bite into raw meat!
So if you are a family of 4 or more or just don't want to batch cook, the best thing is to use a good quality air fryer like this one, which is loved by many users:
BEST LARGE CAPACITY AIR FRYER OVEN FOR LARGE FAMILIES AND STACKING FOOD
Sale
26 QT Digital Maxx Air Fryer
EXPERIENCE ULTRA-FAST PERFORMANCE — Enjoy meals in minutes, as powerful Turbo MAXX Technology cooks food in a fraction of the time: The Kalorik MAXX Air Fryer Oven cooks french fries up to 22% faster, steak up to 37% faster, and chicken up to 27% faster, and saves consumers over 77% in energy than traditional ovens.
REPLACE 10 OF YOUR KITCHEN APPLIANCES — This As Seen On TV meal-making powerhouse is an air fryer, toaster, grill, oven, broiler, rotisserie, dehydrator, roaster, pizza oven and warmer — giving you everything you need in a single appliance.
CHOOSE FROM 21 SMART PRESETS — Ready to cook, at the touch of a button. An intuitive digital interface with 21 presets offer a variety of foolproof menu options for deliciously crispy French fries, onion rings, chicken wings, shrimp, wings, vegetables, and more.
COOK FAMILY-SIZED MEALS — Great for families and multi-person households, the MAXX's extra large 26-quart capacity yields bigger portions and allows you to cook full healthy meals at once. It can fit a 14-pound turkey, 12-inch pizza, or up to 9 slices of toast in its cavity.
CHOOSE FROM 9 ACCESSORIES THAT DO IT ALL — MAXXimize your cooking possibilities with a host of versatile accessories, including an air frying basket, baking tray, air rack, crumb tray, bacon tray, steak tray, rotisserie spit & forks, rack handle and rotisserie handle.
Last update on 2021-11-18 / Affiliate links / Images from Amazon Product Advertising API
What can Happen if you don't do it Right
There are two ways you can potentially mess up your pork chops if you don't properly stack them. On one hand, you can end up with raw pork chops: this can happen if you stack them one over the other and leave little to no space in between chops.
On the other hand, you can also end up with burnt or charred food. This happens whenever there isn't proper airflow inside the basket, resulting in one side of the basket being significantly hotter than the other.
If you don't leave proper space as we mentioned earlier- that is, on the sides and between pork chops, then the air won't flow freely. That will ultimately result in your chops being overcooked on one end and borderline raw on another.
Conclusion
Stacking food in an air fryer can be incredibly convenient and lets you cook more food at once than you would otherwise be able to. Air fryer racks are incredibly inexpensive, durable, and easy to use, making them a must-have in your kitchen.