As an Amazon Associate we earn from qualifying purchases made on our website. If you make a purchase through links from this website, we may get a small share of the sale from Amazon and other similar affiliate programs.
If you are in a hurry and just want to find out what the best induction cooktop with built-in downdraft is then I'd recommend the Elica Nicola Tesla (USA Version) or (EU Version) as the best one.
Induction Downdraft Cooktops: Are They Worth the Hype?
Induction downdraft cooktops are sleek, elegant, and offer faster meal prep, excellent temperature control, and easy cleaning. But is the built-in downdraft really more convenient than a regular range hood? In this updated guide, we take a closer look at the latest models available in 2022 and offer unbiased reviews and recommendations.
After researching the market for induction cooktops with downdraft, we found that many of the models that were available in 2020 are no longer on the market. However, one model that has remained consistently available and is our top pick is the Elica Nicola Tesla Avant-Garde.
In addition to this, we searched through eBay and Amazon for cooktops with integrated downdraft and found that while there weren't many available, most were located in the EU region, with some manufacturers offering worldwide shipping.
To help you find the latest available cooktops with built-in downdraft, we've created a table (updated in February 2023) with our top picks. You can also click the links above to see current prices or read customer reviews on Amazon.
Overall, if you're looking for a sleek and modern way to cook with excellent temperature control and easy cleaning, an induction downdraft cooktop may be a great choice for you. Keep reading for our detailed reviews of some of the top picks on the market.
Protect your induction or glass cooktop
Protecting your induction or glass stove top is crucial, but researching the right cover based on your budget can be overwhelming. Check out my comprehensive guide to find the perfect cover without the stress. Here it is!
Best induction downdraft cooktop
I noticed through the research that there aren't many induction cooktops with built-in downdraft available on the market. Here are the best few I found.
This induction cooktop includes four burners allowing enough versatility to handle multiple cooking tasks at once.
It has touch controls and a built-in air extraction fan that receives the information coming from the cooking zones and automatically sets ideal aspiration speed value.
New technology in filters reaches filtering levels higher than 82% against the market average of about 60%. This new filter can also regenerate itself and last up to 3 years with proper care of washing and drying.
There are several temperature settings on this cooktop (from 53 to 3500 wats power). Temperature settings are optimized both for very delicate types of cooking so you can easily poach eggs or stir fry like a Chinese chef. It has special bridge zones which can work both individually or combined, meaning the cooktop surface can adapt itself to the type of pots you use.
Elica has an innovative stop and go function, which makes it possible to switch off the cooktop and then resume cooking at the same temperature.
PROS
Pot detector
Bridge zone function
Revolution ceramic odor filter – filtering levels higher than 82%
Temperature manager
Duct out and recycle option available
Stop and go function
Low noise
CONS
Here is a quick video presentation:
Cookology induction cooktop is only available in the EU. It has got four induction zones and a built-in downdraft. The hob comes with a choice of 2 different inlet grills, stainless steel, and a black cover. As with all induction hobs, you get instant power where the magnetic field created, heats compatible induction pans directly (steel or iron-based).
it has two powerful 2.5kW induction zones at the back and two smaller 1.5kW zones at the front. The built-in 99-minute timer helps you stay in control and prevent you from overcooking your carefully prepared meals.
There is also a built-in child-lock. Child-lock prevents little fingers from playing with the controls. It also detects metal, so only pan will heat up instead of, for example, a fork left on the hob.
The downdraft hood has three speeds with a maximum extraction rate of 504m³/hour. You will need an electrician for installation, to wire up the three wires from the hob to a 40amp cooker cable in your kitchen.
The downdraft comes with two flexible ducting hoses. One connects the outlet on the hob to the inlet of the motor. The other 2-meter hose connects to the outlet on the motor. With it, you can redirect the air back into your kitchen if recirculating (carbon filter required, not included) or outside (external wall vent required, not included).
PROS
The cheapest induction hob with built-in downdraft
Child lock
Powerful induction
Timer
Touch control
Two-year warranty
CONS
The extraction fan and mechanism are huge
People were very impressed with this hob, and it's innovative technology.
Some mentionable features are FlexZone and TwistPad. The FlexZone lets you place your pots and pans anywhere you want and heats them exactly where they stand. The TwistPad fire is a removable, magnetic, illuminated control knob that gives you precise, convenient control over all cooking zones. And to make things even easier, only selectable functions are illuminated.
People liked the sleek design and reported that after-sales support is fabulous. With almost 100 answered questions, you can find valuable information for installation and maintenance.
Users liked the fact that it does exactly what they expected, that it is easy to use and to clean. Some even say that downdraft works better than an overhead vent.
Some people were surprised that for the price, the necessary filters and ducting would have to be purchased separately.
PROS
P function for fast boiling
Can be installed to recirculate or to extract out
Flex induction zones on both sides
TwistPad
Flexmotion
Eco sensor
Manual and automatic programs are available for the extractor
CONS
You do not get the venting system with the hob
Expensive
Here is a quick video presentation:
Silverline luna has a duct and ductless option available if you've not got the space to install a vent outside.
Countertop extractor hood has two cover options black and stainless steel. The hob is made of stainless steel frame with black glass and LED lights.
The size of the counter extractor is (5.9 inch) 152mm x (15 inch) 382mm in Stainless Steel and hob size (30.7 inch) 780mm x (20.4 inch) 520mm.
PROS
Flex zone hob
Includes motor freeflow rate 700m3/h
Recirculation kit with long-life carbon filter – lasts up to 3 years
Removable liquid collection channel for easier cleaning
Dishwasher safe aluminum grease filters
4 Speed
Touchscreen
Automatic shut down
Child lock
2 Year Warranty
CONS
Here is a quick video presentation:
This flexInduction hob adapts the cooking zones to different cookware and pots up to 9 inches 24 cm in diameter.
 It has three heating zones with different temperatures, which can be controlled just by moving the pan. The extraction system is powerful and quiet. It has a sensor that monitors steam and odors and adjusts the power level automatically.
A beautiful-styled product, this hob impressed several, users many of whom commented on doubting the ventilation system before buying. But after they bought it, they were surprised by its efficiency, quiet sound, and power.
Users liked the fact that there are two types of extractions available. The hob enables recirculation, or you can duct the hob straight outside. An additional part is needed to duct the hob straight outside. The piece is HZ381400. The question also arises, which one is better. Siemens answers: extracting out would be more efficient than recirculating.
You can catch spillages with specially designed extraction system and empty them from underneath.
PROS
Very elegant
Extraction sensor for odor and power control
Cooking zones
Quiet extraction system
Ducted and ductless extraction possible
17-level electronic adjustment
Fyingsensor Plus
Turbo function
Stopwatch
PowerManagement
CONS
Here is a quick video presentation:
How to choose induction downdraft cooktop
First, you need to ask yourself how much space do you have as these cooktops, together with the downdraft system, tend to be quite large, measuring from 23 to 32 inches.
The primary purpose of a vent is to extract the steam and dirty air that comes from the cooktop. I found out that both classic range hood or built-in downdraft will do a great job. But if you can't decide, the induction cooktop with built-in downdraft is the right fit for you:
if you like more elegance,
can afford to relocate some of your pots and pans into another drawer,
don't have space above the cooktop or
have enough space under the cooktop.
Since you are looking for an elegant cooktop solution, the next question would be, do you have space under your cooktop for downdraft installation? With every model available, there are two types of installations possible. You can redirect the air back into your kitchen if recirculating (filter required) or redirect it outside (external wall vent required). Some use a lot of space under the cooktop, and others use only the backside of the kitchen cabinet.
Each induction cooktop model has a lot of high tech functions and programs. They are pretty similar and help with precise cooking, temperature control, and the use of many different sized pots and pans at the same time.
The last thing is the price. The induction cooktops with built-in downdraft are expensive compared to the electric cooktops with built-in downdraft. One could still get the same effect with downdraft, but the cooking experience with electric cooktops is much different.
Do I have space in my kitchen to install an induction cooktop with a built-in downdraft?
Induction cooktops with build-in downdraft tend to be significant because of the built-in downdraft. An expert should always do the installation. Since every model has its unique downdraft system, you must check the measurements of each cooktop. Here are a few types of installation options.
Elica Nicola Tesla (USA Version) or (EU Version)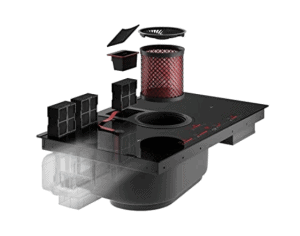 Siemens iQ700 (EU Version) and Neff T58TS6BN0 (EU Version)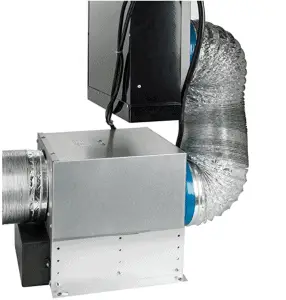 What are the advantages and benefits of an induction cooktop with downdraft?
The most mentionable benefits and advantages recognized are the induction cooking experience with a variety of cooking possibilities for every situation and the downdraft system.
One of the coolest features is flex induction zones meaning you can place your pots and pans anywhere you want. You can put the pots and pans anywhere on the cooktop, and the induction will work only on that part. Imagine you just made your pork roast in a roasting pan and want to make a beautiful silky sauce out of the little roasty bits that stick to the bottom. You can just place the square pan on the induction cooktop, and induction will heat the entire pan exactly where it stands.
This feature is also perfect if you have lots of different pot and pan sizes at the same time on the cooktop.
For all the time savers, there is a great feature that boils your pasta water extremely fast. According to research that was made by Schott, the instant power of induction cooktop enables the water or any other liquid to boil at least 3 minutes more quickly than on electric cooktop.
Design, touch control, and cleaning are correlated. Beautiful flat glass top design is perfect for built-in touch control that you can control with just a use of your fingertip. Since the models are flat, you only have one surface to keep clean (no burners or knobs to deal with).
Our choice
When it comes to induction cooktops with built-in downdraft, there isn't a wide range of different models available from manufacturers. You can choose to spend a little less money and get a decent quality induction cooktop with downdraft for your money. You could also choose to spend quite a lot of money and end up with a cooktop set with similar technology advances but better quality and designed cooktop. When it comes down to it, it's a case of personal preference.
Of the products I reviewed, the consensus was that the best induction cooktop with downdraft in terms of good quality, reliable, function as well as price was the Elica Nicola Tesla (USA Version) or (EU Version). Overall, people thought this cooktop is well designed and looked good in the kitchen and did a great job of air exhaust and overall cooking experience.
It's well-liked by many people who had second thoughts because of the price, but it did an efficient job and at excellent value for money. It also comes with a generous 2-year warranty, which just enhances it as the best induction cooktop with built-in downdraft.
More induction cooktop tips and tricks:
–What do you put under an induction cooktop
–What should you not use on an induction cooktop
–How can i protect my induction or glass stovetop
Cooking on induction cooktop
–How to cook eggs on induction cooktop
–How to cook vegetables on induction cooktop
–How to deep fry on induction cooktop
–How to cook pasta on induction cooktop
References
Last update on 2020-02-11 / Affiliate links / Images from Amazon Product Advertising API