As an Amazon Associate we earn from qualifying purchases made on our website. If you make a purchase through links from this website, we may get a small share of the sale from Amazon and other similar affiliate programs.
What if you could transform your stove into an additional workspace or decorate it while it's not in use? There is a simple solution that allows you to do just that. Stove top covers are around since I can remember. My grandmother had a noodle board and an old enameled metal cover, which she used for her gas range. She covered it every afternoon, so the kitchen looked neat and dandy.
Many new options are available in the modern age, and whatever stove you have, whether it be a glass stove induction or electric cooktop, gas or standard electric, there is a stove cover for each one.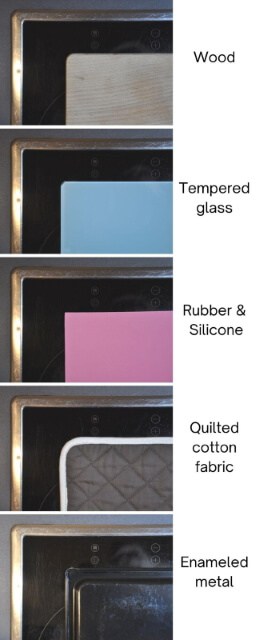 The table shows best stove top covers so you can easily decide which one you need for your stove:
Best stove toppers covers for your glass, gas or electric stove
Stove type
Stove toppers covers material
Image
Cover covers
Size in inches
Glass stove electric and induction stove toppers covers
Rubber or silicone
Whole stove
28.5 x 20.5 inches (72 x 50 cm)
Quilted cotton fabric
Whole stove
29.5 x 21.5 inches (75 x 54.5 cm)
Wood
Whole stove
29.5 x 21.5 inches (75 x 54.5 cm)
Gas stove and standard electric stove toppers covers
Regular depth enameled burner covers
2 burners
20 x 11.5 inches (50 x 30 cm)
Deep enameled burner covers
2 burners
19.5 x 11.7 inches (50 x 30 cm)
Single enameled burner covers
1 burner
9 inch square (22 cm)
Tempered glass
2 burners
20.5 x 11,75 x 1,75 inches (50 x 30 x 4.4 cm)
Wood covers for all burners
Whole stove
29.5 x 21.5 inches (75 x 54.5 cm)
Best stove top covers
Glass stove top cover – for electric, ceramic or induction stoves
If you ask yourself are there covers for glass top stoves, the answer is yes, and they are:
rubber and silicone covers
quilted cotton fabric covers
wood covers
tempered glass (only as a working surface)
Rubber or silicone stove top covers for glass stove (electric or induction) – Larsic Stove Cover
This is one of the most versatile covers you could find for a glass stove. It's not only the best cover for your glass stove, but it can also be used on a counter or your washing machine.
Four different sizes are available, which means they can fit on any glass stove top. Available sizes are 24×21 inches, 28.5×20.5 inches, 31×24 inches, and 36×21 inches.
Most users decide on this stove cover to protect their glass stove top from accidents. Have you ever scratched, cracked, or shredded your glass stove? Well, this cover will protect your stove and preserve it for a long time.
They are easy to clean, and you can even put them in a dishwasher.
People like the fact that the cover is flat. The flat surface merges with the glass stove top, and if you look from a distance, it seems as if nothing is on the stove.
This cover is made of rubber, but it is not like the rubber that tires are made of. To put it into perspective, let me ask you this: did you ever wear a neoprene wetsuit? Well, the material of this cover is similar to that material. The bottom part has a nonslip rubbery texture that holds the mat in place and helps from slipping off the stove.
Another useful feature is that you can put anything on it as long as it is not too hot. The cover can withstand temperatures to 390F (200C).
Larsic cover might be the right choice for those who want more counter space. You can put basically anything on this cover and use your stove top as an extra work area.
Another cool feature of this product is that it can be hanged on the wall. You could fold it and put it in a drawer. But if you hang it above the stove on a wall, it will even protect the wall or backsplash. After you are done with the cooking, you will have fewer surfaces to clean.
Most users that rated this product low all had the same problem. They left it on the stove top and turned on the stove or put it on too soon after they turned off the stove, and it melted.
There are some things you need to be careful of when using this product:
Never have the cover on when you turn on the stove – it will stick to the surface
Never put it on the stove when the stove is still hot – it will stick to the surface
Never put hot pots and pans on it because the cover material will stick to the pans.
Quilted Cotton Fabric stove top cover for glass stove (electric or induction) – ANGECA Stove Top Cover and Protector
This quilted fabric stove top cover works as a cover and a protector. It is made from two layers of pre-quilted thick fabric, with cording sewn in between the two layers. Basically, this is the same material as pot holders, and oven mitts are made of.
The quilted fabric size 28 ½ x 20 ½ inches, covers a typical ceramic glass stove.
If it's important to you to find a cover that is easily stored, easily washed in a washing machine, can be put in a dryer, adds extra counter space, and protects your glass stove, this may be an excellent choice for you.
There are different colors to choose from (black, red, honeycombs and bees, chamomiles, and many others).
People like the versatile use. It is not only great for your stove, but you can also use it as a table mat, a counter mat, or as an ironing mat.
Since the material is fabric, there are usage restrictions. Users are mostly satisfied with the purchase, but those who gave negative feedback had heat resistance problems. Here are the things to avoid:
You should never put a quilted cotton fabric mat on a hot stove or stove that is not completely cooled down.
You should never turn on the stove while the mat is still on.
You can put hot pots and pans on, but they shouldn't too hot as it might change color on the sections where you put hot metal on.
Never use them in the oven
They are not very practical for gas or classic electric stoves.
Alternative wooden stove top cover for glass stove (ceramic or induction) – Farmhouse Noodle Board Stove Cover
Wood is such a warm material and so versatile to use. If you prefer a farmhouse look, then you need a wooden board as a stove cover.
Wooden stove top covers are used for decorative purposes and are also great for additional counter space. You can use them to cover the stove to protect it from breaking. Use them while having a party and put on snacks, a fruit basket, and some flowers.
Wood can withstand high temperatures from pots and pans, but I don't recommend putting them on the wooden cover. If the pan is too hot, you will soon have a burned ring on the surface.
The sizes are standard for gas stove tops, but artisans can customize the size and make it to fit your glass stove top.
There are many customization options available. You can put on different designs and engraved sayings. If you want to get ideas and find the perfect one for you, check out my post about 60 popular noodle board sayings.
Wooden cover is not the first choice for glass tops, but it can also be used on a glass stove top if you like a more countryside decor look.
Users mention that the downside of a wooden stove cover is the weight and the size. If you don't have enough space in your pantry, you will have difficulties finding a place to store it. It is also much more challenging to put it off or on the stove than rubber or a quilted cotton fabric cover.
Stove top cover for gas stove or standard electric stove
There are three efficient options available for covering your gas or standard electric stove. They are:
Enameled metal covers
Tempered glass covers
Wood covers
Enameled metal stove top covers for gas stove or standard electric stove
Why would you want to use these covers? There are two main factors, the first one is to protect the errant air dirt from settling on your stove, especially inside the burner grates, and the second one is the design aspect. If you have an old stove and you want to cover the deteriorating parts, this is a quick and elegant solution to hide those parts.
Enameled covers are made of soft metal, which is very light and easy to clean. The enameled metal can be painted, which gives a variety of design options.
You can choose from single and double burner covers. As the name suggests, these covers' size is large enough to cover two burners at once or one burner at once.
Double burner covers also have two depth size options. You can get the deep burner covers, which are better for higher grates on the gas stove, and regular dept covers, which fit better on the lower gas stove grates, and standard electric stoves.
The sizes of enameled covers fit most gas and standard electric stove types and are the following:
Double burner (deep depth) size:
19.5 inches long
11.75 inches wide
1.75 inches height
Double burner covers (standard depth) size:
19.5 inches long
11.75 inches wide
0.75 inches height
Single burner covers size:
19.5 inches long
11.75 inches wide
0.75 inches height
The possibility to paint them gives you a variety of design options. You can get different color options or pattern options. The most popular pattern options are marble stove tops with white or black marble.
Marble (enameled metal) stove top covers – Miles Kimball 351050 Marble Burner Covers
Some users were confused when they bought these covers and thought that they purchased marble covers. These covers are not made of marble; instead, they have marble designs painted on them. The functionality of marble covers is the same as of any other enameled metal covers.
Enameled metal covers are also very easy to clean. You can put them in the dishwasher or wash them using a soft sponge, soap, and warm water. By any means, do not scrub them with the tough scouring pad because you will scratch the surface.
All enameled covers are heat resistant to some degree. If you put warm pots or pans on them, the bodies will be fine. Although, if you put blazing hot pots and pans directly from the stove, the color sprayed on the covers will melt.
Users also mention that the covers are not scratch resistant and that they get dirty with every fingerprint and every speck of dust. To avoid this, it is best to select pattern designs and light colors.
This cover stands out from the crowd as it is the only one on which you can prepare food on. It is not just for decoration but also works as a workstation.
The cover is made from tempered glass, which is very durable, scratch and heat resistant. The strength of tempered glass allows you to cut your fruits and veggies on the cover without the fear of breaking or scratching the glass.
The heat resistance is also a fantastic feature. With the size of 20.5 x 11,75 x 1,75 inches, you can easily put on a hot baking pan directly from the oven. You can also cover your gas or standard electric stove right after you turned off the stove. You don't really need to wait for the stove to cool down completely.
Users really like that you can put this cover on two burners at once. They also work as burner protectors.
Imagine you are cooking dinner and are only using two burners. What is going to happen with the other two burners? Well, they are going to get splattered with sauce and oil from sizzling steak and pasta water, and…well, you get the picture.
Now imagine putting this cover on the two burners that are not in use. The burners will stay clean, and the only thing you will have to do is wash the stove top cover. Image how much work you would have with cleaning the burners, right?
The tempered glass cover features four sturdy silicone coated feet. These feet are important for many reasons:
You won't scratch the surface on which you work on. This means you can also use it on a glass stove.
The silicon feet allow stability when cutting and putting pots and pans on. At the same time, they help, so the cover doesn't slip.
They are heat resistant, meaning you can put the cover on warm grates or coils or put on hot pots and pans.
People also like the fact that you can put it on a sink. Prepare your veggies on the board and put scraps directly in the sink.
The only thing that the user had problems with was the flawed design in very few cases.
There are two types of wooden covers for your stove, a noodle board, which I described above in the glass stove section, and a noodle board that you can also use as a chopping board.
The boards are basically the same in dimensions, but one can also be used for chopping, and the other one can't. This is because the ones that are meant for chopping are impregnated with food-grade mineral oils, which makes them safe to put fruits and veggies directly on, without the fear of chemical contamination.
Stove top covers that also work as a chopping board are rare. The reason is they are much more difficult to make, and because of the food safe oils used for impregnation, the production costs are much higher.
Also, most users like to have their stove top clean, beautiful, and scratch-free because the cover transforms the kitchen and gives the space a super warm and cozy feel. If you use the cover as a chopping board, it won't feel that way anymore as the boards will be full of scratches and cuts.
On the other hand, people that really have little counter space and desperately need more will be glad that this option exists.
This product has many benefits:
You can use it as a stove cover.
It works as a chopping board on one side and as a noodle board on the other side. I would not recommend using both sides for chopping because one side should stay unattached so that you can use it as an unscratched stove top cover.
It transforms the amount of counter space you need.
It is seasoned with food-safe oils so you can put food on.
It can be used as a serving tray.
Which stove top cover materials are the best?
There are lots of different materials that stove top covers can be made out of. The best materials you could choose from for your stove top cover are the following
Wood
Enameled metal
Rubber and silicon
Quilted cotton fabric
Tempered glass
Wood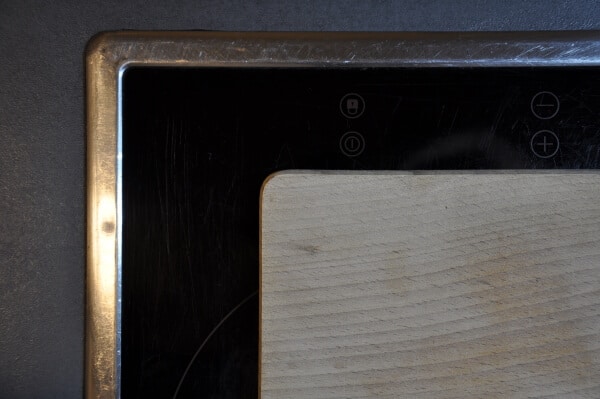 Wooden stove covers are perfect for decorating. If you get the ones that are food safe, you can even prepare food on them and gain additional counters space.
Wood is a famously efficient insulator. That's the reason that all those log cabins in the snow are made with thick wood: it really insulates a place. This property means that if you happen to put your wooden stove top cover on a hot stove, you won't be at risk of damaging anything that sits on top of the cover. Of course, you should always avoid placing a stove top cover on a hot stove.
Pros
Decorative purpose
Robust
Impact-resistant
Variety of wood options to choose from
Possible to make custom design
Adds additional counter space
It can also be used to cover sinks
Possible to use it as a chopping board if it's made for the purpose of cutting
Cons
Very heavy
Not recommended for standard electric stoves
Difficult storage if not in use
Not heat resistant
Difficult to clean
Enameled metal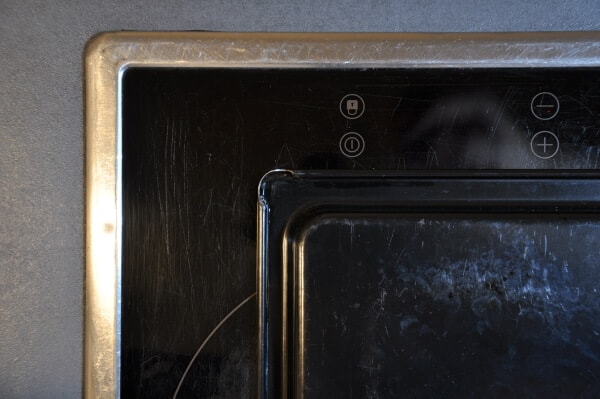 Enameled metal is efficient but not so design-friendly. It has a lot of benefits and is mostly used on gas stoves.
The only surface you can't use them on is a glass stove (induction or electric).
Pros
Very light
Heat resistant
Easy storage
Easy to clean
Possible to get covers for the single burner or two burners
Two height options available if you have high burners
Possible to put on hot pots and pans
Cons
The surface can scratch very easily
Not decorative
Only a few design options available
Not possible to use on induction or glass stove
Rubber and silicone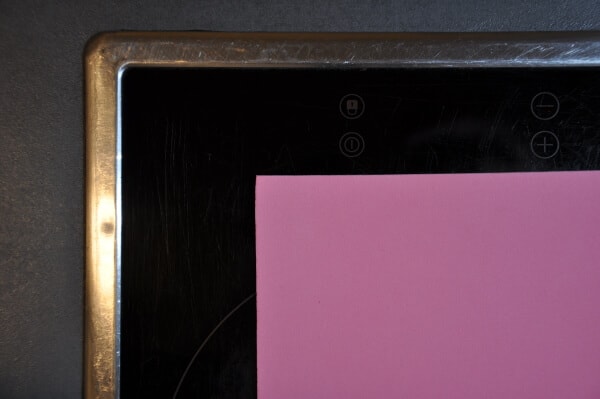 Most of the covers we tested protect the stove. This is especially important with glass stoves, which easily crack if something falls on them. If you drop an empty glass on induction or electric glass stove, the glass can easily break or damage the surface. Silicone mats protect glass stoves and are a perfect cover for electric or induction stove types.
Pros
Very light
Heat resistant
Easy storage
Easy to clean
They cover the whole cooktop surface
Dishwasher safe
Additional workspace
A lot of color options
Cons
Only usable on glass stoves (electric or induction)
Not customizable
Not decorative
Quilted cotton fabric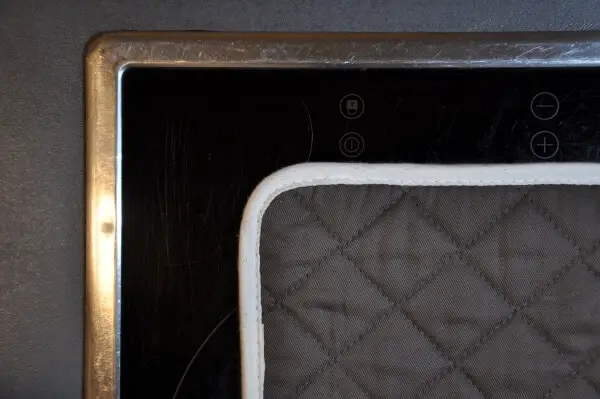 This fabric looks great on an induction or electric glass cooktop, but it's not very handy for standard electric or gas stoves.
Pros
Partly heat resistant – you can put on warm pots and pans
A lot of colors available
It covers the entire cooking space
Easy storage
Easy to clean and wash
It can also be used on other surfaces
Cons
Not a lot of customizable options available
Not very practical to work on
Does not add any extra work area
Tempered Glass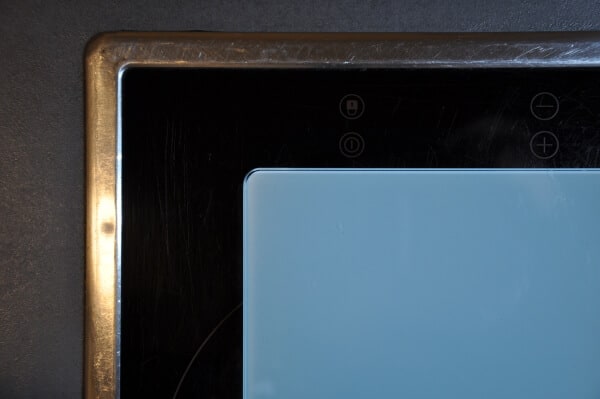 Tempered glass is also popular because it's aesthetically pleasing and easy to keep clean. Suppose you pick the well-made glass. In that case, it'll last a long time too – just like your grandparents' Pyrex dish that's somehow older than you are. Glass is more susceptible to shattering than other materials, of course, so be extra careful not to drop it or expose it to extreme changes in temperature.
Pros
Versatile use (chopping board, serving tray, sink cover, burner cover, stove cover…)
Easy to clean
Durable
Heat resistant
Different design options
Additional counter space
Burner protectors
Cons
Heavy
Difficult to store
What are stove top covers and what is their purpose?
Stove top covers are a piece of material that is deliberately made to cover your stove top. They are made of wood, metal, or fabric. In the past years also other materials became available such as rubber and silicone.
Their primary purpose is to decorate or protect your stovetop, and some give additional counter space.
The sizes vary, depending on what kind of a stove you have. If you have a glass stove (induction or electric), the dimensions are usually around 28.5 x 20.5 inches (72 x 50 cm). They cover the entire stove surface.
If you have a gas range or gas cooktop, you can choose to cover each individual burner separately, two at once or even the entire surface.
For standard electric stoves with coils, single covers for each individual coil are used. You could also choose to cover the entire surface with the wooden cover, but it is usually not recommended because of the heat that coils produce after being turned off.
How to choose the right stove top covers for your stove
Choosing the right stove top cover depends on what you will use it for and what kind of a stove you have. There are lots of parts to this question, so let's break it down a little. First thing's first, what are the different types of stove top covers? Principally, there are raised and flat covers.
The difference is precisely what it sounds like. Flat stove top covers are designed to sit directly on the stove top, while raised stove top covers typically have little feet or supports which allow them to stand an inch or two above the stove.
There are benefits to both types, though the general consensus is that a raised stove top cover is better for a gas stove and a flat one, which is better for a glass stove. You could use the raised one on your glass stove but not vice versa.
The second part is the purpose of it or the main reason why one would decide for stove top cover:
Functional purpose
Stove protection
Additional counter space
Decorative purpose
Functional purpose
The best ones for functional purposes are silicone and rubber mats, tempered glass, wooden boards, and enameled covers.
The smaller the kitchen, the more counter space is needed. Stove tops are an elegant solution to this problem.
Toppers covering the entire cooking surface can add additional 28.5 x 20.5 inches (72 x 50 cm) counter space. This is perfect for putting on pots and pans or even use it as a chopping board.
The best solution for additional working space are silicon or rubber mats and tempered glass. You could use both on induction or electric glass stove, but users prefer tempered glass for their gas or standard electric stove. They are both resistant and can easily withstand hot pots and pans. Silicone mats are also impact-resistant, so if a full cup of flour falls on your new induction cooktop, the silicone mat will protect it from breaking the glass top.
Enameled covers are also great when it comes to heat resistance. You can easily put hot pots and pans on them. Also, you don't have to wait for burners to completely cool down before you cover them with enameled metal covers. The double burner covers bring some extra counter space but not a lot, as only limited sized objects can be put on.
Since they are made of metal, although it's a very soft metal, they protect the stove very well.
The same functionality also has a wooden board. They cover the stove's entire surface and can be used as a banquet table if you don't have enough space in the kitchen. Most of them are not very heat resistant. If you put a warm pot on a wooden board, nothing will happen. But if you put on a hot pot or pan directly from the stove, a burnt circle might appear.
Because they look and are very robust, your stove will be protected from anything.
Decorative purpose
The kitchen is the heart of every home. When we cook, it's usually messy, and dishes are lying all over the place.
But when it's all tidy, the only thing standing out from the countertop is your gas stove. Sure, the new induction and electric glass top stoves look very elegant, and there isn't much need to cover them, but if you have a standard electric or gas cooktop, you may want to cover it.
The best way to make the kitchen look fancier is to cover the stove with a lovely wooden board. Wooden boards or farmhouse boards are a great way to style your kitchen or to hide the stove messes. If you would like to find out which ones are the best, check out my post about the best noodle boards.
Noodle boards are easily customizable. Noodle board sayings are the most popular customization available. To help you with your custom saying decision, I made a post of the 60 most popular noodle board sayings. They can also come in a variety of colors and wood pattern options. If you wonder about how safe they are, check out my post where I cover all needed aspects.
There is also quilted cotton fabric, which can be used for decorative purposes. It is not as customizable as noodle boards, but a variety of colors are available. The material covers the entire stove top. Most people use quilted cotton fabric stove top covers for glass stove tops (induction or electric). They are not very handy for gas or electric stoves since they are not heat resistant and will not stand flat on the stove top surface.
Conclusion
Whatever stove top covers you choose, you can't go wrong. Most of them will protect your stove and keep it clean. If you ask me, you really need one, especially if you bought a new induction cooktop or glass stove; if so, then go with the Larsic silicon mat. But if you are a fan of a gas stove, then go with the tempered glass cover or noodle board.