As an Amazon Associate we earn from qualifying purchases made on our website. If you make a purchase through links from this website, we may get a small share of the sale from Amazon and other similar affiliate programs.
Cutting boards come in all sorts of colors, materials, shapes, and, most importantly, sizes. While there are many things you have to consider, I think that the most crucial one is the size of the cutting board. But what is the best size for a cutting board?
For most home cooks, the best size for a cutting board is a medium to large cutting board measuring approximately 10-12 inches x 16-18 inches (25-30 cm x 40-45 cm). Cutting small amounts of ingredients on such a cutting board is effortless, but at the same time, it is convenient enough to handle a large head of cabbage or a whole chicken.
So, let's take a more in-depth look at what kind of sizes there are for cutting boards, which sizes are best for which foods or occasions, and some other considerations that are just as important such as the thickness of the cutting board.
How to determine what is the best size cutting board for my cooking needs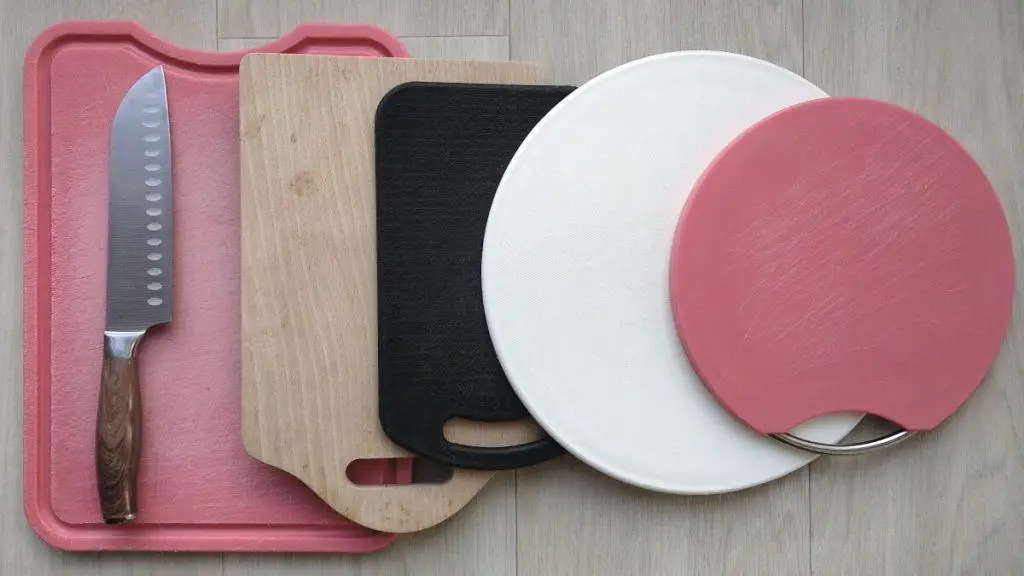 Things like color and shape largely depend on one's personal preferences and taste, but the size is dictated by your needs regarding how and what kind of food you cook at home.
The majority of online stores sell four cutting board sizes: small (8×10 inches), medium (10×14 inches), large (18×24 inches), and extra-large (20×30 inches).
But how big is the average cutting board that sells in online stores? Well, the average cutting board is somewhere between medium and large.
Plastic cutting boards are, on average smaller, while wood cutting boards tend to be bigger. So if you want to know what's the standard size of a cutting board, there are different answers, depending on the material of a cutting board. Here's a table with the approximate dimensions depending on the material:
Plastic cutting boards aren't usually manufactured in XL or XXL sizes, so I didn't put a number down for it.
Why is it so important to figure out what size is better for you? Well, as a home cook, we each have different needs.
For example, some may use the cutting board mostly for chopping small things, like onions, garlic, and fruit such as apples or bananas. In that case, the best size would be a rather small or even extra small cutting board. But, on the other hand, using a big cutting board, in this case, would be a waste of space, and not to mention, the bigger they are, the harder it is to clean them.
But what if someone needs to debone a whole pork rack or slice an entire head of cabbage or chard rather frequently? Using a small cutting board (or even a medium-sized one) would only lead to making an absolute mess on the counter. In this case, the best size cutting board for meat and other larger item is a large cutting board.
In any case you can always avoid the mess or the hastle with couner space, if you get a cutting board with containers. You can check best cutting boards with containers in my other post. 
What size cutting board sells most
There are two ways we can go about buying cutting boards. The first and seemingly most popular option is to buy a set. These sets look quite convenient: usually, three pieces are included (small, medium, and large), covering our every need. In addition, plastic cutting board sets are, on average smaller than wood cutting board sets.
The second and more effective way we can go about this is to determine which size is best for our needs and cooking habits and get just onecutting board that will be enough for our kitchen, depending on our needs. Again, it's cheaper, more convenient, and doesn't feel as wasteful as buying a whole set that you won't really use that often. 
What Size Plastic Board Sells Most
When it comes to plastic cutting boards, larger doesn't necessarily mean better. The standard medium size cutting board is the most popular and sells the most in online stores.
Best one
Last update on 2022-12-05 / Affiliate links / Images from Amazon Product Advertising API
The FaberWare is the most desirable option among home cooks. It is pretty neutral in design, all white and flat, meaning it will look good in anykitchen. The cutting board plastic is incredibly resistant. Usually, we think of plastic as a second-rate material, but this cutting board can resist a ton of force and heat. You can easily use it for several years before having to replace it, which is impressive for such an inexpensive product!
Best budget option
Last update on 2022-12-05 / Affiliate links / Images from Amazon Product Advertising API
If you cook a lot, you would probably require more than one cutting board. This set of four plastic cutting boards is top-rated on Amazon and budget-friendly. What's great about them is the material; it's flexible, making storing these cutting boards simple. In addition, you can easily wash them in the dishwasher, which is super convenient.
They come with little symbols on the corner, which can be most helpful. For example, you will easily distinguish which cutting board you took for chicken and which one for strawberries, and at the same time avoid cross-contamination.
The cherry on top is that the set is incredibly cheap at about half the price you would usually pay for four cutting boards!
What Size Wood Cutting Board Sells Most
Best one
Last update on 2022-12-05 / Affiliate links / Images from Amazon Product Advertising API
It's the bamboo wood cutting board that sells the most. Interesting, the large size is the most popular one. This board is available in small and even larger sizes, but XL sells the most. Since bamboo has a lot of positive benefits, it is also mostly bellowed by home cooks. 
The antibacterial properties are a big plus, and the juice grove adds additional benefits to the most selling wood cutting board. 
Best budget option
Last update on 2022-12-05 / Affiliate links / Images from Amazon Product Advertising API
This three-piece set with semi-rectangular cutting boards is your best budget option. Of course, bamboo isn't always the best choice, but home cooks tend to like it the most. 
Since this is a set of three cutting boards, you can easily use one for meat, one for vegetables, and one for fruits. This way, you will avoid cross-contamination and prevent your strawberries from smelling like garlic.
What are the best plastic cutting board sizes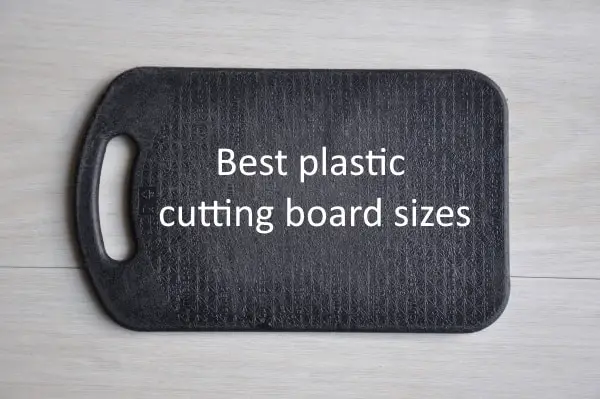 In theory, plastic cutting boards are excellent, no matter the size. However, when it comes to real-life, extra-large plastic cutting boards are pretty inconvenient to have around. 
For most home cooks, small and medium-sized plastic cutting boards are best. Measurements of best sizes are 8×10 in (20×25 cm) for best small size, while medium sizes can be 10×14 in or 11×14 in (25×35 cm or 28×35 cm).
What are the best wood cutting board sizes
The best wood cutting board size for home cooks is probably 12×18 in (30×45 cm). Sizes and shapes slightly differ, but most home cooks will be most satisfied with a large or extra-large wood cutting board.
If you ask any passionate home cook or even professional cooks, they'll always give you the same answer: the bigger, the better. Wood cutting boards are resistant and perfect for cutting and chopping any kind of food.
Bigger boards, of course, definitely have a lot of advantages. For example, you can easily prepare food for several people, cut and prepare all the ingredients using just one cutting board without moving anything around. 
This can be incredibly valuable in terms of saving time. But, of course, there are also some disadvantages, for example storing the cutting board when you don't use it. On the other hand, cleaning the board and keeping it in good condition is manageable once you get the hang of it.
Is 12×18 cutting board really the best size
12×18 inch cutting board is the best size for a home cook that cooks a lot. I cook every day for a family of five and can't imagine having a smaller cutting board. It is the best size for someone who needs enough cutting space for a large cut of meat, many vegetables, or even mise en place.
Does thickness of cutting board matter and what thickness should I get
Unless you're a professional cook or run a very busy kitchen, the thickness should not be a concern for you. Very thin cutting boards might be a problem when it comes to pounding meat with a meat hammer, but otherwise, you won't cut through.
Thickness also assures stability which is most helpful when it comes to heavier items and when adding a lot of pressure. 
Plastic boards are usually thin, and that's alright for home use. Wood cutting boards tend to be on the thicker side, so it's rarely an issue.
If you're really worried about a thin cutting board not "cutting it," then go with at least 0.5 in (1.2 cm) thickness and not with the paper-thin cutting board. 
Conclusion
Usually, most cooks will be happy with 10-12 inches x 16-18 inches (25-30 cm x 40-45 cm). But when it comes to picking the material for your cutting board, sizes start to change. Wooden cutting boards are better in a larger size, whereas smaller sizes are preferred with plastic cutting boards.