As an Amazon Associate we earn from qualifying purchases made on our website. If you make a purchase through links from this website, we may get a small share of the sale from Amazon and other similar affiliate programs.
If you are in a hurry and just want to find out what the best cutting board with containers is, then we recommend the #1 WINNER Bamboo Cutting Board Set with 4 Container as the best one.
Cutting boards are basic essentials of any clean and delicious kitchen. You will never regret having a great cutting board. But when it comes to meal prep, including cutting, chopping, and cleaning the ingredients, having enough space to organize everything, is always a challenge. Here is where cutting boards with containers come in handy.
In this article, we're going to review the following cutting boards with containers and clarify why #1 WINNER Bamboo Cutting Board Set with 4 Container is the best cutting board with containers on the market:
There are few critical qualities in cutting boards with containers; specifically, you'll want to look for, because of their intended use. When you keep in mind they are suitable for well-organized food prep and the mise en place you need; you'll have a better idea of what to buy.
What are prep cutting boards with containers or chopping board workstations
More and more people are aware that they can save a lot of money by cooking at home. For example, just by making their own bread, savings can be attractive. You can check how much money you can save if you make homemade bread in our post.
Anyone cooking at home is sooner or later preparing ingredients from scratch. And when it comes to meal prep and preparation of ingredients for your chosen lifestyle or a couple of guests, the cutting, chopping, slicing, and cleaning afterward is always a challenge.
What are the benefits of cutting boards with containers
Cut prep time in half
Easy cleanup
Mise en place ready every time
Simple storage in the refrigerator
Big working space
Large cutting board
Sturdy
Multifunctional
Great for presentation or parties
Cutting boards with containers are all in one cutting boards, which enable you to prepare food faster and easier. If you like to keep things organized while making your mise en place, then these boards are for you. This functional system helps separate ingredients, but also keeps things neat without over-using counter space.
The size of cutting boards is relatively large; thus, many think they are only useful for large kitchens. When reviewing them, we found that many people use them also in small kitchens because they can keep preppy ingredients nearby.
Storage bins and trays which come with these boards are great for cut ingredients and food scraps. Imagine preparing ingredients for your favorite stir fry dish. Many vegetables that go into stir fry are cut and put directly into storage bins. Then you simply transfer them near your cooking surface and start stir-frying. You get a perfect mise en place every time. If you are into a low carb diet like keto or another lifestyle that requires meal preparation, this cutting board system can help!
Many people say that these cutting boards with containers have cut their prep time in half because when you are done cutting, chopping, and slicing, mise en place is ready, and scraps are conveniently dumped into the garbage means less clean up.
This functional cutting board system can also be used to present charcuterie boards or cheese and crackers for parties.
Which is better Woden or plastic cutting board with containers
Wooden cutting boards have been on the market for a long time. They have many benefits, and as a person who cooks a lot, I would say that they are superior to plastic cutting boards. The thing that bothers probably most cooks in the world the most is the cleaning process. Here is where wooden cutting boards rank very low in popularity. To help the majority of people in the cleaning process, humans invented plastic cutting boards.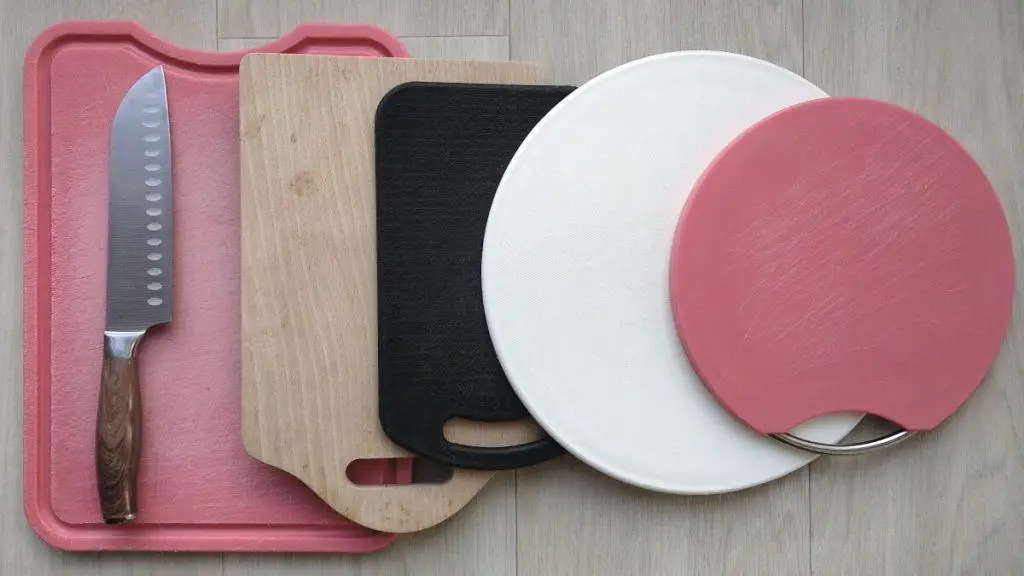 Plastic cutting boards have quite similar characteristics as wooden cutting boards. But the essential benefit is the cleaning part. Plastic cutting boards are usually made of sturdy BPA free plastic, which makes them resistant to high temperatures and humidity.
When you are, for example, cutting a chicken on a cutting board, it is crucial to thoroughly clean the cutting board with lots of hot water and soap. If you don't clean it thoroughly, bacteria will form, making it toxic to use for further food prep.
Cleaning a wooden cutting board with lots of hot water and soap starts to damage the wood layers and the coating that protects the board. The best way to clean and protect your wooden cutting board is to put some baking soda and lemon juice onto the surface and scrub it with small circular motions until you covered the entire surface. Baking soda will help put out any stains or smells that might be locked in your board. The lemon acts as a neutral disinfector. Once you get to the end of the board, wipe the baking soda and lemon off with a hot wet towel.
To keep the wooden cutting board healthy and happy, use some mineral oil, which will prevent the board from cracking. Squeeze the natural oil on the board and massage it in.
On the other hand, plastic cutting boards can easily be put into a dishwasher and washed at high temperature with dishwasher detergent. The first step is to pre-rinse the cutting board before putting it into the dishwasher as the leftovers on the board can clog the drain, and you might end up with a smelly dishwasher. You can check here our post on how to get rid of the smell in the dishwasher if this happens to you.
Best cutting and chopping board with containers and trays
Size: 16.54 x 11.03 x 5.71 inches
Material: Bamboo
Weight: 6.89 pounds
This bamboo cutting board with containers is very sturdy and makes food prep very easy. It has a built-in juice grove, so the water and juices don't flow onto the counter. This built-in sink keeps your area clean.
Food organization and preparation are very convenient. You can separate ingredients into 4 useful containers. There are 2 plastic and 2 stainless steel metal containers. When you are done cutting, you simply slide the cut ingredients into the containers. You can place two containers in front and two on the bottom. If you want to use the bottom containers, they actually need to hang off the counter to use them. The containers are sturdy and professional.
Since containers are both plastic and stainless steel, they can be easily stored in the refrigerator or washed in the dishwasher.
People say that by using this chopping board with compartments cut their meal prep time in half. Users really like the storage bins and think they are the best part of the whole workstation set.
Home cooks use the bottom compartments for scraps and the front compartments for cut ingredients. The fact that users don't have to go to the garbage bin every other moment to throw away scraps is very convenient.
People also mention that the cutting board doesn't shift around on the counter and is pretty enough to simply leave it sitting out when the attachments are off.
Not a lot of people mention the iPad stand, which comes with every set. But the users that use it like it very much.
PROS
Juice grove
Easy care
Multi-use
It won't crack or separate
Easy for mise en place
Long-lasting
Very thick cutting board
CONS:
Some problems with I pad holder
A few users wish containers would come with removable covers
Size: 16.00 x 10.50 x 3.50 inches
Material: Bamboo
Weight: 6.3 pounds
The noonchihome bamboo chopping board with containers is sturdy, which makes slicing and dicing your vegetables very easy. The cutting board is usable on both sides. Use it for chicken on one side and vegetables on the other side.
This cutting board comes with four sliding drawers that are fantastic storage and waste solutions. The compartments are all equal size. The cutting board has an opening for one container, which is perfect for dirty scraps. Other containers are there for you to put in cut vegetables, fruit or meat.
The slide feature comes in very handy when you don't have enough space. You can quickly pull the compartments out like drawers. The compartments are also transparent, which helps you see clearly through them.
People like the fact that the whole workstation adds extra storage to their kitchen counter. In this sense, users like that it keeps everything neat and tidy. When you store food in the refrigerator, it is always recommended to cover the containers. These containers come with lids allowing you to save and preserve your food better.
PROS
Juice grove
It won't crack or separate
Easy to clean
Easy for mise en place
Multi-purpose
CONS
Containers not dishwasher safe
Size: 17.00 x 11.00 x 0.7 inches
Material: Bamboo
Weight: 4.2 pounds
This organic bamboo cutting board with containers is perfect if you have enough kitchen counter space. It measures 17 inches in diameter, which makes it a fairly large cutting board. The workstation set also includes two big and three small storage boxes. These boxes are made of clear plastic and are very rugged. Bamboo cutting board has side sloths that help when trying to pick up the board.
Users like the fact that the wire rack is removable, which makes storing easier. But some users mention that it is a bit difficult to remove these wire racks.
People mention that the board is super sturdy, so it sits on the counter, heavy enough to stay in place but not too heavy to lift. Users find that trays are also great for placing all the separate veggies on the table so anyone can decide what they want on their salads.
PROS
Extra-large cutting board
It's light for the size
Can also be used to serve cocktails and appetizers
CONS
It moves around on the counter, and it wobbles
Fairly small juice grove
Thin for a large cutting board
Size: 15.00 x 3.50 x 9.50 inches
Material: BPA Free Plastic
Weight: 2.59 pounds
This cutting board workstation is made of BPA free plastic. It can be used alone if needed or together with the tray and colander. The material enables the cleaning in the dishwasher without any problems. Pro cutting board contains a large tray and a colander. With its large cutting surface and nonslip bottom, it is a perfect fit for any kitchen or family chef.
The huge drawer inside the cutting board allows you to store veggies or fruits in after cutting them. Trays are also dishwasher safe and can be safely put in the refrigerator for food storage.
People like that they can save time with this cutting board as they can store foods in the drawer as they cut more. The versatile vegetable, fruit, or meat storage area with a drain is perfect so that your food isn't draining all over your cutting board.
Users also like that the cutting board is very sturdy and durable.
PROS
Dishwasher safe
Drip section
Lightweight
CONS
No juice grove
Difficult to find storage space, though, as it doesn't fold flat
Quite high off the counter.
Size: 14 x 10 x 2 inches
Material: Acacia wood
Weight: 3.75 pounds
This wooden acacia cutting is the smallest and weights the least compared to others in our review. It includes two trays which can slide out like a drawer. They are perfect for storing your cut ingredients in the refrigerator. The benefit is also that they are dishwasher and freezer safe.
People reported that this set helped them cut down time on having to run back and forth across the kitchen to do different things. But users also said that it should be wiped with a cloth immediately after it was hand washed as it cracks easily after few washes if not dried properly.
PROS
Drawers slide out easily
Can be used as a serving platter
Lightweight
CONS
Not dishwasher safe
The wooden surface starts warping at the corners
It cracks easily after a few washes.
Board is separating from the sides after a few uses
Still Trying To Decide On A cutting board with containers?
Depending on your specific lifestyle needs, we have you covered on some of the best cutting boards with containers available. We love the first three options the most. However, if you're not quite sure about adding a workstation onto your kitchen counter or looking for a smarter way to prepare your meals, our favorite is the #1 WINNER Bamboo Cutting Board Set with 4 Containers.
The reasonable price combined with high positive ratings of this board makes it our personal overall winner. It's a fantastic option for any individual with a specific diet plan or a large family. The bamboo cutting boards are well known for their reputation in quality and efficiency in the prep process. So, it's worth trying out and won't break the bank even if you decide you need something more substantial, for more rugged use, or to utilize at a family party. Happy cooking!
*Pro family chef utilizes affiliate links, which means that if you click on one of our product links, Pro family chef will receive a small commission at no cost to you. This helps support us, and allows us to keep providing tips, reviews, guides, and content for you.