As an Amazon Associate we earn from qualifying purchases made on our website. If you make a purchase through links from this website, we may get a small share of the sale from Amazon and other similar affiliate programs.
Pumpkin muffins with cream cheese frosting, hokkaido pumpkin desert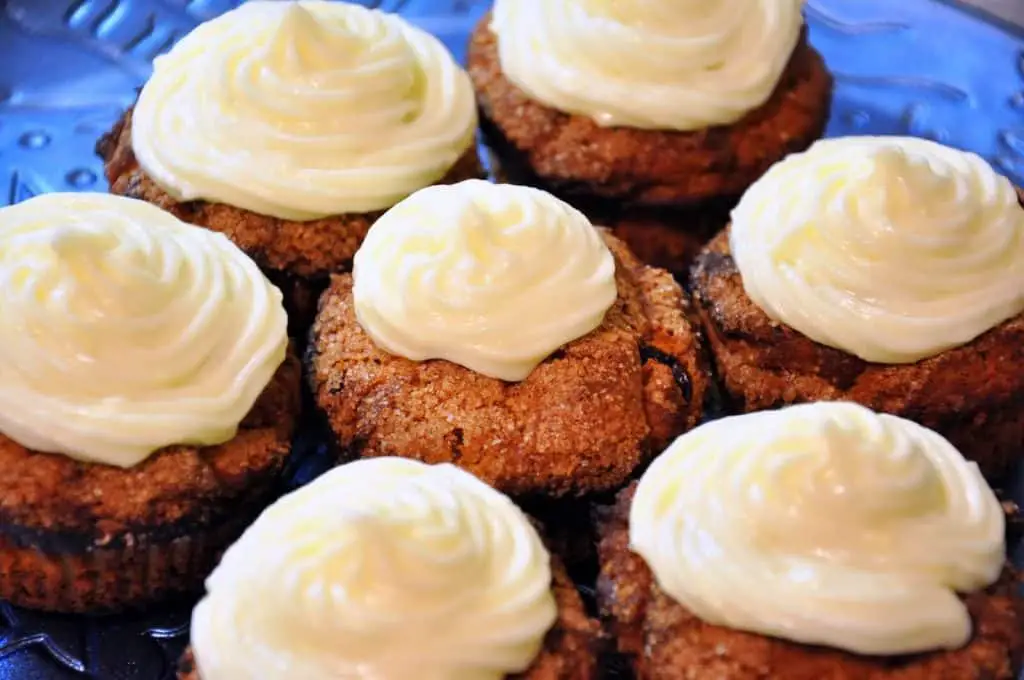 These muffins are delicious, and a special Halloween or autumn treat. So let's make pumpkin muffins with cream cheese frosting.
Video recipe:
So let's make these simple muffins:
First sift together flour, sugar, baking powder, cinnamon, ginger, nutmeg, vanilla sugar (if you don't have vanilla sugar, add vanilla extract to wet ingredients), and salt. Mix the ingredient a bit and then add in Cut butter. Press and mix it with a fork until it is incorporated and gets a bit crumbly. 
In a separate bowl, mix together egg, pumpkin – don't forget to clean the cup, so you don't throw away any of this lovely golden pure, then add cream, and also add vanilla extract if you didn't use vanilla sugar previously. 
Now mix all ingredients nicely with a whisk until you get a soft paste-like mixture. Next, pour pumpkin mixture into the dry mixture. Add raisins and then mix to combine the ingredients. 
Generously grease 12 muffin tins or put in the muffin cups.
Pour the mixture nicely into the pan and fill the cups 2/3 full.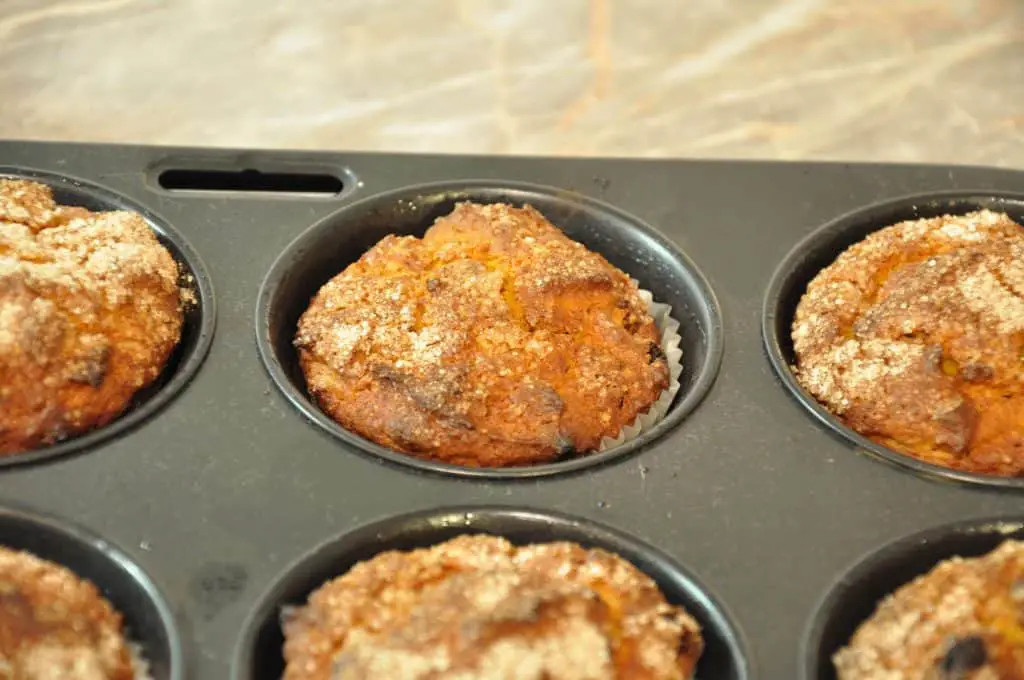 Topping:
Then take the ingredients for the topping and mix them a bit. Sprinkle with this cinnamon-sugar-nutmeg mixture over the top of each unbaked muffin.
Before you put the muffins in the oven, preheat oven to 400 degrees F.
Put the muffin pan in the oven and bake for 20 minutes. After they are done, allow them to cool in the pan for a few minutes before removing from the pan. 
Now the cream cheese frosting:
Make the frosting, put all ingredients in a mixing bowl (sugar, butter, vanilla sugar or vanilla extract, and cream cheese). At first, gently mix all ingredients, so the powdered sugar doesn't puff all over. Then take an electric mixture and mix on high until ingredients get soft and whipped. 
Take a large star tip and pastry bag. Fill the bag with cream cheese frosting. Now let your imagination do the work and make shapes of your desire on these lovely muffins.
One tip before I finish – the frosting will be a bit soft after you finish mixing. If you want the frosting to get firmer, put it in the fridge for an hour and arrange the frosting topping later.
Well, we are done. Enjoy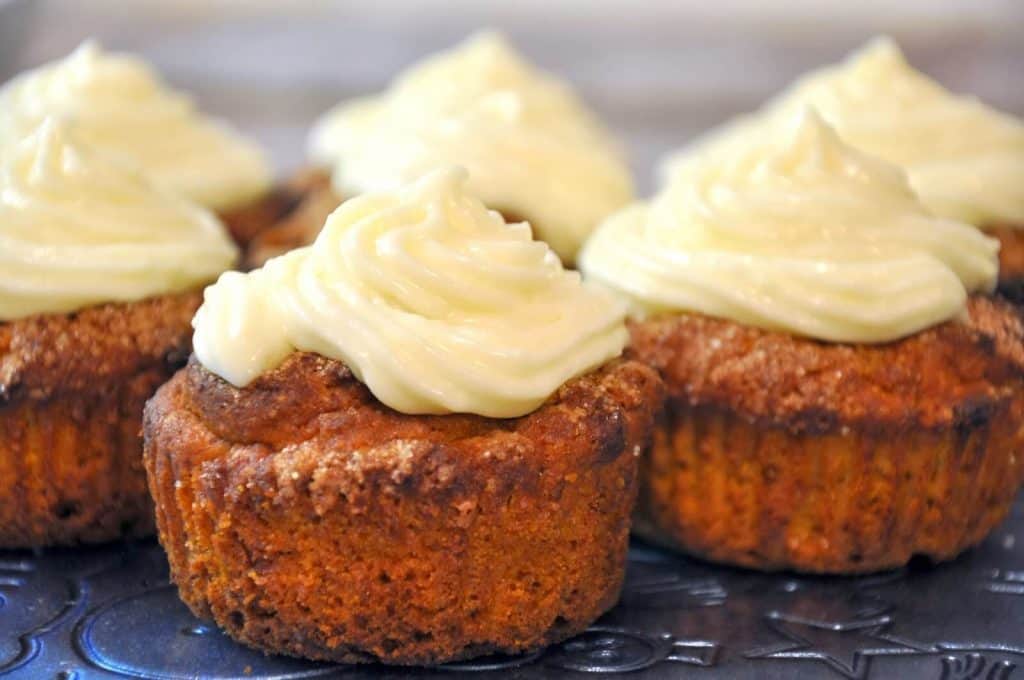 Servings: yield 12 muffins
Ingredients: 
1 cup all-purpose flour
1/2 cup sugar
2 tsp baking powder
1-1/2 tsp cinnamon
1/4 tsp ground ginger
1/2 tsp nutmeg
1/2 tsp salt
4 Tbsp butter, cut into pieces
1 cup (heaping) pumpkin puree
1/2 cup of cream half & half or you can also use evaporated milk
1 whole egg
1-1/2 tsp vanilla
1/2 cup raisins
Topping:
1 Tbsp sugar
1 tsp cinnamon
1/4 tsp nutmeg
For cream cheese frosting:
1/4 cup softened butter
4 oz, cream cheese
8 oz powdered sugar
1/2 tsp vanilla extract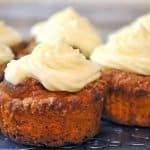 Print Recipe
Pumpkin muffins with cream cheese frosting, hokkaido pumpkin desert
Ingredients
Muffins
1

cup

all purpose flour

1/2

cup

sugar

2

tsp

baking powder

1 1/2

tsp

cinnamon, ground

1/4

tsp

nutmeg, ground

1/2

tsp

salt

4

tbsp

butter, cut into pieces

1

cup

pumpkin pure

1/2

cup

cream half & half or you can also use evaporated milk

1

large

egg

1 1/2

tsp

vanilla extract

1/2

cup

raisins
Topping
1

tbsp

sugar

1

tsp

cinnamon, ground

1/4

tsp

nutmeg, ground
Cream cheese frosting
1/4

cup

softened butter

4

oz

cream cheese

8

oz

powdered sugar

1/2

tsp

vanilla extract
Instructions
First sift together flour, sugar, baking powder, cinnamon, ginger, nutmeg, vanilla sugar (if you don't have vanilla sugar, add vanilla extract to wet ingredients), and salt. Mix the ingredient a bit and then add in Cut butter. Press and mix it with a fork until it is incorporated and gets a bit crumbly.

In a separate bowl, mix together egg, pumpkin – don't forget to clean the cup, so you don't throw away any of this lovely golden pure, then add cream, and also add vanilla extract if you didn't use vanilla sugar previously.

Now mix all ingredients nicely with a whisk until you get a soft paste-like mixture. Next, pour pumpkin mixture into the dry mixture. Add raisins and then mix to combine the ingredients.

Generously grease 12 muffin tins or put in the muffin cups.

Pour the mixture nicely into the pan and fill the cups 2/3 full.

Topping:

Then take the ingredients for the topping and mix them a bit. Sprinkle with this cinnamon-sugar-nutmeg mixture over the top of each unbaked muffin.

Before you put the muffins in the oven, preheat oven to 400 degrees F.

Put the muffin pan in the oven and bake for 20 minutes. After they are done, allow them to cool in the pan for a few minutes before removing from the pan.

Now the cream cheese frosting:

Make the frosting, put all ingredients in a mixing bowl (sugar, butter, vanilla sugar or vanilla extract, and cream cheese). At first, gently mix all ingredients, so the powdered sugar doesn't puff all over. Then take an electric mixture and mix on high until ingredients get soft and whipped.

Take a large star tip and pastry bag. Fill the bag with cream cheese frosting. Now let your imagination do the work and make shapes of your desire on these lovely muffins.

One tip before I finish – the frosting will be a bit soft after you finish mixing. If you want the frosting to get firmer, put it in the fridge for an hour and arrange the frosting topping later.

Well, we are done. Enjoy