As an Amazon Associate we earn from qualifying purchases made on our website. If you make a purchase through links from this website, we may get a small share of the sale from Amazon and other similar affiliate programs.
Herbes de Provence is a fantastic herb mix that is used in French and Mediteran kitchen. The mixture is a combination of dried or fresh herbs that originate from the Provence region. There isn't any set ingredient list, so cooks usually change and prepare the mix to their preferences.
If you are gluten intolerant or just want to avoid eating gluten, we have good news for you. Herbes de Provence is gluten-free and is safe to use by everyone who has a gluten intolerance.
What are herbes de Provence and wich herbs does the spice mix contain
Herbes de Provence is a mix of herbs that cooks use for seasoning dishes. The spice mix contains herbs that originate in the Provence region in France. Most commonly, cooks prepare the herb mixture by using the following herbes de Provence:
Thyme, basil, rosemary, tarragon summer savory, marjoram, oregano and bay leaf
The above-listed herbs are most often included in the mixture. It is not a set list of ingredients. Each cook adapts and changes ingredients to taste and personal preference. Here are a few ideas you can make and use herbes de Provence:
Homemade herbes de Provence mix from homegrown herbs:
if you make herbes the Provence from homegrown herbs, you first need to dry them on the sun or in the food dehydrator. You can check our article on the best food dehydrators that would be excellent for this job.
If you want, you can use fresh herbes de Provence in your dishes, but most cooks dry them and prepare the mixture with dried herbs. The blend usually contains equal parts of dried herbs. The easiest way to make the mix is to crush them in a mortar or food processor. You can store the prepared mixture in a sealed jar or best food dehydrators.
Homemade herbes de Provence mix made from bought dried herbs: 
you can buy herbs that are dried and already crushed. The only thing you need to do is to mix them all together and store them in a spice shaker jar.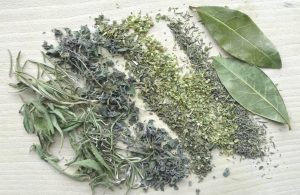 Premade herbes de Provence mix: 
you can also buy premade herbes de Provence mix in your local grocery store or order it from your favorite online store.
Is herbes de Provence gluten-free
The short and simple answer is yes — Herbes de Provence is gluten-free. Usually, individual herbs and spices do not contain gluten. Gluten is a type of protein that can be found in grains, such as wheat, barley, rye, and other grains. This is great for people who are allergic to gluten (gluten intolerance) or might even have autoimmune celiac disease.
None of the herbs that go into the herbes de Provence mixture contain gluten. This means that thyme, basil, rosemary, tarragon summer savory, marjoram, oregano, and the bay leaf are completely gluten-free as all of them ar a part of the herb family and not grain family.
Five Easy gluten-free dinner recipes that include ingredient herbes de Provence spice
Herbes de Provence is a herb mixture that can be used throughout the season. You can incorporate it into dishes like seared meat, fish, chicken, vegetables, and more. One of our favorite ways to use it is herb butter. Mix herbes de Provence with soft butter and just add herb butter mixture to a dish you like. The flavor will be even more vibrant than using just the herb mixture. You can also use herbes de Provence on grilled meat (you can also put them on coal). There are many ways and dishes to use it and here are a few popular gluten-free recipes that include herbes de Provence:
Gluten-Free Grilled Ribeyes with Herb Butter (herbes de Provence)
Ingredients
1/4 cup olive oil
1/4 cup dry red wine
1 tablespoon minced fresh rosemary or 1 teaspoon dried rosemary, crushed
1 tablespoon red wine vinegar
1 tablespoon Dijon mustard
1 teaspoon coarsely ground pepper
1 teaspoon Worcestershire sauce
2 garlic cloves, minced
4 beef ribeye steaks (3/4 pound each)
Steak seasonings:
2 teaspoons kosher salt
1 teaspoon sugar
1 teaspoon herbes de Provence
1 teaspoon coarsely ground pepper
Herb butter:
1/4 cup butter, softened
1 tablespoon minced fresh parsley
1 teaspoon prepared horseradish
You can check the recipe direction on Taste of home
Gluten-Free Herbs de Provence Buns recipe
Ingredients
1 and 2/3 cup almond milk warmed to 110 degrees F(you can exchange with soy milk, coconut milk or even cows milk)
1 package yeast or about 2 and 1/4 teaspoons
16 oz Gluten Free Flour Mix (I used Bob's Red Mill Homemade Wonderful GF Bread Mix, Gluten Free but use whatever one you like)
1 egg – 1 whole egg plus enough egg whites to make 3/4 cup (or can use vegan gluten free egg replacer)
1/4 cup butter (I used lactose free margarine, but you can also use vegetable oil)
1 tsp apple cider vinegar
1 tbsp herbs de Provence
1 tsp sea salt for the mix and a little extra for the topping
cooking spray to prevent your bread from sticking to your muffin tin or paper muffin cups
sesame seeds optional- garnish
milk and egg glaze
1 tbsp almond milk (or any milk of your choice)
1 egg (or skip this is going vegan and just brush with the milk)
You can check the recipe direction on Healthy world cuisine
Gluten-Free Roasted Salmon with French Lentils and Arugula Recipe (herbes de Provence)
Ingredients
1 cup French lentils
2 cups gluten-free chicken or vegetable broth
1 carrot, peeled and cut into 1/4-inch dice
1 celery stalk, trimmed and cut into 1/4-inch dice
1 large shallot diced
1 teaspoon herbes de Provence
Kosher salt and freshly ground pepper
4 (6-ounce) skinless salmon fillets
4 tablespoons extra-virgin olive oil, divided
4-1/2 teaspoons champagne vinegar or white wine vinegar
2 ounces arugula
1/2 lemon
You can check the recipe direction on Gff magazine
Gluten-Free Keto Almond Flour Biscuits recipe (herbes de Provence)
Almond Flour Biscuit Ingredients:
1.5 cups almond flour
1 tbsp coconut flour
1/4 cup sour cream
1 egg
2 tbsp butter
1 tsp baking powder
1 tsp garlic powder
1/2 tsp herbes de provence
1/4 tsp salt
1 cup shredded mozzarella
Herb Topping:
1/2 tsp herbes de provence
olive oil
You can check the recipe direction on Joy filled eats
Gluten-Free French chicken power bowl recipe (herbes de Provence)
Roasted herbes de Provence chicken and vegetables
8 chicken breasts bone in, skin on
4 tbsp Herbes de Provence seasoning
2 tbsp coconut oil
½ tbsp kosher salt
2 cups baby potatoes whole
1 red onion halved and sliced
2 cups carrots
Herbes De provence vinaigrette
2 tsp salt
1 tsp pepper
2 tsp Herbes de Provence
4 tbsp champagne vinegar
4 tbsp avocado oil
You can check the recipe direction on Foodology geek
Herbes de Provence substitutes
An excellent substitute for herbes de Provence is Italian seasoning or a herb mix called Fines herbes. Fines herbes variation of herbs also used in French and Mediterranean cuisine. Herbs used in the blend are parsley, chives, tarragon, and chervil.
Fines herbes is a set list of ingredients meaning the taste will always be the same. Not like with the herbes de Provence and Italian seasoning, which can be adapted to personal preferences.
3 Best herbes de Provence spice mixes we recommend
Simply Organic Herbes de Provence, Certified Organic
Provence Epices – Provence Herbs from France
McCormick Culinary Herbes De Provence