As an Amazon Associate we earn from qualifying purchases made on our website. If you make a purchase through links from this website, we may get a small share of the sale from Amazon and other similar affiliate programs.
Suppose you are wondering how to use a lot of eggs in one dessert than this recipe is perfect. These are the fluffiest, melt in your mouth custard cream cakes ever.
They are very easy to make once you get to know the procedure, and if you use the right tools and technics in this recipe, you can't go wrong. If you want them to be really fluffy and not runny, you really need to measure the ingredients in this recipe, very exact.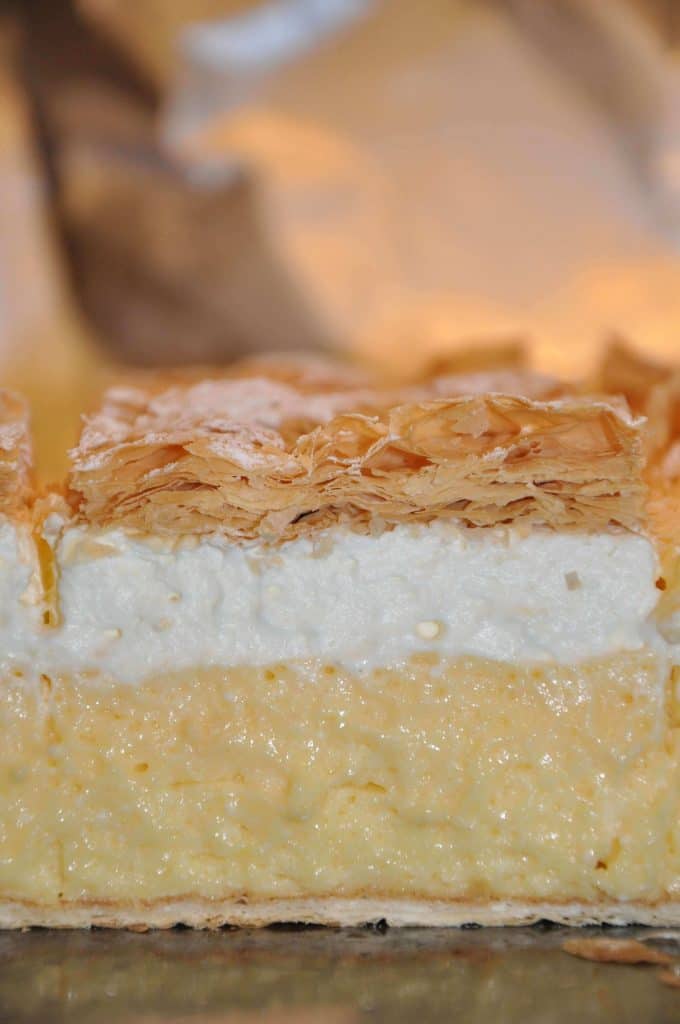 Nutrition facts and health meter for vanilla cream cakes
If we check the health meter for this recipe, You can see the cakes are, well, relatively high in everything, compared to your recommended daily intake, but mostly they are relatively high in cholesterol and sugar. If you eat only one, you will get more than half of your daily cholesterol needs and almost 65% of your recommended daily sugar intake. We could say they are more on the unhealthy side than the healthy, but they are so good, I promise.
Video recipe vanilla cream cakes
Servings: This recipe will make 15 vanilla cream cakes, and to make them, you will need the following ingredients, 
Ingredients: 
17,6 oz. puff pastry
9 large eggs divided into egg yolks and egg whites
10,5 oz. (1.5 cups) sugar for the egg yolk mixture
3,5 oz (0,5 cup) of sugar for the egg white mixture
1 tbsp of rum
54 fl oz of milk and save 1 cup of milk for the egg yolk mixture
2 bags vanilla sugar or if you don't have it, just use 1 to 2 tsp of vanilla extract
6,35 oz. all-purpose flour (use the driest flour you have)
For the topping, you will need:
2 cups of heavy whipping cream
2 tsp sugar
And for the serving:
1 tbsp of powdered sugar
The first thing you need to do is to roll and bake the puff pastry. Roll it into 2 equal squares. The size should be just a bit bigger than your baking dish because it will shrink in the baking process.
Then take a fork and poke the dough here and there. Bake it for about 10 minutes or until golden brown. Cool the first sheet of dough entirely and leave the second one in the baking dish. You don't need to cool it because we are going to pour hot mixture over it.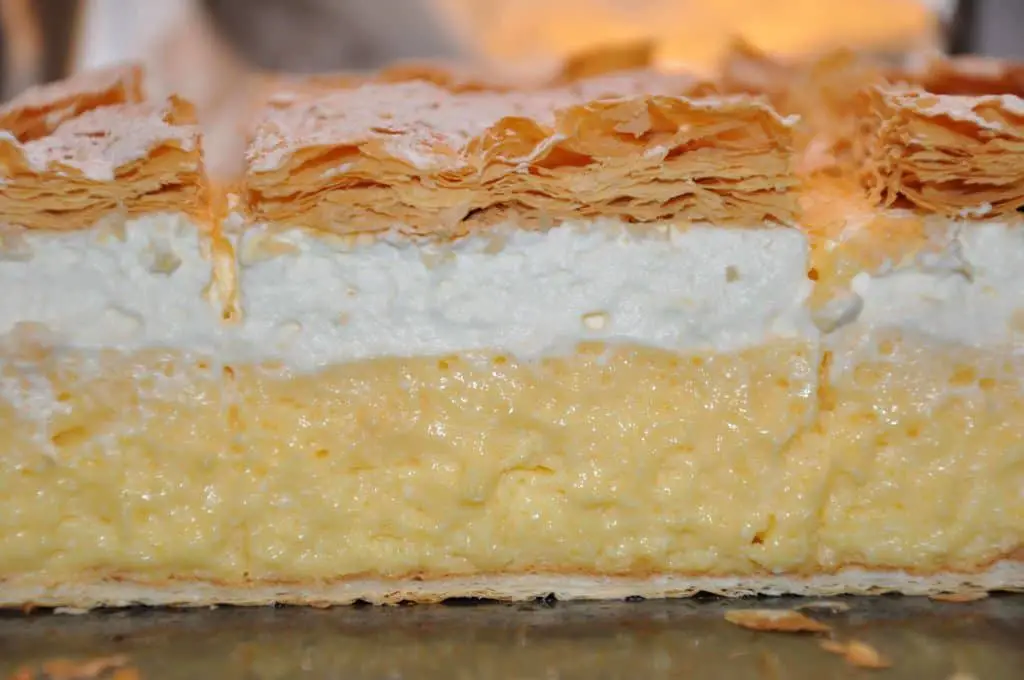 For the egg mixture
Divide the eggs, leaving the egg whites in the larger bowl.
Egg white mixture:
Mix the egg whites firmly. When you see a sort of peaks forming, ad slowly the sugar. Mix for another minute or until the sugar gets nicely incorporated. Egg white mixture should be very firm.
For the egg yolk mixture, first, boil the milk. Then add into a separate boul flour, vanilla, egg yolks, sugar, rum, and about one cup of cold milk that you previously took from the whole quantity. Mix everything until you get a nice and creamy mixture. 
When the milk is boiling, slowly add the mixture into the milk and mix it continuously. Cook it for about 5 minutes and be careful not to burn it as it can burn very fast.
Mixing white and yellow mixture
Ok, now the crucial and most crucial part of this recipe. Take the boiling mixture and slowly pour it into egg whites. Use a big whisk and immediately start mixing. You need to be quite fast here and combine the mixtures very well because If you get this part wrong, you just won't get the fluffiness out of cakes. Instead, you will get a runny sort of pudding-like mixture – and you don't want that.
When the two mixtures are combined, mix for another few seconds and immediately pour everything onto baked puff pastry in your baking dish. Arrange the mix a bit and leave it to cool completely for a few hours (best is overnight).
The next thing you need to do is whip the cream in which you added 2 tsp of sugar. The cream also needs to be whipped firmly. 
When the cream cake mixture is cold enough, take it out of the fridge. Then add your whipped cream on to the cream cake mixture. Arrange it through a baking dish to get nicely square-shaped cakes when you cut them. 
Finish:
Take the remaining puff pastry and cut it into 15 equal squares. Arrange the squares on top cream and sprinkle 1 tbsp of powdered sugar on top of the cakes.
Enjoy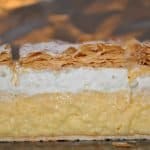 Print Recipe
Vanilla cream cakes, fluffy custard cakes from Slovenia, Bled
Authentic Slovenian desert
Ingredients
17,6

oz

puff pastry

9

large

eggs

10,5

oz

sugar

1.5 cups for egg yolk mixture

3,5

oz

sugar

0,5 cup for egg white mixture

1

tbsp

rum

54

floz

milk

save 1 cup of milk for the egg yolk mixture

2

bags

vanilla sugar

or if you don't have it, just use 1 to 2 tsp of vanilla extract

6,35

oz

all purpose flour

(use the driest storng flour you have)
For the topping
2

cup

heavy whiping cream

2

tsp

sugar