As an Amazon Associate we earn from qualifying purchases made on our website. If you make a purchase through links from this website, we may get a small share of the sale from Amazon and other similar affiliate programs.
Freezing vegetables isn't as uncommon as one might think. Many large-scale companies offer frozen vegetables as an alternative to fresh produce. This is an excellent alternative for those that reside in areas where the climate is generally warmer year-round. It helps preserve the vegetables for longer.
You can cook vegetables straight from frozen. Keep in mind that frozen vegetables retain water that is released during the cooking process. This will affect the end result. The key to achieving a crispy crunch on the exterior of the vegetables is to use the correct cooking method and tools. 
The best way to cook frozen vegetables without getting soggy
Frozen vegetables are picked when they are in their prime and flash-frozen to preserve them for a more extended period. 
One of the worst cooking techniques for preparing most frozen vegetables is to boil them in water. It drains out all of the nutrients and will leave you with soggy, unappetizing vegetables.
The only veggie that safely passes the boiling method is peas and other legumes.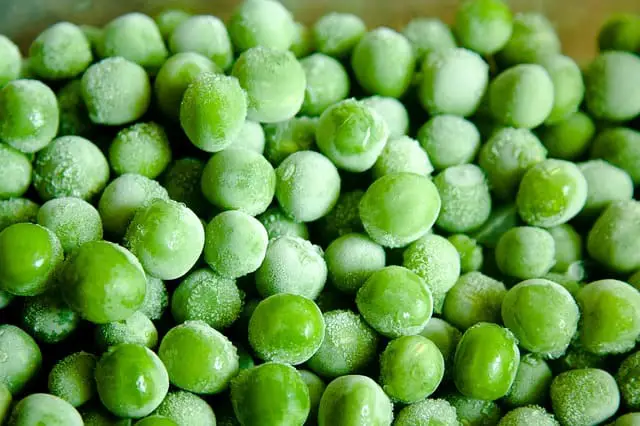 The best method is to place a skillet on the burner over medium-high heat and drizzle a few drops of oil into the skillet. Allow the skillet to warm up. Add the frozen vegetables and stir occasionally to ensure they are cooked evenly. The vegetables should cook for about five to seven minutes, and this will create that beautiful crisp exterior and maintain the nutrients in the vegetables.
Sauteing frozen vegetables in a little bit of oil over medium heat is one of several techniques that will help achieve the desired results.
According to the, Food and Drug Administration (FDA) frozen vegetables are considered ready-to-cook and not ready-to-eat. The FDA further states that consumers should always practice safe food handling methods. Check to make sure that food in the freezer has not been recalled before preparing the food.
Cooking food at the correct internal temperature, or all the way through, as is the case with vegetables, is very important.
What's the appropriate technique for cooking frozen vegetables
The whole purpose of consuming vegetables is the nutrients and vitamins that they offer. Preparing vegetables in a way that drains out all of the important nutrients defeats the purpose of eating vegetables.
Avoid water when preparing frozen vegetables. If you have ever taken a cooking class, this is probably one of the first things you might learn. To retain the nutrients in the vegetables, along with all of the flavor, consider roasting the vegetables in the oven or sauteing them in a pan or skillet. 
According to CNN.com the best method is to cook the vegetables whole as this will help to retain the essential nutrients. If cooking the vegetables whole is not an option, consider freezing the vegetables into large chunky pieces.
If sauteing or roasting with a little bit of oil is not the right choice for you, then consider steaming the veggies. This will not produce the same crunchy exterior but is one of the healthier techniques to prepare frozen vegetables while still retaining most of the nutrients in them.
Is it safe to cook vegetables from frozen
Yes. The most important thing to keep in mind is to use safe handling methods when working with any kind of frozen food, including vegetables. The United States Department of Agriculture (USDA) highlights the importance of washing hands and surfaces before working with frozen food. 
In addition, the vegetables must be cooked all the way through using the correct cooking method to avoid bacteria from forming. When bacteria forms, it can possibly lead to food-borne illnesses, which are especially harmful to children, pregnant women, and the elderly.
Can you cook frozen vegetables in the air fryer
Yes. There are a few key points to keep in mind when preparing frozen vegetables in an air fryer. 
Preheat the air fryer to 350℉ and 400℉ (175℃ and 205℃). This will yield the best results. Ensure that there is enough space between the vegetables.
Do not overcrowd the air fryer. You can, but it is not necessary, lightly coat the vegetables with oil. Softer vegetables such as broccoli, green beans, and bell peppers should be cooked for 10 to 15 minutes. Vegetables that are firmer, such as sweet potatoes and carrots, need to be cooked for 20 to 30 minutes.
Note that you should never stack frozen vegetables in the air fryer. If you want your vegetables to be fried evenly, you should always make a single layer in your air fryer basket or use stackable racks like these:
2 RACKS
MFTEK XL Air Fryer Accessories-Air Fryer Rack
5 RACKS
Goldlion rack for Ninja Foodi air fryer
4 RACKS
Racks for Gowise Phillips USA Cozyna Ninjia Airfryer, Fit all 4.2QT
5 RACK - AIR FRYER OVEN
6QT Power Air Fryer Oven, Chefman, Caynel
2 RACKS
MFTEK XL Air Fryer Accessories-Air Fryer Rack
5 RACKS
Goldlion rack for Ninja Foodi air fryer
4 RACKS
Racks for Gowise Phillips USA Cozyna Ninjia Airfryer, Fit all 4.2QT
5 RACK - AIR FRYER OVEN
6QT Power Air Fryer Oven, Chefman, Caynel
Last update on 2022-05-16 / Affiliate links / Images from Amazon Product Advertising API
If you want to learn more about how to stack food in an air fryer and which food can you stack, then check out my post about "Can you stack food in an air fryer"
Can you cook frozen vegetables in the oven
Yes. A conventional oven is one of the better methods to use. All you may need are some frozen vegetables, a few spices, and a little bit of oil. 
Preheat the oven to 400℉ (205℃). Place the veggies on an oven tray and drizzle with olive oil, or any oil of your choice, along with the spices. Roast the veggies for 30 minutes, and remember to stir frequently.
A popular recipe is to char-grill brussel sprouts in the oven. The frozen brussel sprouts are roasted in the oven until the exterior begins to form a darker crust. It absolutely transforms the taste of this bitter vegetable into a more sweet, palatable flavor.
One thing you should avoid is stacking frozen vegetables on the tray. Stacking them will result in some vegetables being cooked and others crunchy. The best thing to do is to always make a single layer on your roasting pan, allowing even roasting and crunchiness.
Can you s
team frozen vegetables
Yes. The problem with steaming frozen vegetables is that the veggies often come out very soggy. Bring a pot of water to a boil. Place the frozen vegetables in a steaming basket or sieve and steam for about 10 to 15 minutes, depending on the type of vegetable.
This is definitely one of the healthier techniques to use, but it does very little for the flavor and texture of the vegetables. Unless you toss the vegetables in butter and salt afterward, they will taste very bland. 
But for the most part, I personally try to avoid this technique. The simple reason for me is that the vegetables do not look very appetizing when steamed. In addition, most green vegetables will lose their beautiful bright green color and change to an unappetizing olive green color.
Can you cook frozen vegetables in the microwave
You can, but again, I would avoid the microwave. Much like the steamer, vegetables prepared in the microwave have little flavor, and the texture is compromised. 
Placing water in a microwave-safe container before adding the vegetables may help to retain some of its texture. The problem with incorporating this technique is that, once again, you will lose the valuable nutrients in the vegetables.
Can you cook frozen vegetables in a crock pot
You can absolutely add frozen vegetables to a crock pot. Take into consideration the recipe. Adding the vegetables too soon may mean that you will end up with mushy vegetables. 
The crackpot cooks food at a lower temperature over a more extended period of time. Softer vegetables should preferably be added during the last hour of cooking. This will ensure that the vegetables maintain their texture and do not become soft and soggy.
Can you cook frozen vegetables on a BBQ grill
Yes. Place the mixed vegetables in tin foil with some oil and spices. You should cook them on the grill, preferably over medium to medium-high heat. 
Make sure that the vegetables are cut into larger, chunkier pieces before adding them to the grill. This will yield better results. Or, frozen vegetable skewers are a great option to put on the BBQ grill.
For a cookout, I often put bell peppers, corn on the cob, asparagus, and sweet potato chunks, straight from the freezer onto the grill. I make a summer vegetable salad with my grilled vegetables. This is always a winner.
Conclusion
Vegetables can be prepared straight from the freezer. Avoid boiling as this will result in the loss of valuable nutrients. Roasting, grilling, or sauteing are the best options to achieve crispy, flavorful vegetables that retain their texture.