As an Amazon Associate we earn from qualifying purchases made on our website. If you make a purchase through links from this website, we may get a small share of the sale from Amazon and other similar affiliate programs.
Move over dark meat, we're only talking about the turkey breast here. A frozen turkey breast can be thawed or cooked frozen, though thawing it out safely is the preferred method. However, there's plenty of room for forgiveness if you mistime the thawing schedule or just want to start from frozen.
Can you cook turkey breast from frozen
Maybe you knew you were forgetting something. If you find yourself frozen with anxiety as you see a frozen turkey breast the morning of the meal, don't worry. You can still cook it. You're just going to have to cook it about 50% longer. You'll need to keep a close eye on the process, and when the temperature is 165°F (73°C) deep in the breast, it's ready to go.
If you want to find out which foods can you cook from frozen, check out my post where I cover all the foods in detail.
How to cook a frozen turkey breast
There's no reason you can't take the meat right from the freezer to the oven. The temperature should never drop below 325°F (162°C). 
Place the turkey in a roasting pan with the skin facing up. No additional water is needed in the pan, and it is best to put some olive oil under it because it will prevent the lean breast from sticking. 
You will put some seasoning on the turkey breast for sure, and it is best to do it at this stage. Frozen turkey breast is not as absorbent for spices as fresh turkey breast; that is why you should put all the spices (salt, pepper, rosemary, thyme…) on before you cook it. Temperatures in the oven will melt the turkey and help absorb aromas while the breast cooks.
Put it in the oven until it reaches that ideal temperature, and then take it out. Cover the turkey for 10 minutes with aluminum foil before carving.
And if you are wondering how to cook a frozen Butterball turkey breast, the temperature is the same 325°F (162°C); you can use any roasting pan and finish it covered, uncovered, or even broil it for a few seconds.
Before you are done, you should check the internal temperature of the turkey breast. To be completely safe, the turkey breast's internal temperature must react 170º F (77º C) if you cook it from frozen.
Having a good food thermometer to check your meat is essential. I am using the middle one. But to ease up your search I selected three from the best categories:
BEST CHEAP
ThermoPro TP-02S Instant Read Meat Thermometer
USERS FAVORITE
Kizen Digital Meat Thermometers for Cooking
BEST PRO
ThermoPro TP20 Wireless Meat Thermometer
BEST CHEAP
ThermoPro TP-02S Instant Read Meat Thermometer
USERS FAVORITE
Kizen Digital Meat Thermometers for Cooking
BEST PRO
ThermoPro TP20 Wireless Meat Thermometer
Last update on 2022-01-23 / Affiliate links / Images from Amazon Product Advertising API
How to cook a frozen turkey breast in a convection oven
The main difference when using a convection oven is that your turkey will cook faster and more evenly. This is because the convection oven allows hot air to move around the turkey, cooking all sides equally instead of one direction of hot air as regular ovens offer. 
Another benefit is that you can cook side dishes with the turkey, having faster cooking times and more time enjoying the meal with guests.
How long does it take to cook a frozen boneless turkey breast?
It takes 50% longer than the traditional thawed bake time to cook a frozen boneless turkey breast. For example, an eight-pound turkey needs to cook for 3.25 hours when thawed. 
So add 50% to that number, and it will need to cook for just under 5 hours in the oven. You'll need to check the temperature at the three-hour mark to see where the temperature is and check it every 30 minutes or so after.
While your friends might have their own advice on how to cook the turkey, the United States Department of Agriculture (USDA) lays out a clear timetable for cooking with frozen poultry and the bolded message, "It is safe to cook a turkey from the frozen state. The cooking time will take at least 50 percent longer than recommended for a fully thawed turkey."
Never judge a turkey by its meat color, and the meat thermometer is the guide to when the turkey is fully cooked. The USDA says the pink color can come from hemoglobin in the meat, just creating a color that is heat stable.
How long does it take to cook a 3 lb frozen turkey breast?
The normal bake time for a thawed three-pound turkey breast is 50-60 minutes, but remember we need to add 50% of that time since it's frozen. 
That means you should plan for about 90 minutes of cooking time in the oven, but check the temperature after the first hour to see how close the internal temperature is to the sweet spot.
Can you cook turkey breast steaks from frozen
Much like its larger sibling, you can cook them from frozen using the same guidelines we've discussed, but the real question is – do you want to? 
The smaller steaks thaw much faster than a larger bird, and they are more malleable for recipes that call for them to be flattened before cooking. You just get so much more versatility with thawed steaks.
Is it better to cook a turkey frozen or thawed?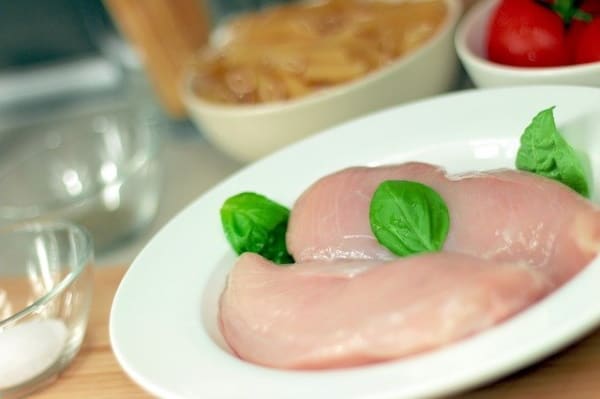 Ask anyone who religiously cooks the holiday turkey, and they'll have the perfect way to prep and bake the bird. Is there really an ideal way to thaw a turkey to satisfy your taste buds?
The USDA holds steadfast that the refrigerator is the best way to thaw but limits other options. Apparently, even they know we can get behind on our holiday planning. 
You can get just as good quality turkey meat whether it is cooked from thawed or frozen, according to the USDA. You just need to be careful with that additional cooking time to avoid overcooking it and having a Griswold Family Christmas mishap with a dried-out turkey breast.
Defrosting tray to speed up your thawing process
But if you want to speed things up and thaw meat faster, then this defrosting tray will come in handy. This tray can actually thaw the meat 8x faster than natural thawing. This is one of the best ones on amazon.
Can you cook a partially frozen turkey breast?
You can cook it from even a partially frozen state, following the same "add 50% of cook time" rule, but depending on how thawed your turkey is, it means you might have to keep a hawk-eye on that meat thermometer.
As long as the turkey hasn't been sitting at room temperature or outside to thaw, the food is still safe to cook. A turkey immediately begins a dangerous game of bacteria growth when it starts to thaw, and you don't want that in your kitchen.
Can you cook a frozen turkey breast in an oven bag
You can purchase turkey breasts that are already in an oven bag, so you don't need to even think about thawing. Follow directions on the packaging for cooking times. 
If you buy the turkey separately from the oven bag, you are now playing a dicier game of time because the oven bag speeds up cooking, but the frozen turkey needs more cooking time. Stick with the same temperature guidelines to get that turkey breast just right – 325°F (162°C) or higher.
Can I cook a frozen turkey breast In my air fryer
Both Honeysuckle White and Butterball recommend thawing a turkey before putting it in the air fryer. If you search online, you'll see conflicting reports on whether it's safe to air fry a frozen turkey breast. It might be best to stick with the turkey experts on this one or look for a frozen turkey designed to be put into an air fryer with no thaw time.
Can you cook a frozen turkey breast in a slow cooker
You should always thaw a turkey breast if you want to use the slow cooker, according to the USDA. A few critical rules here:
If the turkey doesn't fit into the cooker, cut it into smaller pieces. Don't try to force it. You want a tight seal between the pot and the lid.

Don't cook below 325°F (162°C) because that's what the USDA calls the 

"danger zone."

Don't remove the cover during cooking. You'll lose steam and temperature momentum, and it can take almost a half-hour for the slow cooker to catch back up.

Begin cooking on high for at least an hour, then you can move it to a low setting.
Check the manufacturer's instructions on your slow cooker first and foremost to cook the turkey safely, but again remember to thaw it first.
Conclusion
To thaw or not to thaw? That's really up to you unless you are steadfast in wanting to use the slow cooker. Get a good meat thermometer, choose your cooking method, and prepare the bird with whatever seasonings and side your heart desires. If you cook it the right amount of time, chances are guests won't notice if it was thawed or not.
"Turkey Dinner 2011: Roast Turkey Breast" by timsackton is licensed under CC BY-SA 2.0