As an Amazon Associate we earn from qualifying purchases made on our website. If you make a purchase through links from this website, we may get a small share of the sale from Amazon and other similar affiliate programs.
How did I come across Bosch PKM875DP1D series 8 electric cooktop? Well, I was searching for a large non-induction cooktop that would satisfy my family's cooking needs. 
I cook for my family every day. We are a family of five. I have three sons, and they eat a lot, I tell you, a lot. So preparing large amounts of food is our everyday task.
When our old electric cooktop was gone for good, I needed to find a new one. I was very picky and also had a lot of demands regarding the new one.
The cooktop I was looking for needed to be:
Electric cooktop (I prefer electric from induction because of the way the food cooks on each)

It should have more than 4 elements or burners

It should be large enough to fit at least 3 large pots and 2 smaller ones

It should be powerful enough to heat large amounts of food quickly (stir fry and avoiding soggy vegetables)

It should have a child lock

It should be sturdy enough to withhold heavy weights of full stockpots.

The glass surface should be easy to clean

It should look elegant
These were my demands. What I didn't expect is that after I bought Bosch PKM875DP1D series 8 cooktop, I got much more than I wanted. 
Following is my review of the Bosch PKM875DP1D series 8 electric cooktop, which I bought in February 2021.
No products found.
In order to give my honest review about Bosch PKM875DP1D series 8, I needed to use it for some time. After making lots of stir fry, winter stews, steaks, pasta, and more, I can honestly say that I fell in love with it. 
The most noticeable features of Bosch PKM875DP1D series 8 are the ones I use the most. The things I am mostly satisfied with are:
boost function for stir fry, 

elements with dual option and combi element come in handy with different pot and pan diameters, 

the width of the cooktop. Since I make a lot of stews, stock, and soup, the middle element is the one I use for the largest stockpot. When the stockpot is on the cooktop, I can still use all 4 other elements for cooking other things.

The power it produces. It heats any pot or pan almost as quickly as any other induction cooktop.
No products found.
Following is the video review of the Bosch PKM875DP1D series 8
How to install Bosch PKM875DP1D series 8
Installing is very straightforward. You can do it yourself if you have a good jigsaw, a screwdriver, and a drill. You can install it the following way:
Remove the drawer, if you have one, underneath the cooktop.

Cut a hole in your countertop with the following dimensions: (H x W x D) 44 mm x 780 mm x 500 mm (1,73 x 30,7 x 19,6 inches)

Install mounting brackets on the left and right sides of the opening. These brackets stabilize the cooktop and secure it tightly in the holes on the brackets.

The bottom of the cooktop includes a thin rubber seal which shouldn't be removed. This rubber seal ensures that the spills from the pots can't reach the drawer or space underneath the cooktop.

In the permanent electrical installation, an all-pole isolating switch must be provided in accordance with the installation regulations. Identify the phase and neutral conductors in the socket.

When the cable is connected to the cooktop and the socket, gently put it into the countertop hole.

In the end, gently press down the left and the right side of the cooktop so it sits into the already mounted brackets.
What are the most useful functions on Bosch PKM875DP1D series 8
Bosch PKM875DP1D series 8 includes the following cooking programs that allow a versatile cooking experience:
Boost

17 power levels

Elements with dual option

Combo function

Timers

Parental controls

Wipe protection

Keep warm function
Boost function
This is one of my favorite functions. I make stir fry a lot, and getting the right or high enough heat to make a good stir fry is difficult with most electric cooktops. But not this one. The Bosch PKM875DP1D series 8 has a boost function. You can use this function on three heating elements:
Bottom right

Bottom left

Middle heating element
The boost function is turned on instantly if you press the boost function button. The heat produced with this function will easily satisfy even the most demanding cooks. 
With my old electric cooktop, which also had 9 power levels, the ninth level could handle a whole saucepan of cubed zucchini. Zucchini started to soften and release liquids every time.
With the boost function on the Bosch PKM875DP1D series 8, the same amount of cubed zucchini is perfectly browned without releasing any water. 
This function is also great if you want to boil water or other liquid, soup, or stock. The time to boil 3 liters (3.1 quarts) of water comes close to boiling the same amount of water on the induction cooktop.
17 power levels
You can set the power levels with an intermediate level interval. You can see the number from 0 to 9 on the touch panel, but there are also intermediate levels between each level. 
Cooking level 1 = lowest power
Cooking level 9 = highest performance
17 levels allow better control when it comes to boiling and simmering, meaning you can easily control the bubbling of your dish.
Elements with dual option
Element with duan function on Bosch PKM875DP1D series 8 are available on the:
Bottom right

Bottom left

Middle heating element
The dual option allows you to use different dimensions of pots and pan on the heating element. You can easily use the following pots and pans on dual option heating elements:
|   | Bottom right | Bottom left | Middle |
| --- | --- | --- | --- |
| Widest setting | 20 cm - 7,8 inch pot or pan | 26 cm - 10 inch pot or pan | 26 cm - 10 inch pot or pan |
| Narrowest setting | 16 cm - 6,2 inch pot or pan | 20 cm - 7,8 inch pot or pan | 20 cm - 7,8 inch pot or pan |
Combo function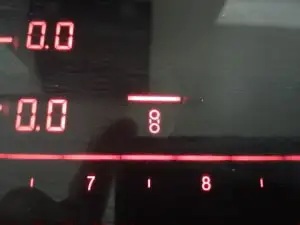 The combo function combines the upper right and lower right heating elements. Both heating elements and the space between them heats up in an oval shape. This combination is perfect if you use a lot of oval pans. Oval pans are great if you sear meat, make lasagnas, cook gravies, or roast vegetables. 
The heat produced with the combo function is distributed evenly through the entire combo surface. The whole oval surface is simply controlled with the control panel power options. 
Timers
Three timer options are available.
– alarm clock
With the kitchen alarm clock, you can set a time of up to 99 minutes. It is independent of all other settings. The cooktop must be switched on to activate it.
– automatic timer for the individual element
You can use this function to preselect a duration for all elements. Each time an element is switched on, the preselected duration will count down. The elements switch off automatically when the cooking time has elapsed.
– stopwatch function
The stopwatch function shows the time that has passed since the function was activated. The stopwatch function only works when the hob is switched on. When the hob switches off, the stopwatch function is also switched off.
Parental control and wipe protection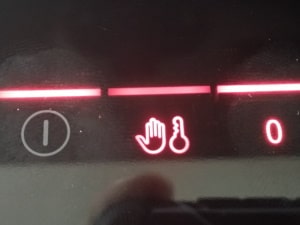 You can use parental controls to prevent the children to switch on the hob. To use this function, the cooktop should be turned off. The function words are the following way: 
Touch the symbol for 4 seconds.

The indicator lights up for 10 seconds. 

The cooktop is locked.
This function is great if you have small children running around the kitchen. If a child touches the main control panel while the parental control is on, the panel won't turn on. You can also set the automatic parental control activation every time the cooktop is turned off.
Wipe protection
Imagine that you are cooking on all 5 heating elements. Suddenly milk or some other liquid boils over. The only obvious this is to wipe the liquid from your cooktop. But if you do so without using the wipe protection function, the entire cooktop will turn off, and all your cooking settings will need to be readjusted one more time.
To avoid this, use the wipe protection function. If you turn it on, the entire control panel is locked for 30 seconds, and you can easily wipe any fluid without losing all the settings on individual heating elements.
Keep warm function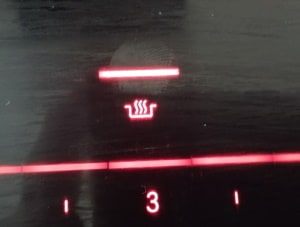 This is also a very useful function if you are melting chocolate or butter or simply want to keep the dishes warm.
Pots and pans you can use on Bosch PKM875DP1D series 8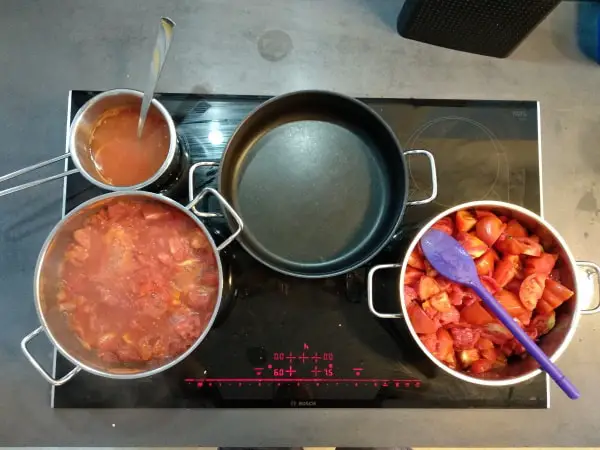 Materials
There is a variety of pot and pan materials you can use on Bosch PKM875DP1D series 8. The best ones are:
Stainless steel

Teflon

Carbon steel 

Enameled cast iron 

Aluminum
You should avoid only a few pots or pans: rough bottom cast iron pans and non-flat bottom pots and pans. These might scratch the surface of the cooktop.
Size and Capacity of pots and pans I use effortlessly on this cooktop:
| Size | Capacity |
| --- | --- |
| 16 cm - 6,2 inch pot or pan | 1 liter = 1.05 quarts, 33.8 fl oz |
| 20 cm - 7,8 inch pot or pan | 3 liters = 3.17 quarts, 10.4 fl oz. |
| 26 cm - 10 inch pot or pan | 5 liters = 5.2 quarts, 169 fl oz. |
| 30 cm - 11,8 inch pot or pan | 16.2 liters = 17.1 quarts, 547 fl oz. |
How much weight can Bosch PKM875DP1D series 8 handle
Why am I talking about how much weight this cooktop can handle? Well, the reason is that if you cook for a lot of people, especially large families, you will come across large-capacity stockpots. 
I sometimes make large quantities of soup or stew so one batch can easily hold the amount for three lunches or dinners. 
The biggest stockpot I have is 30 cm (11,8 inches). The Capacity of this stockpot is 16.1 Liters (17 quarts). This means that the biggest heating element must handle the weight of around 17 kilograms (37.4 lb) which is heavy for a glass-ceramic cooktop.
Bosch PKM875DP1D series 8 electric cooktop has no problems with this much weight and can heat this amount of liquid in no time, especially with boost function.
Cleaning
Cleaning is effortless. If you use a cooktop surface cleaner like this one and a scraper like this one, the surface will stay clean and protected for a long time.
The easiest way to clean light stains is to use a soft sponge and some water. You don't even need a surface cleaner. Do this when the cooktop is cold; otherwise, the sponge will melt under hot elements.
The easiest way to clean hard stains is to use a cooktop surface cleaner. Generously apply the cleaner and scrub the surface with a soft paper towel or soft sponge. Don't use the scraper from the start. Firstly, apply the cleaner with a towel or sponge. 
After you apply the cleaner, use a razor blade or cooktop surface scraper and scrape off hard stains. Cleaner and scraper together will soften and remove hard stains. 
When finished, use a soft, slightly wet sponge and wipe off the excess cleaner. In the end, use a dry and soft paper towel and wipe the surface until completely dried.
When you're done cooking and cleaning, it is best to protect your glass-ceramic cooktop with a protector. The best protector you could use for this cooktop is the Larsic stove cover. If you want to find out more about stove covers, I cover all of them in my other post, best stove toppers cover.
How to know if Bosch PKM875DP1D series 8 is right for you
When I searched for a new cooktop, I was looking for something cheap or cheaper than Bosch PKM875DP1D series 8. I found some alternatives on Amazon, but they simply didn't fit my criteria. 
If you can't decide whether you want to get this electric cooktop or not, follow the criteria I followed:
If you are a person who doesn't want to cook rapidly with an induction cooktop, choose an electric cooktop or gas range instead. 

If you batch cook for the whole family and use many pots and pans at once, choose a wide 5 element or burner cooktop. 

If you have large pots like a stockpot, it is better to choose a larger cooktop.

You should choose a smaller cooktop if you cook only once or twice per week.

If you stir fry a lot, choose a cooktop with a boost function. This function will also help when it comes to cooking larger quantities of vegetables or meat.

Unlike

Bosch pk

n

675dp1d

 

(4 element version), Bosch PKM875DP1D series 8

is wider and allows more flexibility when it comes to positioning pots and pans.

Choose a glass cooktop if you like a clean and minimalistic design; however, you should choose a gas cooktop if the functionality means more than the design.

Choose a glass cooktop if you have smooth bottom or newer pots and pan, but if you use cast iron or older pots and pans, consider buying a gas range.
Final verdict
I have been using Bosch PKM875DP1D series 8 for about 9 months. Would I repurchase it? The answer is yes, I would. I cook for a family of 5 each day. I experiment with different cuisines, from Thai stir fry to Indian curry and Hungarian goulash, and without any doubt, Bosch PKM875DP1D series 8 fits my cooking needs.