As an Amazon Associate we earn from qualifying purchases made on our website. If you make a purchase through links from this website, we may get a small share of the sale from Amazon and other similar affiliate programs.
If you are in a hurry and just want to find out what the best induction wok burner is then I'd recommend the Nuwave MOSAIC induction wok burner as the best one.
Induction cooktops are all the rage! Many home cooks see the benefits of investing in this cooking technology. The newer wave, however, is induction wok burners.
I personally use a high 100000 BTU outdoor wok burner, and in my kitchen, I use an induction cooktop. There are differences when cooking on one or another. There are many benefits of an outdoor wok burner, but every time when I want to make a smaller batch of stir fry for 2 to 3 people or when I want to make stir fry in the comfort of my kitchen then induction wok burner is the best choice.
I will not talk about the differences which you can check in my other post, but rather about the best ones on the market, which raises the question; which induction burner is the best?
Best induction wok burner
Best induction wok burner
Best runner up
Alternative 1
Alternative 2
NUWAVE MOSAIC induction wok burner
Abangdun induction wok burner
Galaxy GIWC18
Chef King
Size
10*22*16 inch (25*55*40cm)
14*17*6 inch (38*43*15 cm)
13*17*4 inch (33*43*10 cm)
13*14*4 inch (34*38*12 cm)
Wats
1500 Watts
3500 Watts
1800 Watts
3000 Watts
Max wok size
14 inch
14 inch
14 inch
14 inch
Control type
Manual and digital
Digital
Digital
Manual and digital
Temperature
100 - 575 F (37-300 C)
140 - 500 F (60-260 C)
140 - 460 F (60-240 C)
140 - 460 F (60-240 C)
GET IT ON AMAZON
GET IT ON AMAZON
GET IT HERE
GET IT ON AMAZON
Best induction wok burner
The Nuwave MOSAIC induction burner features a carbon steel pan and an induction base. The pan has been custom-made to fit the base precisely. This ensures fast and even heat distribution. The cutting-edge induction technology in this system allows you to heat up and cook food five times faster than traditional methods. In addition, it's much safer as there are no open flames or external heat sources.
The wok burner is made of carbon steel and is approximately 11 inches in diameter. The burner is small and versatile. It can be hidden in the kitchen corner when not used but is still big enough to handle larger woks for family-sized portions. The burner heats quickly and maintains a consistently high heat throughout the cooking process. The heat can be controlled in increments of five degrees, making it an outstanding product for temperature control.
The product is made from quality parts and incorporates a thoughtful design. It features easy-to-use controls. One of the main things that stirfry experts fear about induction woks is its inability to achieve wokhei. That is not an issue with the Nuwave MOSAIC induction burner. The high heat allows you to achieve wokhei. The product is very easy to use and easy to clean.
The Nuwave features a preheat button that raises it to the right temperature for cooking delicate food items such as tofu and fish. The product features a heat range of 100°F to 575°F. This means that you can prepare various food items successfully. The product has a wattage control feature, and you can set the wattage to 600W, 900W, or 1500W.
The wok has a control panel with an LED screen that displays all settings and a silicone handle that remains cool to the touch while cooking. The handle allows you to lift the wok while serving.
Apart from its many unique features is the appliance's beautiful black, sleek appearance. It most certainly is a very impressive-looking appliance.
PROS
The most significant advantage of the wok burner is that it is safe compared to other wok burners that use an open flame.
It heats food up five times faster than traditional cooking methods, making it very efficient and effective. In addition, the money you will save on your energy bill alone makes this appliance well worth the investment. The heat produced is consistent throughout the cooking process, so your food will come out perfectly cooked every time.
This appliance is made of high-quality material and is an absolute joy to use! It's easy to clean and comes with a beautiful clear lid.
CONS
We discussed how you could reach wokhei with this product. But there is a small problem. You cook near the oil's smoking point when using vegetable oil to get wokhei. That means that your whole kitchen is going to be in smoke! Therefore, you must take your wok burner outside.
You are limited to black as the unit only comes in one color. Some units seem to be defective and don't cook as quickly or evenly as the product promises to do.
Next on our list is the Induction countertop cooker Abangdun. The product is made from stainless steel and features an impressive 3500 watts. This appliance is fitted with second-generation upgraded technology. The product features two power stages: full and low. Full stage power means that the device will heat up very quickly, while low power supply means that it will keep food warm.
Advanced technology means that the induction burner will stop working when it is overheating or when the bottom of the cookware stops making contact with the surface of the burner. Its high heat rate means that it heats food much faster than traditional electric or gas appliances, and its high energy-saving capacity means it consumes much less energy.
The burner offers a high degree of temperature control accuracy and better concave pan heating. Its ability to transfer heat quickly and accurately is impressive, with the device reaching the desired temperature in a much shorter timeframe than other cooking devices. It features 16 power settings from 400 to 3500 watts and 16 temperature settings.
Its cylindrical legs ensure that the device has load-bearing capacity. It has two fans and back air ducts to ensure that air is quickly circulated and prevents the device from overheating.
It features 16 power levels from 400 to 3200 watts and 16 temperature ranges from 140°F to 500°F. It is excellent at energy saving and has outstanding heat preservation abilities.
This is a durable product that is very easy to clean. It also comes with a one-year manufacturer's limited warranty.
PROS
The best feature of this product is how quickly it can heat food items. Apart from that, it's super simple to use and even easier to clean. The product is made of high-quality stainless steel, and the feet are sturdy, ensuring the product can bear heavy weight.
CONS
There have been complaints about the sensor and thermistor failures. In some cases, the voltage was too high, and in some devices, the coils overheated. There is another obvious drawback: the price. This is one of the pricier units on the market. For that price range, you might expect a more advanced interface, at the least.
3. Alternative 1 Galaxy Wok Countertop Induction Range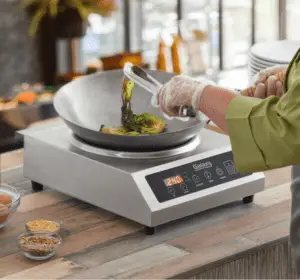 The Galaxy GIWC18 stainless steel countertop wok induction range is lightweight and compact, making it easy to store out of sight when it is not used. This is not a heavy-duty wok burner. It is more suited to light-duty use.
The product is manufactured with durable stainless steel, holding up to even the most rigorous cooking routine and enabling a weight-bearing load. The burner can accommodate wok sizes up to 14 inches, allowing you to make small or family-sized meals in one go.
If you are looking for a product that produces fast, flameless heat, this product delivers 1800W of power. That's quite the achievement for something that you plug into a 110v outlet. The heat is instant, and your wok will reach the desired temperature within a few seconds. One of the benefits of this product is that it automatically goes into standby mode when not being used. The Galaxy Wok has a built-in timer that allows for easy control in five-minute increments up to 180 minutes.
It has a beautiful sleek design and a digital interface that's uncomplicated, intuitive, and easy to use. There's nothing complicated about this appliance. The burner features ten pre-set levels, or you can adjust it in the temperature range from 140ºF to 460ºF. You have complete control over the power level, allowing you to do anything from sauteing to simmering.
There is a crucial point to remember about this induction burner for wok. It needs about three inches of clearance at the back to prevent the airflow from being blocked. Also, the unit has legs that lift it about an inch from the surface it's placed on. You can't put it on a soft surface that might restrict the airflow at the bottom of the unit.
PROS
The unit heats up quickly and is easily controlled by temperature or power. It is small and compact but can hold up to heavy cooking routines. The Galaxy Wok Induction Countertop has an easy-to-use digital interface and a sleek, modern design. Overall, the unit does what it is expected to and delivers high-quality induction cooking.
CONS
The biggest drawback is its price. There are units on the market that are more sleek and modern and deliver more power and range for a lower price.
4. Alternative 2 Chef King Wok Induction Burner Hob
This Chef King Wok is the newest model in the range. This wok induction burner has a very simple design, but it's been designed to a high-quality finish. The material is ceramic, and it comes in black and silver. The wok burner has four legs that lift it approximately an inch off the surface to allow airflow while cooking. This is a robust appliance designed to work hard and delivers all the time!
At over five kilograms in weight, this is quite a heavy appliance. You can change the wattage with a simple dial, and the product features up to 3KW with ten power levels. The burner features a concave design that allows more heat through the wok.
Its portable size means that you can take it with you. If you're camping and there's an electrical outlet, this appliance is a lifesaver. And the most important feature is that it is safe to use compared to other electrical and gas appliances.
It features a simple dial control and a digital display—nothing too over the top. In terms of power levels, it has ten ranges and temperatures from 60°C (140°F) to 240°C (465°F). It allows complete control from simmering to sauteing. You can expect superior performance from this appliance daily with the same consistency. It's a safe, convenient, and easy way of cooking that will save you quite a bit on your energy bill as it's pretty energy efficient. The induction burner features a 13 amp plug. You simply plug it in and start cooking. It's as simple as that.
PROS
The heat produced by this induction wok is significantly high enough to produce wokhei without an open flame. This unit is very powerful. It's a high-quality product made from high-quality material and has a solid feel. It cools down quickly, making it quite convenient and easy to store. It cooks evenly and produces an extremely high temperature in a short amount of time.
CONS
The appliance produces exceptionally high heat, but seasoning a wok still poses a problem. There is a temperature cut-off, so you must season one section at a time. It's a systematic approach that requires quite a bit of patience. The temperature cut-off is a safety feature, so there's not much you can do about that
Which is the right induction burner for you?
The question you should consider is: what will you do with your wok? If you need an induction wok burner for home use that delivers power, heat, and consistency with a sleek design and a reasonable price, the NUWAVE MOSAIC Induction Wok is the best option. Its only rival might be the Abangdun, but the price of the Abangdun puts it in second position.
However, for a more heavy-duty appliance that will stand up to continued use, in a commercial kitchen, with the ability to produce extremely high heat to reach wokhei consistently, you may want to consider the Chef King Heavy Duty Induction Wok Hob. This is a beast in the kitchen! Compared to the Galaxy GIWC18, it produces more heat consistently. However, the Galaxy GIWC18 offers more control over power, temperature, heat, and time.
Are induction wok burners good?
Absolutely. The power and control you have with these induction wok burners put these appliances head and shoulders above the competition. And, by competition, I am referring to gas and electrical wok burners.
In addition, you will save hundreds on your utility bill if you frequently use a wok for cooking, as induction burners use significantly less energy than traditional gas or electric burners.
What kind of 
wok induction burner

 should you choose?

Consider how frequently you will use the burner and what you will use it for. How big is your family, or will you use it for yourself? Ideally, look for an induction wok burner with up to 2000 watts. You don't need anything more potent than that. You will have sufficient power to reach wokhei.

Also, consider a burner with a series of time, power, and temperature ranges that gives you more control over the cooking process. You don't want to warp your new woks on a device that only heats to one setting. The burner should have safety features, such as an automatic switch off when the device is not in use.

And lastly, burners made from high-quality materials such as stainless steel are usually better.
Can you use any wok material on the 
wok induction burner

?

No. The situation is the same as if you would use a built in the counter induction cooktop. The wok must be made of ferromagnetic material such as cast iron, stainless steel, or aluminum.
Built in induction wok burner or stand alone
Induction wok burners that are a part of a cooktop are very expensive but practical to use. The stand also is a cheaper alternative that can work as great as the built in one, sometimes even better.
Every home should have an induction stove top that's also customizable for a wok

And then has like, one single gas burner in the back right just on the off occasion you need to char a pepper or some funky shit

Crude illustration provided; pic.twitter.com/1OytqjdevD

— TheOmniZaddy ??? (@TheOmniZaddy) January 10, 2022