As an Amazon Associate we earn from qualifying purchases made on our website. If you make a purchase through links from this website, we may get a small share of the sale from Amazon and other similar affiliate programs.
If you are in a hurry and just want to find out what the best food processor for pasta dough is, then I'd recommend the GoWISE USA GW44800-O Deluxe air fryer as the best one.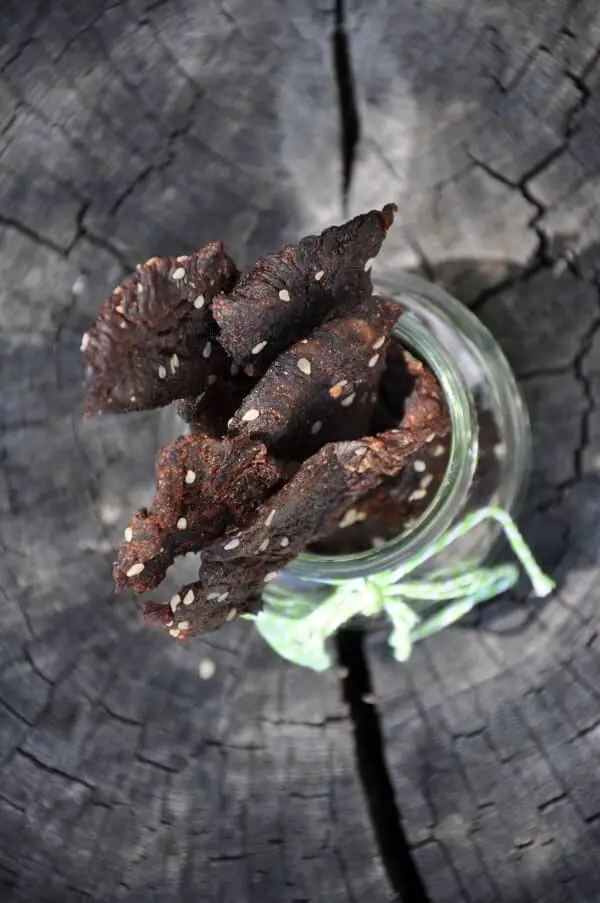 Homemade jerky is much cheaper than store-bought. That is why more and more home cooks find different ways of making jerky at home. One way of making jerky is also with an air fryer. But searching for a specific air fryer for making beef jerky can be difficult. There are plenty of sizes and options to choose from, as well as functions and accessories. Choosing can be especially hard if you have no clue where to start looking. Lucky for you, I did some research on the best air fryers for making beef jerky.
In this article, we're going to review the following air fryers for jerky:
5 best air fryers for making homemade jerky
Category
Air fryer for beef jerky
Size
Motor power
Available Temperature Range
Best overall air fryer for jerky
GoWISE USA GW44800-O Deluxe
12 .4 x 13 .1 x 14 .5 inch
1700 Watts/120 Volts
120° – 430°F (49°-221°C)
Best runner up option air fryer
Innsky Air Fryer 
14.2 x 11.4 x 14.3 inch
1500 Watts/120 Volts
150°- 400°F (65°-204°C)
Best space saving air fryer for jerky
Chefman 6.3 Quart Digital Air Fryer
11 x 10.5 x 14.75 inch
1700 Watts/120 Volts
90°- 400°F (32°-204°C)
Alternative #1 air fryer for jerky
Ninja Max XL Air Fryer
14  x 11 x 14.8 inch
1750 Watts/120 Volts
150° – 450°F (65°-232°C)
Alternate #2 air fryer for jerky
Instant Vortex Pro 9-in-1 Air Fryer
12 x 13 x 15 inch
1500 Watts/120 Volts
105°- 400°F (40°-204°C)
Best air fryer for making beef jerky
This air fryer is a go-to if you are looking for something with enough space and power for dehydration jerky. The size is perfect for placing it on the counter and using it in place of a regular oven. This air fryer is a go-to for a large family.
It's an overall versatile machine that can do much more than just dry jerky. The fact that it makes meals much faster than the regular oven is excellent if you don't have time and want a quick and healthy dinner.
Air frying jerky in GoWISE USA GW44800
GoWISE USA GW44800B comes with a lot of accessories. Among are also 2 mesh racks and dripping tray.
You can use all three for air frying your marinated strips of meat. The mesh trays are dishwasher safe, but if you make jerky on them, it is better to apply a bit of vegetable oil with a basting brush. This will prevent the jerky from sticking to the trays.
The temperatures on wich this machine operates are 120° – 430°F (49°-221°C), but the dehydration function will automatically preset the temp for the perfect result.
GoWISE USA GW44800B dehydration setting is set to 8 hours at 130°F (54°C). You will get a very well dried jerky after 8 hours. If you want the jerky to be more pliable, reduce the drying time. The dehydration time can be easily cut, allowing even dehydration for spices, fruit, or vegetables.
The auto shut-off function is great if you don't want to overdry your food.
Innsky 10.6 air fryer features very large capacity, oil-free cooking, and even rotisserie cooking. Among all accessories, it also includes the rotisserie shaft and rotisserie basket. These two cooking helpers can make crispy fries and chicken with these two cooking options.
All the removable parts are made of nonstick materials, which allow for easy and effortless cleaning in a dishwasher.
Air frying jerky in Innsky Air Fryer 10.6-Quarts
Included mesh racks and tray allow air frying in three layers. It will be necessary to move the layers in between the drying process to allow even drying.
You can put dirty mesh trays in a dishwasher. But if you will make jerky on these mesh trays, you should spray them with pam spray before dehydration process. This will prevent the jerky from sticking to the trays.
The minimum temperature on the Innsky is 150° (65°C), and its maximum temperature is 400°F (204°C) which is the best temperature for a lot of ovens prepared dishes.
The special dehydration function is perfect for dehydrating jerky. The setting is set to 2 hours, and you can regulate the setting between 90°-170°F (32°-76°C).
Making jerky in two hours is pretty accurate. After two hours, the jerky is very pliable, which means that you will have to maintain a bit higher temperature for two hours if you want to get more crispy and less pliable jerky.
All air fryers which are used for making jerky are relatively large. Making jerky takes a lot of space, which means you will always use the maximum amount of space available in the air fryer. This is the smallest air fryer in the review, but never the less it still has all the essential features and accessories that you will need for making your jerky.
The chefman air fryer is also very powerful. With its 1700 watts, it can turn fresh potato wedges into the crispiest potato fries possible.
Air frying jerky in Chefman 6.3 Quart Digital Air Fryer
You will be able to make jerky in two layers with this air fryer. It is not as big as its two former rivals, but it can still do a perfect job. Two mesh racks with a dimension of 9.5×10 inch have enough space for a small batch of jerky.
The dehydration process is preset to 8 hours on 140°F (60°C), which is a bit low for making jerky. You can heat the temp to get the perfect 160F (70°C). If you increase the heat, the jerky won't take 8 hours to dehydrate but less.
Ninja has 7 unique and maximizable cooking functions to get you started. The ceramic coated crisper plate to optimize airflow.
This machine can put out 450F, which is ideal for pre-packed frozen foods. It also has a bake function for sweets and treats and desserts, which are traditionally made in a home oven.
Air frying jerky in Ninja Max XL Air Fryer
The dehydration function of ninja air fryer gently removes moisture from foods to create delicious and healthy homemade snacks.
This is also the only air fryer in the review, which includes an air frying basket. You can dehydrate your jerky in two layers. First, put the ceramic coated crisper plate on the bottom and cover it with meat strips. To increase dehydrating capacity for dehydrating beef jerky or turkey jerky, use the broil rack. Simply place it on top of the crisper plate to ad another layer of jerky.
The dehydration function is preset to 6 hours at 150°F (65°C). If you want a quicker version of beef jerky in a ninja air fryer, set the temperature at 180°F (82°C) for 45 minutes. After 45 minutes, rearrange the jerky and put it back in for 1 more hour.
This convectional oven comes with 9 built-in smart programs: Air Fry, Roast, Broil, Bake, Toast, Reheat, Proof, Dehydrate, and Rotisserie. It certainly takes a lot of counter space, but if you have a large kitchen and want to prepare something fast, then it is a must in your kitchen.
Air frying jerky in Vortex Pro 9-in-1 Air Fryer
The preset dehydration time is set for 7 hours at 120°F (49°C). This is perfect for apples and other fruit. But if you want to make beef jerky, you will need to heat the temperature and lower the time. The preset temp is too low for making beef jerky as the beef's internal temperature needs to get to at least 160F (70C).
How to make beef jerky in an air fryer
An air fryer is an all-around magic kitchen multifunction appliance. The machine cooks all of your favorite fried foods with little to no oil and prepares dishes and snacks that were recently impossible with the traditional air fryer. Oil consumption is reduced dramatically, which makes air fryer meals very healthy. If you want that additional crisp, you can always spray a bit of oil on your fries or chicken. Air fryers are powerful little machines that can cook fresh potato in about 15 minutes without any oil.
These machines are very versatile. From making chicken to steak, vegetables or fries, or even jerky, this machine can satisfy even the pickiest eater.
How to dehydrate meat in an air fryer
Beef jerky is extremely popular. The fact provided from the simmons survey shows that almost half of the U.S. population (164 million) consumes meat snacks, showing how popular jerky is.
An air fryer is an excellent choice to make beef jerky or any other type of jerky like (venison, ground beef, or turkey). Beef jerky is traditionally made on the use of sun, wind, and smoke. But modern cooks, use dehydrator, oven, or an air fryer to make their favorite jerky.
If you have a food dehydrator, you use a dehydrator for jerky (you can check my review on the best food dehydrator for jerky here). But if you don't, you can most certainly use an air fryer the same way as a dehydrator. The air fryer does the same thing as a dehydrator; it moves around hot air.
Making beef jerky in an air fryer requires the right temperature and time. Usually, the best temperature to start the preheating process is 160F (70C). Leave the air dryer to preheat, but you can skip this step if you are anxious to start.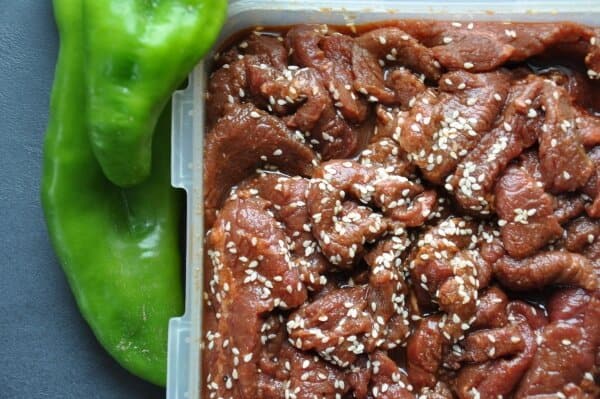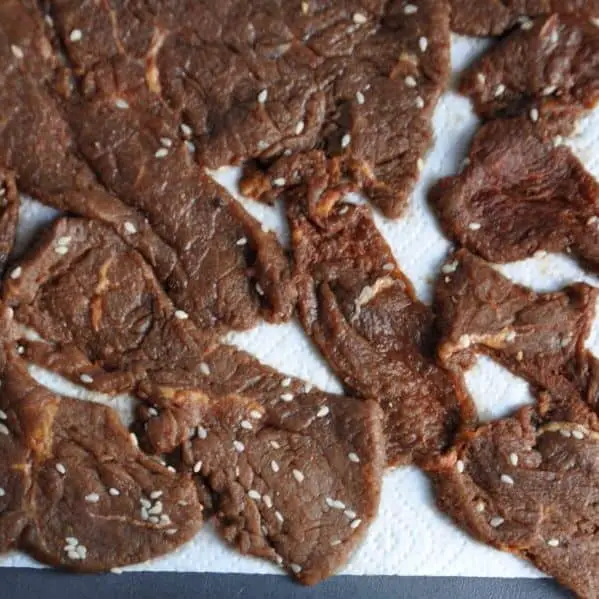 Place the jerky on the air fryer mesh trays or grill trays and place them in an air fryer. It usually takes about an hour on 160F (70C) to run the first cycle. After an hour, turn the pieces of meat, so they cook evenly and cook for another 45 minutes to an hour. The number of cycles and time really depends on the air fryer model.
Some take around 5-6 hours to make perfect jerky. Be sure to check your jerky every hour as the airflow might cook the upper layer faster than the lower layer. That is why it is best to rotate the racks every hour.
The time of dehydration also depends on how pliable you want your beef jerky to be. At the end of air frying, make sure that the beef jerky internal temperature reaches 160F (70C). When done, use a food container and line it with a paper towel. Layer the jerky on a sheet of paper towel, so the jerky's excess oil is absorbed.
The best air fryers for beef jerky come with racks or grill stands. But if you are using an air fryer that has a basket, just use the basket. If you are using an air fryer without a dehydration function, make sure you use it on a very low heat setting.
Why are air fryer dehydration setting and temperature control important for beef jerky
There are many different types of air fryers. Most air fryers have the following setting: Fry, bake, steam, saute, grill, roast. But the most important setting to make beef jerky is the dehydration setting. Dehydration setting ensures the right airflow and, most importantly, the right temperature.
Temperature for making jerky is lower than, for example, broiling or baking temperature. Usually, the jerky should be dehydrated on 160F (70C). If the air fryer doesn't have the low-temperature setting or dehydration setting, you can't make jerky in it.
Of course, all the reviewed air fryers have a low-temperature setting and a dehydration mode, so you don't have to control it.
Does my air fryer have enough drying space for dehydrating beef jerky
If you want to use an air fryer to make beef jerky, it better hold enough space for dehydrating jerky. All the air fryers I reviewed have sufficient enough space to make enough beef jerky for the whole family.
The thermal process of drying is efficient if you place beef strips correctly. You should always place each piece of meat separately on the rack. Strips should never be put on top of each other or too close to each other. Always leave space in between, so they don't stick together and provide enough space for even drying.
The reviewed air fryers come with racks or mash trays and some even with baking tray for the third layer of beef jerky. It is always better to use the baking or drip try on the bottom of the air fryer so that any excess oil or marinade from the jerky falls on this try and doesn't mess the air fryer.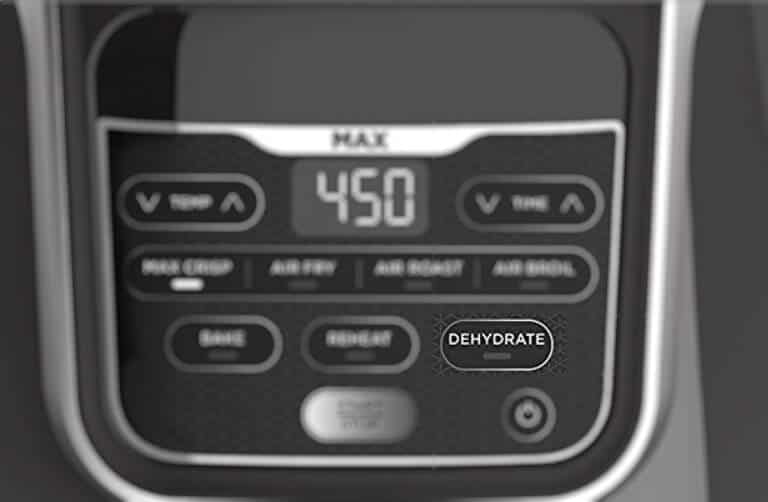 How long does it take to make beef jerky in an air fryer
Making beef jerky in an air fryer takes from 2 to 8 hours. The time to make beef jerky depends on the model. The best air fryers I reviewed have a dehydration mode where time and temperature are already preset.
But do not totally rely on the preset setting because everyone's jerky is a bit different. The time ti make jerky in an air fryer mostly depends on the following factors:
How pliable you want your jerky to be – more pliable less time, less pliable more time
The percentage of moisture included in meat – the more moisture it has, the longer it will take to make jerky
The table below shows how long does it take to make jerky in an air fryer:
Conclusion
Although there are many air fryers on the market, not all of them are suitable for making jerky. The essential elements that air fry should include for making jerky are trays, enough space, and the right dehydration program with time and temperature setting.
All the reviewed items are great for making jerky, but overall winner GoWISE USA GW44800 has proven to be the most reliable when it comes to making homemade jerky with an air fryer.
* The prices for ingredients and products in our tables are average prices take from various websites. The prices are not taken directly from Amazon.
* Pro family chef utilizes affiliate links, which means that if you click on one of our product links, Pro family chef will receive a small commission at no cost to you. This helps support us, and allows us to keep providing tips, reviews, guides, and content for you.
Sources:
Meat snack consuption http://simmonssurvey.com/