As an Amazon Associate we earn from qualifying purchases made on our website. If you make a purchase through links from this website, we may get a small share of the sale from Amazon and other similar affiliate programs.
If you are in a hurry and just want to find out what the best outdoor prep table is then we'd recommend the Origami Folding Kitchen Cart on Wheels, as the best one:
If you have a backyard barbecue place or garden area with a grill or where you cook over the fire, you will need a place to put on your pots, pans, or prepare the food. Here is where an outdoor prep table comes into place. Since you are going to use it outside or even store it out in a garage, it should be large enough, sturdy, heat, and weather-resistant.
When I make my bbq, I usually have lots of stuff and am in urgent need of a sturdy and big prep table. As you can see in the picture, I put everything on a bench which means everybody is standing around the bbq and waiting with a plate; just joking :).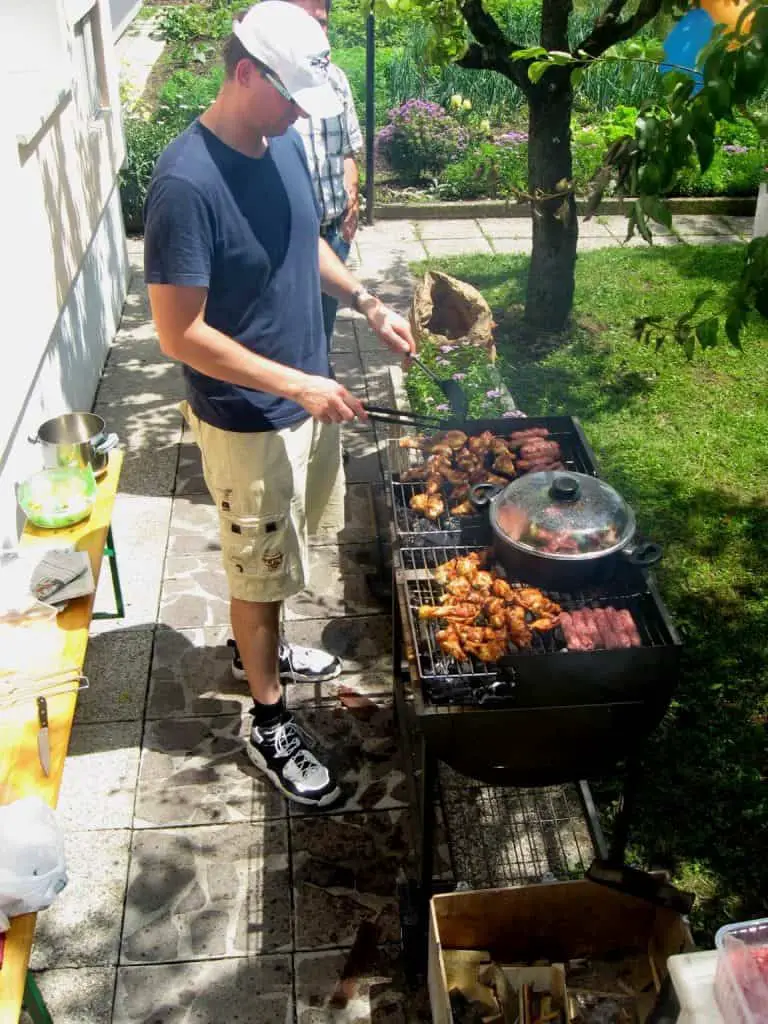 So we went on a quest to find the best outdoor prep table. Below, we're going to review the following outdoor preparation tables:
There are few critical qualities in prep stations or bbq carts. When you keep in mind what you will be cooking, for how many people, and where you will be storing it, you'll have a better idea of what to buy.
Best outdoor prep tables for outdoor cooking and bbq
This one is our favorite and also the best outdoor prep table, in our opinion. Here is why:
 This prep table is foldable, sturdy, has wheels, is made of powder-coated steel, and has an integrated wooden chopping board. These are all the best elements you could get in one table.
This table is not your average kitchen island butcher block. It's sturdy like the butcher block but yet elegant. The body of the table is powder-coated steel that prevents corrosion when using outside. The two shelves under the wooden top are perfect to set your food and hot pots and pans on.
People are saying that they assembled the table effortlessly. They also like the fact that the table is very sturdy and robust. Some mention that the wooden top is hollow, but in a good way, which makes the table much lighter and lower in cost.
Most say that they can use this prep table as an outdoor prep table, additional countertop in their kitchen, or even on a camping trip.
Size:
Folded: 6 W x 20″ D x 36. 25" H,
Unfolded: 25. 5" W x 20" D x 36. 25" H
PROS
Wooden cutting board

Wheels

Folding table

Sturdy

Easy to assemble
CONS
Cutting board not removable for cleaning
This outdoor prep table or you could also say camping folding table can be folded flat very quickly and includes a carrying handle for easy transport.
The table can extend horizontally with two flip-up side tables. Users mention that the table is perfect for car camping, folds up quickly, and stows nicely taking little room. People also find this unit sits solidly on level ground and does not rock or tip easily. The table has hooks for utensils and cup holders, which most find very handy. It is mostly used for small portable grills.
Size: 54W", 20″D, 30.5″H
Some users mentioned that if you use it outside, in a few months, the black color will turn to white-grey, and soon after that, holes will appear. 
PROS
No tools required for assembling

Folds flat

Easy to carry around

Perfect for camping 

Perfect for portable grills

Additional cup holders
CONS
 if you use it outside the color of the table can change
Rockpoint table is made out of food-safe stainless steel. People mention that this heavy-duty table is very sturdy and easy to assemble. 
 Both bottom shelves are adjustable and can bring some additional storage space. The legs are galvanized with adjustable feet. Each leg has plastic adjustable casters on each foot that can raise the individual leg at least an inch.
The table can hold up a lot of weight. Some were saying they put slicer, air fryer, and KitchenAid mixer on the table at the same time, and they had no problems. Users also say there are no problems with putting very hot pans or heavy kitchen appliances on the table.
Size: from 30″ to 60″L, 24″W, 34.7″H
PROS
Easy assembly

No tools required

Stainless steel 

Adjustable legs

Additional shelf for storage
CONS
Some mention the countertop was scratched on arrival
Seville prep table is made of a very high-quality bullnose stainless steel top, which is 1.5-inch thick. It features two wired baskets.
 One of the baskets is fixed, and the top one can be pulled out. The mobility of the table is easy, with four large metal hardware wheels. You can store up to 450 lbs. overall, up to 100 lbs. on a shelf and up to 50 pounds in a basket. The edges of the table are curved, which creates a safer and more versatile workspace. The assembly is easy, and you don't need any extra tools. The location of the middle basket is adjustable, but it is not something you would want to do too often since it's a bit of a process.
Size: 20″W, 24″L, 26″H
PROS
Adjustable basket

Wheels

High-quality stainless steel
CONS
It is a bit hard to adjust the middle basket
Giantex prep table is a simple product. It is reasonably sturdy. The height of the bottom shelf can be adjusted according to actual needs effortlessly through removing the screw. It is equipped with four universal wheels.
 The countertop is made of high-grade stainless steel, but the bottom shelf is not from stainless steel. People mentioned that some of the preassembled components aren't put together very well. Users also found the table to rock back and forth when you are chopping.
Size: 36 "L×24" W 
PROS 
CONS
It rocks a bit when chopping

The whole table is not stainless steel
What are the most important things to look for when deciding to buy an outdoor prep table
Quantity of food
The amount of food when making a bbq for a family of four is usually not very large. A small garden preparation table would do just fine. But if you are inviting friends and you are making food for ten or more people then you should consider a larger table.  There is also a question of the preparation of ingredients and the quantity of food you need. 
If you prepare the food, veggies, and meat in your indoor kitchen, then you won't need a large prep table. In this case, the size of the table will only depend on the amount and size of pots and pans.
But if you want to impress your friends and show them your julienne cutting skills, and how to mix the right marinade for the brisket, then you will need a larger table. Preparing most of your food on a prep table will take a lot of space. But there are still a few cooking essentials that will always take some space on the countertop: cups and bowls for the mise en place, a cutting board, and a knife. 
What are you usually cooking?
Let's take a look at two different examples to show you how what you are cooking, will make a difference in the size of the prep table you need.
Prep table for barbecue, grill or smoking
If you use your prep table mostly for barbecue, grill, or smoking, then you don't need a large table. Usually, the things you need are tongs, cloth, knife, cutting board, and bowl for marinade or sauce.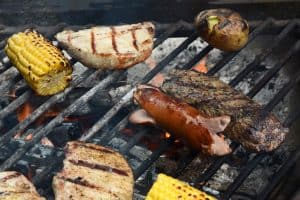 Prep table for stir fry
If you want to make delicious Thai fried rice or noodles, then you will need a bit larger table. Stir fry dishes are made very fast. That is why you won't have time to go to your kitchen and pick up every single ingredient separately. You need the ingredients on hand; otherwise, you will burn everything. It is crucial to have miese en place when making stir fry, and for that, you need much more space than when making bbq, smoke, or grill. 
Here are the ingredients for miese en place to make Thai fried rice, just to show the difference: cooked rice, carrots, tomatoes, (other veggies), onions, eggs, soy sauce, oyster sauce, chili sauce, sugar, and oil. If you put all these ingredients on the prep table, you will have problems with space if you buy a smaller table.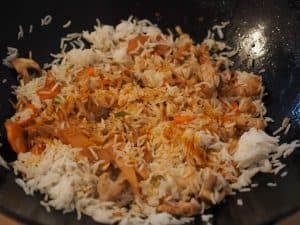 Do you use prep tables for food preparation, or will you also set on hot pots and pans?
You can prepare the ingredients in an indoor kitchen, or you can prepare them on the prep table outside. Preparing ingredients on an outdoor prep table can be challenging if you don't have the right table. That is why you should consider getting a large enough table and one that already has a built-in wooden cutting board. The wooden cutting board can also be beneficial for putting on hot pots and pans.
But if you will use the table only to put hot pots and pans on it, then you don't need a huge table. A small stainless steel countertop table will do just fine.
Storage
Here is where the folding and non-folding tables come into play. We found out in this review and also by owning a folding outdoor prep table that folding tables tend to be less firm, lower in quality, and cheaper. But from the storage point of view, they are perfect. You just fold them together and put them somewhere in the corner.
On the other hand, non-folding tables tend to be very robust, higher in quality, but also a bit higher in price. Since they can't be folded, you will need a place where you will put them after use. If you get a table with a built-in wooden cutting board and not whole stainless steel, then you will also need to consider the storage with a roof over the table.
To Wrap It Up, Our Recommendation
Naturally, whatever prep table you decide on will depend on your particular situation, what and how you cook, and how much space you have in your garden or outdoor kitchen. However, if we had to pick an overall, general-purpose favorite among these, we would say the best prep table for outdoor cooking is Origami Folding Kitchen Cart on Wheels.
The sheer number of outstanding ratings on this table, and also the table we would pick for our woking dishes, we can generally recommend with confidence. 
Regardless of the table you select, make sure you check out some of our recommendations for the best cookware to bring use when cooking. It can be easy to forget an essential item when making your favorite grilled steak, smoked ribs, or fried noodles for your friends. Do your research, choose wisely, and you will fall in even deeper love with the beauty of cooking outside.
Last update on 2020-06-15 / Affiliate links / Images from Amazon Product Advertising API