As an Amazon Associate we earn from qualifying purchases made on our website. If you make a purchase through links from this website, we may get a small share of the sale from Amazon and other similar affiliate programs.
Is a boning knife necessary? A good quality boning knife is not essential by any means, but if you invest in one, it could make your cooking time a whole lot more enjoyable and help you cope with tougher cuts of beef, pork, or venison. Here are ten reasons why you should get one:
A fine, flexible blade makes cutting and boning poultry or fish a breeze.
Boning knives come in several varieties, including those both strong and flexible to do complex tasks like trimming ribs.
The boning knives' maneuverability will allow you to serve the most flavorful meat from beside the bone and ensure that little of your cut will go to waste.
A boning knife has a strong blade that can better cut through joints, cartilage, and ligaments.
Using the right boning knife will help you make cleaner, straighter cuts, drastically improving the look of the meat you serve.
A boning knife can help prevent the injury that can arise from using excessive force on a blunt knife.
A dedicated deboning knife could help you maintain the edges and sharpness of your other knives.
It is the perfect size for removing skin from fish, poultry, or paring cuts of meat.
In some cases, a boning knife can allow you to fillet fish as easily as you could with a fillet knife.
Lots of handy, unexpected uses like peeling and cleaning fruits and vegetables.
Do you need a boning knife?
Purchasing a good quality boning knife will save you money in the long run especially if you are working with larger pieces of meat. I usually buy whole chickens or a quarter of a cow and can not imagine not having a boning knife.
Some say you could use your chef's knife to debone a chicken, for instance, but I really advise against it. If you do use it, you should be very careful and know what you are doing. If you hit a bone with your precious and expensive chefs knife, it will instantly chip as mine did.

*The first, smaller chip, is from cutting through the frozen vegetable. I did the most damage with missing a joint when cutting chicken thigh.
A boning knife is more important if you are interested in butchering meat. Often, preparing tough cuts of beef or venison with only the most rudimentary kitchen equipment produces sub-par results. An ordinary chefs' knife is not designed to cut through joints or connective tissue, wasting the best of the meat and damaging your expensive knives.
I use a boning knife which helps me mostly for cutting whole chickens and large pieces of beef.
Usually, I buy 10 or 15 whole chickens from the farmer or 1/4 of a cow, and I couldn't imagine cutting ribeye, loin or shank without a boning knife. Even if I hit a bone or cut a joint too high, it really doesn't matter because a boning knife is meant to hit a bone occasionally.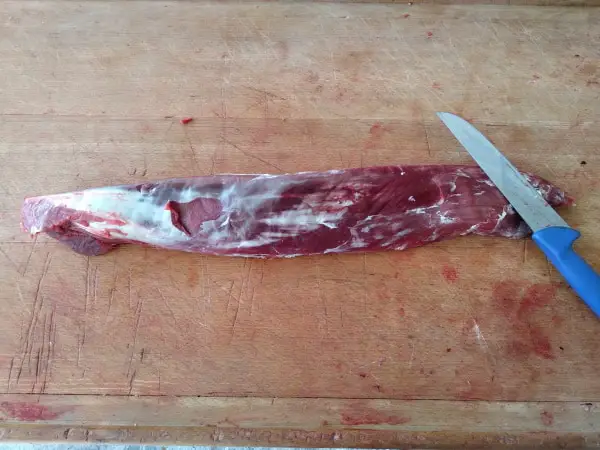 If you are looking for a boning knife that will last a long time, won't chip or get easily dull, you might consider the butcher set:
Butcher Meat Processing Set with boning knife
Jero P3 Series Butcher Set - 4-Piece Set With High Quality Sharpening Steel
Set Includes: 10" Cimeter, 8" Breaking Knife, 6" Curved Boning, and Mundial or Diammark Steel To Keep Your Knives Sharp
German High-Carbon Stainless Steel Blades Provide Strength And Longer Edge Life
Handles Are Constructed Of Impact And Temperature Resistant Dense Polymers That Are Injected Molded Onto The Handle And Tang For Superior Strength
Jero Is A Leading Professional Knife And Tool Manufacture - Knives Are Manufactured In Jero's Modern Production Facility Located In Portugal
Last update on 2021-11-20 / Affiliate links / Images from Amazon Product Advertising API
When and why should you get one?
When you are deboning a lot of poultry, meat, ribs, or filleting fish. If you are often going to be deboning poultry, meat, or filleting fish, it is worth purchasing a good quality boning knife. Not only is this knife going to make the often-irritating process a breeze, but its flexibility and shape can also help you harvest some of the most flavorful meat next to the bone.
You are trying to improve the presentation of your meat. The problem with deboning, deskinning, paring, and butchering with a regular chef's knife is that it is often not robust or sharp enough, meaning that you end up hacking expensive cuts to pieces. A good quality boning knife will help you make smoother, straighter cuts to improve the overall presentation of your dishes. 
When trimming larger cuts of meat into smaller ones. Boning knives are a favorite of butchers around the globe for cutting a side of beef or quartering a chicken.
When you are frequently damaging or blunting your other knives. Not only is it easier to debone with a boning knife, using one will help preserve your other knives. Specifically designed for the job, deboning knives will not receive the stress and strain the corners of your chef's knife would while removing the bones from a chicken.
If you plan to use a boning knife also for peeling and baking, then I suggest you get a flexible one like this one because it's extremely sharp and if you already own a pro chefs knife, this one will be a great add on to your collection:
Sale
Shun classic 6-inch Boning knife
Damascus-clad blade offers close, easy cutting; narrow blade reduces drag to perform boning and filleting tasks quickly; features authentic, high-performance VG-MAX steel to boost edge retention
Easily fillet fish using razor-sharp blade; smoothly glide knife through body of fish to quickly remove bones and skin; 6-inch length moves easily through cut and expertly maximizes performance
Precise knife slices effortlessly to separate meat from bone; curved blade cuts close beside bone; extremely sharp edge trims fibrous tissues or skin off tenderloin, roast, and other cutlets
D-Shaped handle allows secure grip for excellent control; made of ebony PakkaWood, handle is functional and beautiful; blade and handle complement one another to create a stunning kitchen essential
Premium, durable knife provides professional results in both expert and beginner kitchens; can be handled by culinary geniuses, moms, dads, grandparents, party hosts, entertainers or aspiring chefs
Last update on 2021-11-20 / Affiliate links / Images from Amazon Product Advertising API
When don't I need one?
You are looking to cut harder types of bone and cartilage while butchering animal carcasses. Boning knife blades are not as thick as other butchers' knives like cleavers, meaning that they struggle to cut through harder types of bone and cartilage.
You already have other knives that do the job, or you do not often work with cuts of meat. If you already own a chef's knife and a fillet knife, there are few common kitchen tasks you could only perform with an additional deboning knife. Although it has many more uses, it likely will not be worth the investment if you do not often work with raw meat.
What does a boning knife do, and what is its purpose?
A boning knife is a long knife with a thin, narrow blade that can commonly range from between 5 and 7 inches. It is extremely sharp and slightly curved, making it extremely useful for removing the skin and bones from meat, poultry, and fish.
There are three types of boning knives: 'stiff', 'flexible', and 'semi-flexible.'
Stiff boning knives

 are meant for trimming tougher meats like pork or beef. They are also commonly used to fillet large fish like tuna or salmon. A stiff boning knife will not bend so easily, helping prevent injury when exerting force on joints, ligaments, and connective tissue.

Flexible boning knives 

are meant for thinner and softer cuts of meat, like poultry and smaller kinds of fish. They also allow for more flexibility in the kitchen.

Semi-flexible boning knives 

give the best of both words – the strength necessary to contend with a larger piece of meat like beef or pork with the dexterity to effectively debone ribs. 
Pros and cons of a boning knife
In sum, a boning knife is a good investment with several uses:
A good quality boning knife has a rigid blade that maintains its sharpness for longer, helping you to make smooth cuts even through the most challenging joint of beef.
Boning knives make sure the best tasting meat does not go to waste, getting closer to the bone than your average chefs' knife, and ensuring all the meat you cut is preserved and presentable.
However, there are some downsides one should also consider:
Using a flexible boning knife on a thicker cut of meat can risk damage to your knife and, more importantly, injury to yourself. Similarly, using a boning knife to try and chop bone or tough cartilage can be equally as dangerous. Finally, using a knife that is too long – for instance, using a large boning knife to do an intricate job, can also risk the loss of control.
For filleting fish exclusively, a fillet knife will be more helpful. A fillet knife is a type of boning knife that is much smaller and more flexible, helping to better contend with the tender fish meat.
References
https://www.chowhound.com/post/boning-knife-essential-793230
https://www.russums-shop.co.uk/news/knives/q/date/2016/06/09/boning-knife-guide
https://www.knifeplanet.net/boning-vs-fillet-knives-difference/
https://choppychoppy.com/what-is-a-boning-knife-used-for/#tab-con-7