As an Amazon Associate we earn from qualifying purchases made on our website. If you make a purchase through links from this website, we may get a small share of the sale from Amazon and other similar affiliate programs.
If you are in a hurry and just want to find out what the ham holder is, then I recommend the "Flores Cortés Swing Ham Stand" as the best one.
Let's say you are making a family gathering and would like to stand out with a beautiful ham stand and delicate Serrano or Iberico ham. You can just imagine how the conversation will start. Everybody will want to know everything about the ham and the stand. If someone asks what is the best ham holder, you can simply refer to this post.
That is why I went on a quest to find the best ham holder and did the research, so you don't have to!
The decision about the best ham holder is based on my personal experience and the experience which more than 826 users shared with everybody. 
Every year my family buys the whole prosciutto, and we slice it when the guests arrive for the holidays. Since my home country and neighbour country are well known for premium prosciutto (Karst prosciutto, Parma ham), owning a ham holder is like owning a kitchen knife or cooking pots.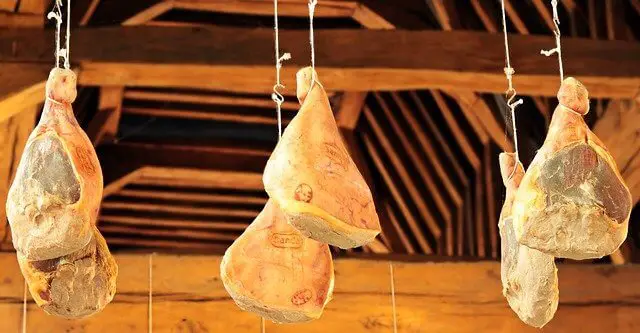 Want to quickly compare ham holders before we get into the details? Check out this table:
Best ham holders
You can get ham holders with ham included or without ham. When searching for a ham holder, it doesn't really matter whether the ham is included or not; what matters most are the following things: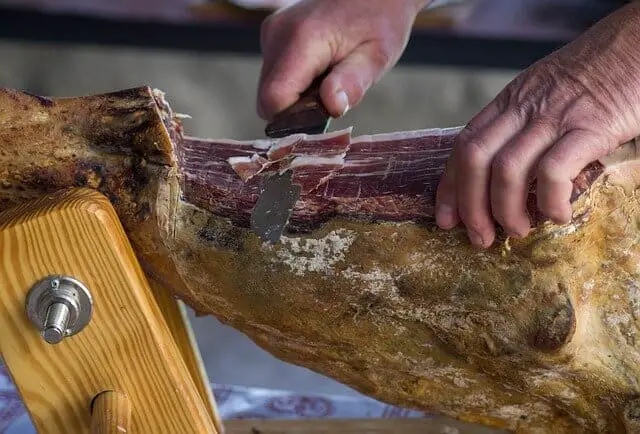 Materials

Stability 

Base size

Skewers and clamps

Does the stand allow a perfect cutting angle

Is it easy to clean
This ham holder is entirely made of stainless steel. It is, without a doubt, the best ham holder you could get if you want to slice your ham from the beginning till the end as a pro. 
The best and most visible feature of this ham stand is the swing shape and system that allows the ham's perfect positioning.You can check in this video how to change ham holders angle:
Cleaning is effortless. You can wash it with soap and water, and even if you forget to wipe it with a dry towel, it won't rust. Durable AISI 304 stainless steel is long-lasting and can withstand anything. 
Both sides of the ham stand feature a V shape stainless steel holder. On one side of the V shape holder, stainless steel spikes are attached.
The stand is heavy, which is good. With 9.42 pounds, it will sit on the counter and stay still while you cut your delicacy. When you slice the ham, the vibrations are minimal. This is because of the weight, the sturdy structure, and the size. It measures 21.65 x 7.87 x 5.12 inches. The size of the ham stand offers the possibility to put in various ham sizes. 
The positive ratings and many satisfied users confirm that this is the stand for ham enthusiasts and professionals.
Materials – the whole ham stand is made out of stainless steel.

Stability – extra stable because of the size, weight, and silicon non-slip pads.

Base size – 21.65 x 7.87 x 5.12 inches.

Skewers and clamps – two stainless steel screws with built-in spikes in a V shape holder.

Does the stand allow a perfect cutting angle – yes, it allows cutting in almost any desired angle.

Is it easy to clean – cleaning is effortless since it is made out of stainless steel.
This ham holder is suitable for any ham, whether you get Serrano, Iberico,  Italian prosciutto or any country ham. It is sturdy and large enough to fit a modern sized ham. 
The base is made of Chilean pine wood, which has a shiny finish. The stand is made of stainless steel and can be folded when not in use. The hoof is fixed between a screw and a spike. The screw can be tightened to ensure the hoof doesn't move around when you slice the meat.
When not in use, the stand can fold so you can easily store it in your pantry. It weighs 4.43 lb and measures 16.9 x 4.3 x 7.5 inches.
The size is perfect for 16 lb ham, or even bigger ones fit in as well. 
People who bought the product are delighted with the purchase. Most say it is sturdy and secures even an 18.5 lb ham very well. The stand slides a bit on the granite surface, but thanks to additional non-slip pads in the package, that won't be a problem anymore.
Materials – it is made of a wooden base and stainless steel stand.

Stability – very stable, and additional non-slip pads are included.

Base size – 16.9 x 4.3 x 7.5 inches.

Skewers and clamps – fastening screws and spikes are sturdy and made of stainless steel.

Does the stand allow a perfect cutting angle – you can get the ideal angle because the stand is flexible, which gives a variety of slicing angle options.

Is it easy to clean – it is easy to clean, especially stainless steel. Wood needs to be hand washed and dried immediately.
This ham holder comes together with "Pata Negra" ham. The holder has a wooden base and a gondola shaped stand. It weighs 4.4 pounds (2 kilograms), which is not a lot for a ham holder, but it is sturdy enough to keep the ham secured while you carve or display the ham. 
You do have to assemble the holder before use. It is not hard to do it; you just tighten the wooden parts with a few screws using an allen key. Then attach the circular metal part and metal rest with a screw. Secure all elements so the ham won't move around when you slice it, and you are finished.
The ham holder is made out of pine wood. After you slice the entire ham, wipe it with a soft wet, damp cloth and some soap to remove the grease. Be sure to wipe off any water and soap with a fresh towel, so the holder is completely dry once you store it.
The ham holder measures 16.93 x 3.15 x 7.48 inches. Ham is easily attached to the holder with a long stainless steel screw that doesn't screw into the meat but only holds the bone. The front V-shaped attachment with a stainless steel screw holds the front end in place, so it doesn't move around when you hold it.
The best part of this package is that you don't have to worry about finding the best slicing knife and ham covers since they come included. 
Users are delighted with the purchase and mention a delicate taste of the ham that comes with the holder. They also say the handy non-slip pads that help fix the ham holder on slippery surfaces are a great add-on.
If you are looking to buy only a ham holder without the ham, the following ham holder is the exact same thing, just without the ham, carving set, cover, and instructional DVD Guide.
Materials – pine wood and stainless steel.

Stability – it is stable if you use a smaller sized ham.

Base size – 16.93 x 3.15 x 7.48 inches.

Skewers and clamps – it includes a large screw for the stand and one to fix the ham in front of the holder.

Does the stand allow a perfect cutting angle – the ham stand allows one cutting angle for 12 to 13 pounds hams.

Is it easy to clean – since the base and stand are made of wood, you should always completely dry the ham holder after washing it.
This ham holder comes with serrano ham. This is a very simple but jet sturdy enough ham holder. A wooden base supports the ham's bottom, whereas a stable stand ensures the ham's stabilization for the perfect cut.
The hoof of the ham is stabilized with a tightening screw. You can screw it into the hoof, and it will stay there as long as you carve the ham. The stand also features iron coated V shape holder for extra stability. V-shape holder on the base also helps with stabilizing the ham on the ham holder's base. 
The base and stand are standard sizes for small to medium-sized hams. It is very easy to set it up without even looking at the instructions. The package also includes a very sharp slicing knife, which is just perfect for ham this size. Some users were skeptical about the knife, but it turns out the blade is razor-sharp and flexible as a ham knife should be. 
Materials – wood and stainless steel.

Stability – stable for smaller and medium hams.

Skewers and clamps – it includes a large screw for the stand and one to fix the ham in front of the holder.

Does the stand allow a perfect cutting angle – the ham stand allows one cutting angle.

Is it easy to clean – wooden base and stand together with stainless steel screws can easily be cleaned and washed. After you hand wash, you need to completely and immediately wipe everything with a soft kitchen cloth.
What is a ham holder?
Some call it ham holder, some call it ham stand. It doesn't matter what you call it; we are always talking about a sturdy surface that holds a whole, cured leg of pig in one place. Ham stands for carving cured hams, are mostly made of wood and stainless steel screws or spikes that fasten the ham. The best ones are made of stainless steel stand and stainless steel or marble base. The best feature of ham holders is that it offers fastening and position of the ham to achieve a perfect slice. 
If you buy Serrano, Iberico, or any other ham, like prosciutto, the ham will usually be sliced on a commercial meat slicer in a store. Commercial meat slicers are very sharp and sturdy and can achieve a perfect long thin slice. You could get similar results with the meat slicer you have at home, but you have to slice peace by peace and not the whole leg at once.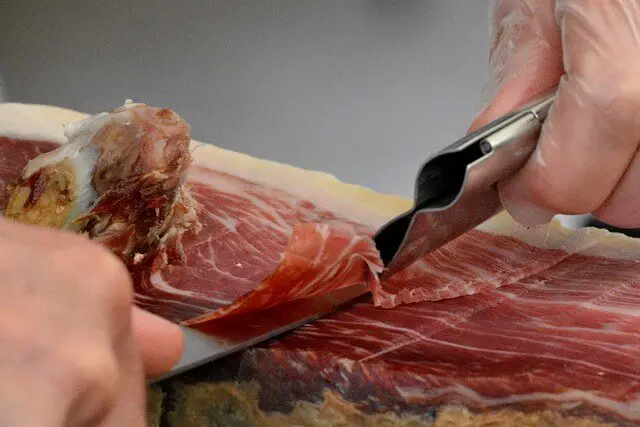 The best way to slice a whole leg of ham is to use a ham holder. Ham holders are not used just for slicing; they are also used for presentation. For example, If you buy a whole Iberico ham, you want to display it in front of your friends and family and, at the same time, let the guests enjoy the slicing and carving procedure.
Believe me; if you can actually see how the ham is sliced, it will taste even better.
When you slice cured ham, you always want a thin and long slice. If you cut it any other way, it will not taste as it should. You could also get away with a short slice, just as long as it is thin. Some even say it tastes bad if it's not cut correctly. 
Ham holders offer a sturdy surface and the right angle for slicing the meat. The hoof and the front of the leg are usually fixed with a screw or a spike, so the leg doesn't move when you slice it. You should know that a whole leg of ham weighs from 10-20lb, which means you need a strong holder on which you slice your delicacy. 
Buying a good ham holder is essential because you won't be able to carve the ham properly if the meat doesn't stand in place. You can usually buy ham and holder together, which I think is best. You could also get only the ham holder, but the ones that come with the ham do a perfect job.
Conclusion
Ham holders or ham stands are a must if you buy a nice piece of prosciutto, Iberico, or Serrano ham. If you would like a robust and versatile ham holder that is easy to clean, go with Flores Cortés Swing Ham Stand.
If you want to spend a little less and like the wooden design, go with Folding Ham Stand Jamonprive.
If you want to get the entire package, I recommend getting a ham from Jamon or Jamonero. They set comes with premium ham and complete carving set like this one Ham Holder, Iberico Ham, and carving set.
Whichever ham holder you choose, I do hope your parties and Christmas celebrations will be full of joy and that the ham holder together with a perfect Iberico ham will be a conversation starter.
* The prices for ingredients and products in our tables are average prices taken from various websites. The prices are not taken directly from Amazon.
* Pro family chef utilizes affiliate links, which means that if you click on one of our product links, Pro family chef might receive a small commission at no cost to you. This helps support us, and allows us to keep providing tips, reviews, guides, and content for you.