As an Amazon Associate we earn from qualifying purchases made on our website. If you make a purchase through links from this website, we may get a small share of the sale from Amazon and other similar affiliate programs.
If you are in a hurry and just want to find out which is the best cutting board for Japanese knives, most loved and used by home cooks and chefs who own Japanese knives, then I'd recommend the Hi-soft cutting board as the best one.
I have a love-hate relationship with cutting boards. I love them because they are so convenient, but hate them because they often dull my Gyutou. So what is it that makes me feel this way? The answer is simple: I am an avid Japanese knife enthusiast who has been using these knives for years. 
These blades are super sharp and will cut right through any kind of material like butter and get dull super fast if cut on the wrong surface. That's why you need to pay special attention when choosing which type of cutting board will be best suited for your Gyutou, Santoku, Nakiri, or any other Japanese or premium chef knives.
How I did the research
I spent like 30 hours pouring over forums, Reddit, and amazon reviews I've looked at all the good reviews and all the bad reviews, and I have done all the research, so you don't have to. And now, after 30+ hours of researching, I am finally ready to share my thoughts on the cutting board you might be interested in! 
Here is the list and a quick comparison table with dimension and stuff to look at when getting one yourself:
Best overall
Alternative wooden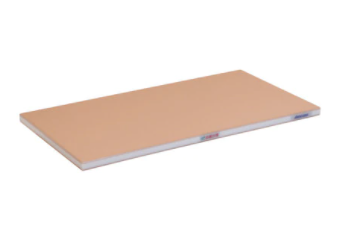 Product
Hi-soft Premium Cutting Board
NoTrax Sani-Tuff Premium Rubber Cutting Board
Shun Hinoki Cutting Board
Kikusumi Aomori Hiba Wood Cutting Board
Best overall
Product
Hi-soft Premium Cutting Board
Product
NoTrax Sani-Tuff Premium Rubber Cutting Board
Alternative wooden
Product
Shun Hinoki Cutting Board
Product
Kikusumi Aomori Hiba Wood Cutting Board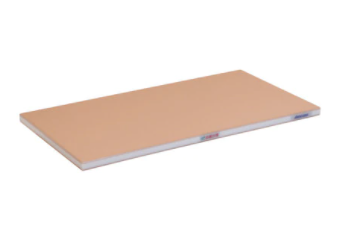 Last update on 2023-10-15 / Affiliate links / Images from Amazon Product Advertising API
Best cutting board for Japanese knives
These are easily the best and most versatile cutting boards for Japanese knives or any other premium chef knife.
Hi-Soft is the artisan's choice for Japanese knives. They've thought of everything, from the convenience to maintenance, so you can preserve your expensive Japanese knives and choose this as your one and only cutting board.
Hi-soft rubber cutting board
This hi-soft cutting board is the preferred cutting board in sushi restaurants and now you can have your won at home! Made from a synthetic material that is odor resistant and easy to wash, this cutting board reduces stress on your hand and minimizes impact on the blade. A longer lifespan means less money spent since you can use it with all of your knives.
Last update on 2023-10-15 / Affiliate links / Images from Amazon Product Advertising API
Pros and cons
Pros
Its, thin. A thin cutting board is necessary for most cooks who work on a high countertop. It makes it easier to use Japanese knives with extended long handles in kitchens with higher countertops.

Extremely easy on the edge and blades.

Very lightweight compared to wood boards.

Great for cutting meat.

The Hi-soft cutting board is made of a durable finish with a nonslip, grippy texture that stops it from moving around on the counter.

Unless you cut a large amount of beets or tomatoes and let them sit on the board for a while, it won't stain that much.

The cutting board rubber texture prevents water from seeping through, thus protecting it over time.
There is no need to season and cleaning up the mess after use is easy as well.
Cons
You need to wet them before use to resist staining, which is a bit inconvenient.

The board does tend to not wipe clean as easily as a wooden board.

Avoid using serrated bread knives and heavy cleavers on this cutting board.

Rough surface – scrubbing needed.

Some users say it might be even too soft, especially if you are cutting harder things on it like bones or if you press too hard.
Who doesn't want a cutting board that is properly-suited for their Japanese knives? But, you don't have to spend an arm and leg on one! NoTrax Sani-Tuff has all the features of a high-end product, but at prices everyone can afford.
NoTrax cutting boards are an affordable solution for your Japanese knives. If you want to cut downtime with your sharpening duties, then you would consider getting this board. Made of natural rubber, they resist odors and bacteria growth while also giving your knives a sharper edge than other board materials. Sani-Tuff is made from durable material that will not crack or splinter even with heavy use so that you can count on it lasting years of tough slicing and chopping duties without trouble!
NoTrax Sani-Tuff Rubber Cutting Board
Sani-Tuff cutting boards are made of high-density natural rubber that will not crack, splinter, swell, or absorb liquids or odors
The rubber compound used cutting board has a high degree of resiliency preserving knife edges longer while preventing slipping on the counter
Sani-Tuff chopping boards are made in the USA and have been tested and certified by NSF International
These professional-grade cutting boards for kitchen can be resurfaced by sanding, extending the life of the board
Our kitchen cutting board must be hand washed because exposing your board to a dishwasher's high temperatures will result in warping
Last update on 2023-10-20 / Affiliate links / Images from Amazon Product Advertising API
When you invest in a good chef's knife for cutting and slicing, these boards are going to get "cut up" as well! However, the trick here is that when these cuts happen, what's important isn't whether or not your board will be "damaged" but rather how easy it'll be to resurface. In fact, sanding down the surface of Sani-Tuff rubber boards can keep them looking like new again by removing any deep scratches from previous use, giving way for a fresher look, because hey, who doesn't love things being clean?
The best pros like with hi-soft cutting board are:
The water can't penetrate through material like with wooden cutting board, thus preventing warping or damage to the cutting board over time
No seasoning is required
Easy cleaning because you can simply scrub it under water in the sink.
The downside which some users mention the rubber might be too soft. Alo some cooks who own it mention that although the manufacturer states that it doesn't stain, it stains quite a lot. 
Best Hinoki cutting board for Japanese knives
If you're looking for a way to keep your expensive Japanese-style knives in one piece, allow me to introduce you to the Hinoki cutting board. These boards are edge grain and feature a natural finish that lets the wood's beauty shine through!
Hinoki is wood from Japanese Cypress. It has a very unique, pleasant smell and is softer than other board materials.
What distinguishes this cutting board from normal ones is the process of wetting before usage. Every time you use your cutting board, you want to give it a quick squirt of water before using it. This helps prevent the absorption of food juices and ensures that the boards are still in tip-top shape after many years.
They're also edge grain rather than end grain, which prevents them from taking on as much moisture. It does leave them more susceptible to damage than an end grain board would be.
This cutting board was designed to be the perfect match for any of your prized Japanese knives. Made from a single slab, it's lightweight, durable, and low on maintenance. The surface almost feels soft against blades so that you can cut anything with ease. Normally, wooden cutting boards need to be wiped down with oil after use. Suppose you are wondering why this one doesn't require it. In that case, it is because of natural qualities: the cypress wood ages without cracking or splitting and has natural antiseptic properties which prevent bacterial growth. But it is advised from both Shun and Kiso manufacturers to treat it with mineral oil before use.
The following cutting boards are both Hinoki and are praised among users, with many positive reviews on amazon, cooking, and Japanese knife forums.
Sale
Shun Hinoki Cutting Board
The soft nature of this cypress wood gives as you cut, helping to preserve the edges of your fine Japanese cutlery. This is because these boards are made using a specific type of Japanese Cypress, which requires no sanding or protective coating before use due to its naturally water-resistant properties. One of the best features about this cutting board is that it's easy to care for. Wet it before every use to keep stains away, wash with water or mild detergent after each use, and towel dry immediately.
Last update on 2023-10-15 / Affiliate links / Images from Amazon Product Advertising API
No products found.
There are, of course, some cons of the hinoki cutting board, which users mention the most. The wood color of the hinoki board is light which makes it more susceptible to staining. If you want to prevent this, wet the board before use. 
Using a serrated knife to cut bread on this board is not recommended. If you do, the wood of the board will quickly wear down and become unappealing and damaged.
It's somewhat important to keep the angle somewhere at 45 degrees when slicing and dicing to the side grain. If you're not careful, a sharp knife will tend to stick if it is cutting parallel with side grain on softwood like Hinoki.
Alternative wood cutting board for Japanese knives – Aomori Hiba cutting boards
Aomori Hiba Cutting Board
When it comes to sharpening, there's nothing quite like taking care of your blade with Aomori Hiba. The end grain is irrelevant when working on a single piece of wood which also has an amazing smell as you wash it off. Also, because of the fact that it's one piece, this type tolerates wet much more than anything else. The downside is that it's expensive and you won't find very large boards. They will stain, even if you pre-wet them before use.
Last update on 2023-10-15 / Affiliate links / Images from Amazon Product Advertising API
Best synthetic cutting board for Japanese knives – Hasegawa cutting board
Hasegawa cutting boards generally include three types of boards:
Hasegawa Wood Core Soft Rubber, Hasegawa Soft Rubber Cutting, and Hasegawa Wood Core Soft Polyethylene Cutting Board.
Rubber wood-core cutting boards are sturdy, light, and dishwasher safe! The wood core prevents warping and bending from long-term use. It is always stable, so it won't move around on the countertop when you're using it to cut vegetables or meat. And with a high-temperature washing option in your dishwasher, these boards will last for years without losing any of their rigidity – making them great for large families who might need more than one board at once while preparing dinner together!
The Hasegawa cutting board is the perfect knife-friendly surface. With thick plastic layers on both sides, it's safe for chopping and slicing with your favorite chef knives – you won't need to worry about exposed wood any time soon! This durable material ensures that food doesn't slip away while preparing a meal in the kitchen, allowing more intricate cuts when necessary.
The Hasegawa Wood Core Soft Polyethylene Cutting Board is a hard surface cutting board with the right balance of protection and durability for chefs that need enough toughness to cut through raw meat and want the cleanliness of an easier-to-wash board. Best for your more heavy-duty chopping needs and less delicate tasks like flipping sushi.
Choose the right cutting board based on your needs
Hinoki boards perform better with vegetables and foods that don't leave too much stain and smell. Hinoki seem to stain more than hi-soft boards.
Unlike Hinoki boards which need to be very wet or soaked before use, the hi-soft board doesn't need any wetting or soaking.
All hinoki wood boards are soft and great; however, if you get a sawn hinoki board, it won't warp.
While Hinoki is great, hi-soft would be better if you will use it more for fish, poultry, beef, or any other protein because you can scrub it better under hot water than softwood board. 
While hi-soft and sani-tuff are great rubber boards, Asahi cutting boar would be a great alternative to both.
If choosing between Hasegawa, choose a harder PE surface for veggie prep, but take the soft version if you make more protein-based foods.
Is it worth spending a bit more on a high-quality cutting board
I was asking myself the same question are these boards worth it? After making this research and getting one myself, I discovered that it's a no-brainer to get a high-quality cutting board.
In order to keep your plastic cutting board clean, it should be replaced at least every 3-4 months with a new one if you cook everyday. Too many people neglect this very important step for maintaining sanitary conditions in their kitchens and unknowingly put themselves and others at risk of foodborne illness from cross-contamination.
Here is a simple table which shows the return on your investment:
| | Best seller Plastic board | Hi-soft | NoTrax Sani-Tuff | Hinoki |
| --- | --- | --- | --- | --- |
| Price | 20$ | 130$ | 66$ | 80$ |
| Replace in | 4-6 months | 5 years minimum | 5 years minimum | 5 years minimum |
| Cost in 5 Years | 200$ | 130$ | 66$ | 80$ |
You can see that if you get a NoTrax Sanituf or Hinoki cutting board, you will get your money back in the first year!
Cutting boards, you need to avoid if you own an expensive Japanese chef knife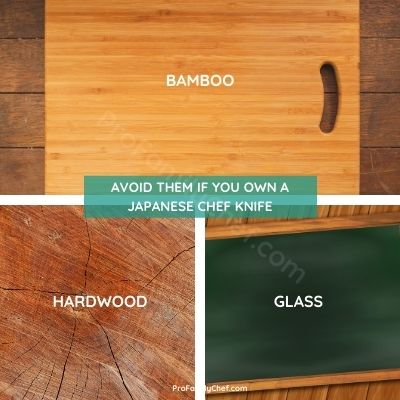 When looking for the best cutting board for Japanese knives or chef knives, the biggest mistake you can make is to get a cutting board that is made from glass, bamboo, or other hardwoods. 
According to experts on Reddit, bamboo kills the edge of a knife, and glass is the same and slippery at the same time. They are a no-no for chef knives because of hard materials and cause damage to your sharp knife. 
zapatodefuego: Bamboo is a hardy grass and is often bonded with resin which tends to result in a rather hard cutting surface.
Following this expert advice, I made sure I selected cutting boards for Japanese knives in the "best of list" that was all softwood or even softer material like rubber.
Why consider a special cutting board for Japanese knives or chef knives
The wrong cutting board can dull your knives significantly faster. Japanese knives are hard and brittle, so they need the right kind of surface to cut on. If you use a softwood or rubber cutting board, it will protect your knife's edge from microchipping and wear.
You don't want to buy another set of expensive knives just because you didn't know about this important detail! Protect your investment with the right type of cutting boards.
What wood should you consider when looking for a cutting board for a Japanese knife
Softwood boards like Cypress (Hinoki), ginkgo, acacia, or (maple could also work) are best for your knives. The wood's pores allow it to grip the steel of the blade instead of slipping over it. Hardwoods can dull blades in a split second! 
Edge grain or end grain is fine. Use end grain if you want a board that will last longer. The benefit of end grain is that it can be more consistently sanded in order to keep it smooth and clean. End grain thickness should be at least 2+ inches (50+ mm).
For a cutting board, you don't want to use any type of wood that will dull your blade quickly or create microchipping where the steel meets the surface material from friction. Softwoods are best for Japanese knives because they provide a better grip without wearing down your blade's edge with every cut.
Conclusion
If you want to keep your knife sharp, it is best to get a cutting board that will not dull the blade. In my opinion, the best material for this is hi-soft or softwood hinoki because they are less likely to damage your knife's edge and cause more wear on them. For anyone who cooks with chef's knives often or has many different types of chef knives, I would recommend looking in our list of "best of" boards consisting entirely of softer materials that won't damage the blades!
Sources:
Fetured image credits: "Morakniv Classic 1891" by hepp is licensed with CC BY 2.0. To view a copy of this license, visit https://creativecommons.org/licenses/by/2.0/
Reddit: https://www.reddit.com/r/chefknives/comments/83tkhk/cutting_board_this_should_have_been_easy/
Chef knives to go: https://www.chefknivestogoforums.com/viewtopic.php?t=1756